WYNN WINS CHRISTIE'S CEZANNE
Christie's New York evening sale of Impressionist and modern art on May 6, 2003, went off rather well, considering the modest expectations. In all, 25 of 31 lots found buyers, or 81 percent, for a total of $59,737,900. "An excellent result," noted Christie's auctioneer Christopher Burge after the sale, "with relatively few disappointments." Eleven lots sold for more than $1 million. Prices given here include the auction house premium, now 20 percent on the first $100,000 and 12 percent on the remainder.

The auction was small, of course, reflecting the caution of both consignors and the auction house in the face of the sluggish economy and the U.S. invasion of Iraq. But the market gloom may have begun to lift. According to Christie's experts, its London sale scheduled for July has ca. 50 consignments, 20 of them made in the last 10 days.

But back to New York. Las Vegas casino mogul Steve Wynn snagged the top lot, paying $17,367,500 (est. $15,000,000-$20,000,000) for a haunting and rare ca. 1895 self-portrait at age 55 by Paul Cézanne. Wynn asked the auctioneer to announce his purchase to the assembled press corps following the sale, noting that the Cézanne would hang in the Wynn Collection in Las Vegas next to a still life painted by the artist in the same year. Wynn had a similar announcement made the preceding night at Sotheby's, where he bought Renoir's Among the Roses (1882) for $23.5 million. Clearly, after a few years of relative quiescence, Steve Wynn is back. The seller of the self-portrait has been reported to be the financially ailing Japanese oil refiner, Idemitsu Kosan.

The auction's second highest price came for Edgar Degas' Petit danseuse de quatorze ans (executed in wax ca. 1879-1881, this bronze cast before 1922), one of the artist's celebrated sculptures of a young ballerina wearing a real muslin skirt and a satin hair ribbon. The work sold for $10,311,500 (est. $8,000,000-$12,000,000). It was reportedly being auctioned by the 66-year-old French luxury-goods mogul and Christie's majority owner François Pinault, who had bought it at Sotheby's in 1999 for $12,377,500. The same sculpture also sold at Christie's New York in 1988 for $10,175,000. The buyer this time around was veteran dealer Richard Gray. "I've had my eye on her for a while," he told ace Art Newspaper scribe Georgina Adam after the auction.

The third highest lot, Piet Mondrian's Composition in White, Blue and Yellow (ca. 1936), a pristine work still in its original frame, sold for $8,071,500 (est. $6,000,000-$9,000,000). The sale provided one of the few bits of excitement in the room, as superdealers David Nahmad and Larry Gagosian battled it out for the work, with bids climbing from $6,000,000 in $100,000 increments to the $7,200,000 hammer price. In the end, Gagosian took the painting home for a client, who was consulting with the dealer via a cell phone.

Nahmad hardly went away empty-handed. He (and his two younger colleagues, with whom he consulted before each winning bid) won the sale's last lot, Joan Miro's striking Peinture (1952) from the Seagram Collection -- the work that had hung for years in the celebrated Four Seasons restaurant -- for $847,500 (est. $400,000-$600,000), as well as a seductive 1947 Balthus oil sketch, Etude pour La partie de cartes, for $231,500 (est. $300,000-$500,000).

One of the sale's star lots, Alberto Giacometti's painted bronze group of nine figures, La clairière (1950), failed to sell, as was the case with a similar work at Sotheby's the night before. But a less expensive Giacometti, Homme qui marche III (1950), did find a buyer, selling over the telephone for $4,039,500 (est. $3,000,000-$4,000,000), the fourth highest price in the auction. The sculpture had previously sold for $2,972,500 at Christie's New York on May 12, 1998.

A gouache by Rene Magritte, Les rêveries du promeneur solitaire (1926), a silhouette of a man in an overcoat and bowler hat paired with a photographic image of a horse-drawn carriage and a kind of scroll shape cut from sheet music, sold for $598,900 (est. $250,000-$350,000). The buyer was New York dealer Diane Upright.

The Metropolitan Museum sold a Claude Monet scene of a cabin on the Normandy coast, Poste de douaniers a Dieppe (1882), for $1,799,500 (est. $200,000-$300,000). The museum had acquired the work in 1959 as a gift from Mr. and Mrs. Charles S. McVeigh, and had received an undisclosed guarantee from Christie's against its sale.

The prize for the most contemporary 19th-century painting goes to Gustave Caillebotte's Gâteaux (1882), a proto-Wayne Thiebaud-style painting of cakes in a display case, which sold for $1,351,500 (est. $800,000-$1,200,000).

For complete auction results, see Artnet's signature Fine Art Auctions Report.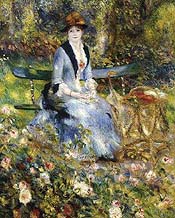 Pierre-Auguste Renoir
Dans les Roses (Madame Leon Clapisson)
1882
$23,528,000
at Sotheby's New York
May 6, 2003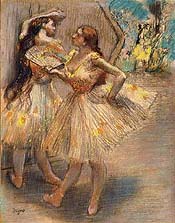 Edgar Degas
Danseuses pres d'un portrait
ca. 1888
$3,928,000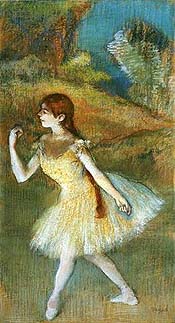 Edgar Degas
Danseuse
ca. 1885-90
$10,648,000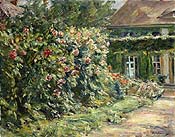 Max Liebermann
Mein Haus in Wannsee, mit Garten
1926
$1,576,000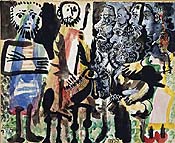 Pablo Picasso
Figures
1967
$680,000
WYNN BUYS SOTHEBY'S RENOIR
The perfect painting for a Vegas casino -- Pierre-Auguste Renoir's Among the Roses (1882), a charming portrait of the Parisian hostess Valentine Clapisson perched on a bench in her luxurious garden. Steve Wynn bought the picture for $23,528,000 (with premium -- 19.5 percent of the first $100,000 and 12 percent of the rest), at the low end of its presale estimate, from Sotheby's New York May 6 evening auction of Impressionist and modern art. "It's one hell of a picture," said Sotheby's expert Charles Moffett, who took the winning bid over the phone. "It will go on view in Las Vegas as soon as we can get it in the crate."

The auction was short and sweet -- 28 of 39 lots sold, or almost 72 percent, for a total of $65,604,000. Last year's Impressionist and modern sale, by contrast, did almost twice as much [see "Art Market Watch," 5/9/02]. Among the big-ticket items that failed to find buyers were a Kazimir Malevich Suprematist painting being sold by the artist's heirs (est. $5 million-$7 million) and an Alberto Giacometti bronze of nine standing figures (est. $8 million-$10 million). The Giacometti was "a question of supply and demand," said David Norman, Sotheby's Impressionist and modern co-chair, noting that a similar cast was due on the block at Christie's the following day.

Sadly, two of the sale's top four lots came at the cost of a public collection. The Museum of Fine Arts, Boston, sold a pair of exquisite pastels of ballerinas by Edgar Degas. The first, showing two dancers waiting in the wings, sold for $3,928,000, at its high presale estimate, while the second, showing a pretty, young ballerina taking a bow, went for $10,648,000, just above its presale low estimate.

The sale of these two irreplaceable works is an example of the kind of wheeling and dealing that is thankfully rare in the museum world. Boston MFA director Malcolm Rogers and his Impressionist head, George Shackleford, reportedly have their eyes on an 1876 Degas painting, The Duchessa di Montejasi with Her Daughters Elena and Camilla, currently in the hands of lucky Paris dealer François Lorenceau. According to the Boston Globe, the painting is being sold by the Citroen family, and the French government has already passed on the work, which was offered to the state as a "national treasure" for 200 million francs, or almost $35 million.

But the MFA's fancy deal doesn't find favor with everyone. As one art historian pointed out, "A painting can always be borrowed -- while pastels are often considered too fragile to lend."

The sale set four auction records: $1,576,000 for Max Liebermann's 1926 Mein Haus in Wannsee, mit Garten (est. $750,000-$900,000); $1,016,000 for Alexander Archipenko's Blue Dancer bronze of 1913 (est. $700,000-$900,000); $624,000 for Paul Serusier's ca. 1890 landscape, Les deux lavandieres au bord de la cascade (est. $500,000-$700,000); and $904,000 for Andre Masson's Pasiphae (1942) (est. $400,000-$600,000). The Serusier was bought by Achim Moeller Fine Art.

Buyers in the room included a tanned man in a pink tie who went on quite a spree, winning four works. He turned out to be Stewart Rahr, who heads Kinray, Inc., a pharmaceutical distributor based in Queens. Rahr bought the Lieberman, Pierre-August Renoir's ca. 1905-06 mother-and-child picture, Gabrielle et Coco jouant aux dominos (also being sold by the Boston museum) for $1,688,000, a 1907 landscape by Maurice de Vlaminck for $680,000, and an animated Pablo Picasso work on paper, titled Figures (1967), for $680,000.

New York and London dealer David Nahmad, sitting in the front row, won Yves Tanguy's Les Filles des Consequences (1937) for $660,000 (est. $500,000-$700,000).

For complete illustrated auction results, see Artnet's signature Fine Art Auction Database.