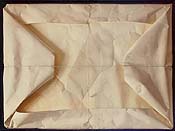 Claudio Bravo
Paquete marfil
1967
$1,439,500
at Sotheby's New York
Nov. 19, 2002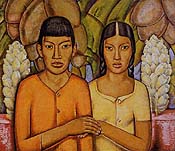 Alfredo Ramos Martínez
Casiamiento indio
ca. 1934
$405,500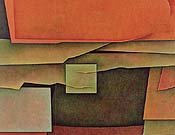 Gunther Gerzso
Umbral
$113,525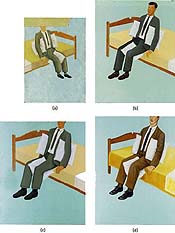 Francis Alÿs
Untitled
1993-94
$50,190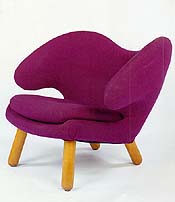 Finn Juhl
"Pelican" chair
ca. 1940
sold for $54,970
at Phillips
Nov. 19, 2002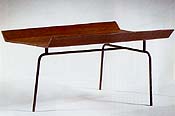 Charles and Ray Eames
Prototype three-legged tray table
1945
sold for $53,775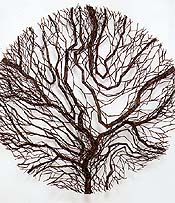 Harry Bertoia
Untitled
ca. 1947
sold for $35,850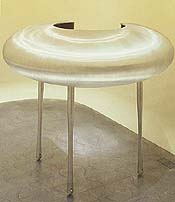 Marc Newson
The Skoda Boutique
1992
(detail of spheroid desk)
sold for $83,650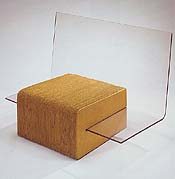 Fernando & Umberto Campana
"Wing" chair
2000
sold for $8,963
Art Market Watch
11/22/02
LATIN AMERICAN SALES IN NEW YORK
The sales of Latin American art in New York may have seemed fairly modest, but the results showed a certain eagerness in the market, particularly for classicizing images of native peoples. According to one observer, the crowd in the salesrooms seemed less interested in the theatrical aspect of the event than in previous years.

Sotheby's New York went first with an evening auction on Nov. 19, selling 37 of 50 lots, or 74 percent, for a total of just over $6 million (including the auction-house premium). Top lot was Claudio Bravo's Ivory Package (1967), a large trompe l'oeil image of a wrapped paper parcel (hello, Christo!) that sold for $1,439,500 (est. $900,000-$1,100,000), a new record for the artist. Bravo's previous auction high, $1,020,000, was set for a Blue Package (1968) in 1999.

The sale set records for four other individual artists: Alfredo Ramos Martinez ($405,500), Antonio Ruiz (El Corcito) ($317,500), Rosa Rolanda ($29,875) and Laura Anderson Barbata.($26,290).

Many works seemed to be estimated low, as the sale prices soared above the presale estimate. The Ramos Martinez, Casamiento Indio (ca. 1934), which shows a somber Indian couple clasping hands, went for more than double its high estimate of $175,000. Leonora Carrington's Surrealist, Addams Family-ish Syssigy (1957), sold for $141,500 (est. $80,000-$120,000), while Miguel Covarrubias' comical portrait of a man in his Sunday best, El Hueso (ca. 1940), went for $77,675 (est. $18,000-$22,000). Gunther Gerzso's earth-toned abstraction, Umbral (1964), sold for $113,525, well above the presale high estimate of $60,000. The Museum of Modern Art in Mexico City is currently planning a Gerzo retrospective that is expected to tour to the U.S.

Christie's combined evening and day sale on Nov. 20-21, 2002, totaled $6,288,994, with 96 of 157 lots finding buyers, for a 61 percent sell-through rate by lot. The top three lots were Latin American modernism in a nutshell. Rufino Tamayo's Ballarinas (1942), a pair of nudes in sensuous dark red, sold for $889,500 (est. $800,000-$1,000,000). Joaquin Torres-Garcia's Contructif avec ritmes dentelés (1931), an early construction in red, ocher and white with scalloped color bands and Amerindian motifs, sold for $361,500 (est. $200,000-$250,000). And Diego Rivera's Indian Woman with Corn (1926), a somber work that shows the artist's abandonment of Paris modernism for an indigenous Mexican style indebted to the massive forms of pre-Columbian art, sold for $295,500 (est. $400,000-$600,000).

A painting by Armando Morales, Three Nudes with Bicycles (1996), sold for $185,500, above its presale high estimate of $160,000. And a comic group of four paintings by Francis Alÿs from 1993-94, in which the artist painted a small canvas of a man sitting on a bed holding pillows under his arms, and then had copies (of the copies) made by commercial sign-painters, sold for $50,190 (est. $30,000-$40,000).

For complete, illustrated results of the sales, see Artnet's Fine Art Auctions Report.

Phillips, de Pury and Luxembourg held its fall sale of 21st and 20th century furniture in New York on Nov. 19, 2002, and the results give a comprehensive reading of the burgeoning collector's market for modern design. Of the 174 lots offered, 115 sold, or 66 percent by lot, for a total of $1,388,294 (with premium). "All things considered I'm extremely chuffed by the results," said James Zemaitis, quoting a Cockney expression used by Led Zeppelin's John Bonham.

The market for Jean Prouvé remains incredibly strong. Top lot of the sale was Prouvé's dining table in African wood and bordeaux-lacquered steel originally made for the Air France Unité d'Habitation, Brazzaville, Congo in ca. 1952. It sold for $125,000 (presale est. $90,000-$120,000). A pair of Prouvé suspended cabinets in oak and black-painted steel sold for $65,725 (est. $60,000-$80,000).

Other top lots included Carlo Mollino's pale green one-armed chair for Lisa Licitra Ponti, 1940, which was sold for $57,360 (est. $50,000-$70,000); Finn Juhl's fuschia biomorphic "Pelican" chair, ca. 1940, which went for $54,970 (est. $45,000-$50,000); and Arne Jacobsen's leather swivel "Ox" easy chair, 1966, which sold for $48,985 (est. $30,000-$50,000).

The Eames market may be flat -- several lots by Charles and Ray Eames were bought in -- but the prototype three-legged tray table from 1945, which features an unusual molded plywood top on a metal rod frame, sold for $53,775, well over its presale estimate of $26,000-$34,000.

New Yorkers are finally awakening to the appeals of Harry Bertoia, whose market has tended to be based in the Midwest. An eccentric wall sculpture of welded nails from ca. 1947 sold for $52,580 (est. $40,000-$60,000).

The room perked up when Isamu Noguchi's "rudder" stool from 1950 came on the block, and it sold for $35,850, well above its presale high estimate of $24,000. Five years ago, examples of this amazing sculptural icon could be had for perhaps $6,000.

As for George Nakashima's "walnut gold," as Zemaitis calls it, "you can't not sell the stuff." A coffee table from ca. 1950 went for $9,560 (est. $7,000-$10,000) and an armchair from 1983 went for $7,170 (est. $4,000-$6,000).

The sale's most challenging lot was a group of aluminum fixtures made in 1992 for the Skoda Boutique in Berlin by Marc Newson. Comprising an exceptionally long clothes rack, an unusual spheroid desk, a group of aluminum floor tiles, the front door handle and two dressing-room doors, the lot was knocked down for $70,000, below its aggressive presale low estimate of $80,000. The buyer appeared to be Chris Brant, son of art collector Peter Brant.

Following the sale, several younger designers can now be said to have a developing secondary market for their work. A dramatic "Wing" chair of cardboard and clear plastic from 2000 by Fernando & Umberto Campana sold for $8,963 (est. $7,000-$9,000) and a brutish table by Ali Tayar, made from a particleboard form the artist found in the meat-packing district, sold for $8,365 (est. $9,000-$12,000).

The next furniture sale at Phillips features 19th and 20th century material, Dec 11, 2002.