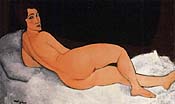 Amedeo Modigliani
Nu couché
1917
est. $20 million-$25 million
Christie's New York
Nov. 4, 2003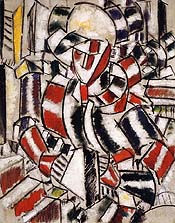 Fernand Leger
La Femme en rouge et vert
1914
est. $10 million-$15 million
Christie's New York
Nov. 4, 2003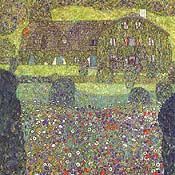 Gustav Klimt
Landhaus am Attersee
ca. 1914
est. $18 million-$25 million
Sotheby's New York
Nov. 5, 2003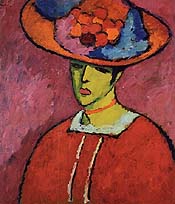 Alexej von Jawlensky
Schokko mit Tellerhut
ca. 1910
est. $5 million-$7 million
Sotheby's New York
Nov. 5, 2003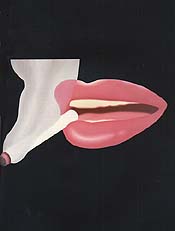 Tom Wesselmann
Smoker #6 (previously titled as Mouth #20)
1967-69
est. $300,000-$400,000
Christie's New York
Nov. 11, 2003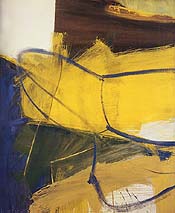 Willem de Kooning
Spike's Folly I
1959
$10,000,000-$15,000,000
Sotheby's New York
Nov. 12, 2003
Art Market Watch
10/31/03
HOT STUFF AT FALL AUCTIONS
The fall auction season in New York begins in earnest in November, with a week of big sales of Impressionist and modern art at Christie's and Sotheby's followed by a week of contemporary sales at Christie's, Sotheby's and Phillips de Pury & Luxembourg.
Christie's Nov. 4 evening sale of Impressionist and modern art features 44 lots, a healthy number and a sign of optimism, especially when compared to the 31 lots offered by the house last May. Experts are noting, however, that a good portion of the sale's total estimated value ($91 million-$126 million) is due to a single lot: Amedeo Modigliani's Nu couché (sur le côté gauche) (1917), an impressively large, pin-up-style reclining nude seen from the back that carries an ambitious presale estimate of $20 million-$25 million.

Christie's sale also features a striking 1914 Cubist femme in red, green and black by Fernand Léger (est. $10 million-$15 million) that was on view at the Centre Pompidou in Paris until it turned out to have been Nazi war loot and was returned to the heirs of its owners, who have put it on the block.

The sale includes three works by Vincent van Gogh: a large (ca. 36 x 29 in.) 1888 autumn scene of a road lined with orange and red poplars (est. $12 million-$18 million); a beautiful colored drawing of the Pont de Langlois in Arles (est. $6 million-$8 million) and an early, jewel-like still life (est. $3 million-$4 million).
Sotheby's Nov. 5 evening sale of Impressionist and modern art is rather larger than Christie's sale, including 58 lots and carrying a total presale estimated value of $112 million-$156 million (Sotheby's offered only 39 lots in a similar sale last May). This time around, the auction has several star paintings in pristine condition, including works by Monet, Klimt, van Gogh and Jawlensky. The Claude Monet Nymphéas (1908) was included in the artist's 1909 exhibition at Durand-Ruel in Paris and carries a presale estimate of $10 million-$15 million.

The 1914 Gustav Klimt landscape, which Vanity Fair reports is consigned by Bernard Arnault (the picture was supposedly given to Arnault last year by Phillips then-CEO Louise MacBain to settle a $62 million loan to the struggling auction house), is estimated at $18 million-$25 million. A graphic and colorful harvest landscape on paper by Vincent van Gogh, which sold at Sotheby's London in 1997 for 8.8 million (ca. $14.7 million), is now estimated at $7 million-$9 million -- making it a bargain. Alexej von Jawlensky's striking 1910 painting of the model Schokko dolled up in a choker and flower-covered hat is estimated at $5 million-$7 million, as is a large Picasso drawing of a sleeping Marie-Thérèse Walter from the Bill Blass Collection.
Among the 68 lots in Christie's large sale of post-war and contemporary art on Nov. 11 are several works from the estate of Dorothy Miller, the pioneering Museum of Modern Art curator. The top Miller consignment is Jasper Johns' Gray Numbers (est. $5 million-$7 million), a 28 x 22 in. painting from 1957 in which the artist actually painted the numerals by hand, rather than using a stencil. Also from the Miller estate is a classic though small and notably dingy canvas and metal construction from 1960 by Lee Bontecou (est. $50,000-$70,000).

Other interesting lots in the sale include a set of three color prints in "self-lubricating" frames from Cremaster 2 by Matthew Barney, estimated at $120,000-$180,000, and a 1987 painting of a pensive boy by Marlene Dumas estimated at $120,000-$160,000. Easily the sexiest work in the sale, however, is Tom Wesselman's cut-out Smoker #6 from 1967-69, which features Marilyn Monroe's lips and is estimated at $300,000-$400,000.
Top lot in Sotheby's Nov. 12 evening sale of contemporary art is a 1959 abstract oil by Willem de Kooning, Spike's Folly I, that was once in the Ethel and Robert Scull collection and that now carries a presale estimate of $10 million-$15 million. Three paintings all carry presale estimates of $2.5 million-$3.5 million: a large double portrait painting from 1982 by Jean-Michel Basquiat; a 1983 painting of two candles by Gerhard Richter; and a set of three studies of Lucian Freud by Francis Bacon from 1965.
Last but not least, Phillips offers 57 lots in its Nov. 13 evening sale of contemporary art. Among the lots are a Jeff Koons ink-on-canvas depiction of himself and then-wife Ilona Staller from his pornographic 1990 "Made in Heaven" series (est. $400,000-$600,000); a Matthew Barney photo-triptych from Cremaster 5 (est. $200,000-$300,000); a 1997 Louise Bourgeois sculpture of four cast-metal limbs on a bed (est. $200,000-$300,000); and one of Ugo Rondinone's enlargements of Old Master landscapes from 1996 (est. $40,000-$60,000).