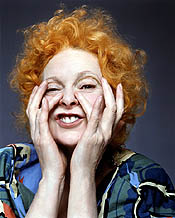 Portrait of Vivienne Westwood by Rankin
Blue Platform Shoes as worn by Naomi Campbell during her famous fall on the catwalk in 1993
"Vivienne Westwood"
Victoria and Albert Museum
Gilles Bensimon
Frans Hals corset
1992-3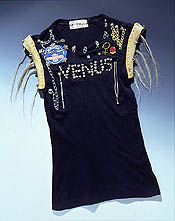 Vivienne Westwood
Venus T-shirt, Let It Rock
1971
Vivienne Westwood
Rock chicken bone T-shirt, Let It Rock
1971
Harlequin from Vivienne Westwood's "Voyage to Cythera Autumn / Winter 1989-90" collection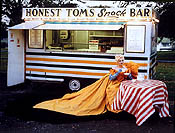 Gavin Bond
Vivienne Westwood on Chaplan Common
A One-Off Visionary
by Rachael Lorenz-Polsky
You can never create anything in a vacuum. It comes out of chaos really, but that chaos is something youre continually piecing together and discovering.


&nbsp &nbsp &nbsp &nbsp &nbsp &nbsp &nbsp &nbsp-- Vivienne Westwood

In Vivienne Westwood, the exhibition catalogue accompanying the iconoclastic fashion designers current retrospective at the Victoria and Albert Museum in London, curator Claire Wilcox gives a chronological account of Westwoods life, work and ideas starting in September 1970 and pushing to the present. Alongside Wilcoxs eloquent text are striking photographs of Westwoods oeuvre, from the clothes that first inspired the Anti-Establishment Punk movement in London to Westwoods recent Establishment From Within collections. Always a sharp student of history and culture, Vivienne Westwood began her creative career at the age of 16 studying silver smithing at Harrow School of Art, but she left after a term, because I really didnt know how a working-class girl like me could possibly make a living in the art world. Thankfully, Westwood stopped her brief and atypical bout of creative timidity when she met Malcolm McLaren, then an art student himself. Malcolms a one-off, she once commented and together they visited art galleries and museums where, as she reminiscences, He introduced me to things that excited me and made me think. That collaboration sparked a revolution through which Westwood became an artist whose medium is fabric and whose genius is in creating arresting juxtapositions. Though she is best known as the author of slash and burn couture, her inspiration derives from her careful study of historical costumes and eighteenth century painters such Baucher and Watteau. Despite the fact that analyzing and satirizing English identity is a motif that runs through all her work, Westwood also has a fervent interest in an ever-changing global culture. She claims, The only thing I really believe in is culture. And as Wilcox writes, The progression of her work reflects her systemic exploration of the history of cutting. Like a student of painting who learns through the academic exercise of copying classical art, Westwood believes in scholarship and craft. Yet Westwood is hardly an obedient servant to culture. The only reason Im in fashion she says, Is to destroy world conformity. Westwoods early collections were a protest to any dominant cultural standard. My job is always to confront the establishment and try to find out where freedom lies. In 1969, freedom was on Kings Road when Westwood and McLaren took over Tommy Roberts pop art inspired shop and opened the legendary Let it Rock shop, the template for every dodgy yet super-cool store since. At Let it Rock, Westwood collaged James Dean memorabilia, stills from 50s film and pages ripped from pin-up magazines featuring models wearing skimpy clothing. Equally iconic was Westwoods own style. She bleached and razor cut her hair. She wore tight leopard print velvet trousers and circle or pencil skirts, which she paired with short socks and stilettos. Just as she dressed herself in dagger-length heels and femme-fatale garb, sex played a major role in her designs, where she mixed 1950s vintage looks with forbidden clothing. Thanks to her, rubber-wear made an appearance in the office. Let it Rock was the sartorial identity for the Punk Movement but Wilcox writes that, Inevitably, Punk was eventually absorbed and disarmed by the mainstream and Westwood became disenchanted. Im not sure there is such a thing as the Anti-Establishment it feeds the Establishment. So Westwood trashed her safety-pins and snarls, and in 1982 she started showing collections inspired by the English movement towards getting involved with third-world cultures. She paired African dresses with Dominican hats, threw in some Peruvian beads and based the makeup on images of tribes in New Guinea. Her second shop, Nostalgia of Mud, had a map of the world painted on the front; the interior was designed to represent an archeological dig. Then in 1983-4 Westwood traveled to a less exotic local, America, to meet the graff-artist Keith Haring. Haring gave her two large sheets of his drawings and carte blanche to use them however she wished. She felt his work was like a magic esoteric sign language, Wilcox states, and Westwoods subsequent collection was centered on space invader imagery drawn in fluorescent paint on dark fabric adorned with hieroglyphic prints. Even as culture kept eventually catching up to her, Westwood kept her designs racing against the grain. So, in 1995-6 when feminism was in full swing, she did a collection baiting the feminists, entitled Vive la Cocotte, which featured corsets and full-skirts that highlighted a traditional hourglass figure. The Victoria and Albert museum acquired their first Vivienne Westwood garment in 1983. The acquisition was fitting since the outfit was from her Pirate collection and Westwood had researched the masculine-inspired look by examining historical costume patterns from books like Norah Waughs The Cut of mens Clothes in the National Art Library at the V&A Museum. The Pirate outfit has remained in the Museums Dress Court for past twenty years and since then the V&A has amassed a large Vivienne Westwood collection. Westwoods overriding gift to fashion is her conviction that clothing can change the way people think, states Wilcox. Vivienne Westwood chronicles the history of one of the most dynamic fashion designers of our time. Her designs have challenged our ideals and thus perpetuated a fierce and profound change in our perception.


RACHAEL LORENZ-POLSKY can be reached at rachaellorenz@sbcglobal.net.