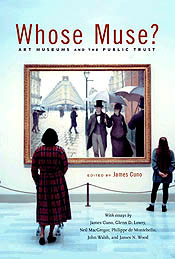 James Cuno, ed.
Whose Muse? Art Museums and the Public Trust
(Princeton)
Guardians of the Permanent Things
by Victor M. Cassidy
James Cuno, ed., Whose Muse? Art Museums and the Public Trust, 208 pp., Princeton University Press, $29.95 Acquiring, preserving, and providing access to works of art is the basis for an art museums contract with the public and the foundation of the trust that authorizes the contract, writes James Cuno in Whose Muse? Art Museums and the Public Trust (2004), a volume of essays. (Also contributing are Neil MacGregor, director, British Museum, London; John Walsh, director emeritus, J. Paul Getty Museum, Los Angeles; James N. Wood, retiring director, the Art Institute of Chicago; Glenn D. Lowry, director, Museum of Modern Art, New York; and Philippe de Montebello, Director, Metropolitan Museum of Art, New York.) Cuno, who currently directs the Courtauld Institute, London, becomes director of the Art Institute of Chicago in September of this year. I do not mean simply physical access to the object, although thats very important, Cuno continues. I also mean access to knowledge about and a deeper appreciation of the object. The museum is not just a treasure house, it is also a center of a very special kind of research and education. In the art museum, Cuno states, research and teaching are object-based: prompted by the object, engaged with the object, and offered up by the particular way objects are experienced in space as physical things made of matter of a certain size and scale, worked in a certain way, and presented under certain circumstances, whether they be those of a gallery or the study room. Objects are the art museums reason for being. When we visit an art museum, we see the painting that Rembrandt touched with his brush and sculptures that Bernini shaped with his hands. These unique objects connect us directly to their makers. If one is lost, it can never be replaced. If one is damaged, it will never be the same again. Art museum directors have a special responsibility to guard the objects in their care -- the greatest that civilization has produced -- to share them intelligently with the public, and to pass them on to the next generation. Titians Noli Me Tangere
The public -- both the humble and the mighty -- understands the value of art and needs art, especially in threatening times. During 1939, as Britain realized that war with Hitler was inevitable and that London would surely be bombed, the National Gallery moved its Old Master paintings to a remote place in Wales. After two years, people wanted the paintings back because they represented civilization. Everyone could hear Beethoven concerts in the National Gallery, but nobody could view the Old Master paintings. After much discussion, the National Gallery trustees decided to bring one Old Master picture each month to London and show it. In case of a bomb alert, the staff would carry the painting to the basement. When asked which work it wanted to see first, the public chose Titians Noli Me Tangere (Touch Me Not), which depicts the Biblical encounter between Mary Magdalen and the risen Christ. In this painting of life, death and hope, Mary Magdalen stands on barren ground, while the land beneath Christ is green with new life. Noli Me Tangere, Cuno writes, assured the English that life would go on as before and that they still had the right to see -- indeed still had the capacity for, however dark the days and long the nights were -- beauty in the world, their world, a just and purposeful world. Hitler was destroyed by soldiers, bombs and guns just as todays terrorists will be. But art and civilization now have other enemies, who occupy important positions in museums, the academy and the media -- and use their power to corrupt. These people fear art and dislike it. Arrogantly, they dismiss the great achievements of the past as politically incorrect or somehow irrelevant to the present day. They want to apply the techniques of modern merchandising to museums and make them into places of shallow entertainment. Defeating these Philistines is the true agenda of Whose Muse. The essayists say what art museums must -- and must not -- do to maintain public trust. Everyone agrees that art museums must not imitate the round-heeled, mismanaged Guggenheim, which betrayed its mission and the public by mounting an exhibition of Armani fashions in fall of 2000 after the designer donated $15 million. Critics said that this show belonged in a department store. The New York Times Roberta Smith wrote that a few more shows like Armani and it wont matter how many architectural masterpieces the Guggenheim can afford to build; they will just be rentable exhibition halls. In 2001, the Guggenheim entered into a partnership with a casino and opened a Las Vegas branch, expecting to generate considerable income. Attendance fell way below projections after Sept. 11, 2001. Two months later, the Guggenheim announced massive layoffs. It was subsequently discovered that in order to finance crazy expansions, the museum was going through its endowment. A patron came to the rescue, but insisted upon improved financial management. Thomas Krens, the director of the Guggenheim, is unrepentant. Sounding like a corporate marketing maven, he calls his museum a brand that must be exploited for maximum revenue. He continues expanding the Guggenheim, in fits and starts, by establishing branches all over the world. Dont Sell the Public Short
Whose Muse is filled with thoughtful insights into todays art museums and the complexities of their administration. Dont sell the public short, writes de Montebello. It does not demand a steady diet of well-known artists (e.g., van Gogh and Gauguin), but will respond to offbeat shows like the Metropolitans Tapestry in the Renaissance: Art and Magnificence (spring 2002). To maintain public trust, museums must exhibit genuine art with no distortion of information, he adds. A museums authority rests upon its acknowledged seriousness of purpose, scholarship, respect for the works of art, and integrity as spokesman for their time, place and creator. Viewing art is a contemplative experience, de Montebello continues. Museum visitors cannot expect the thrills that a touchdown pass -- or a coloratura aria -- provide. Museums are caught in a dilemma: they must somehow preserve a tranquil environment for viewing art as they engage the broadest possible public with it. Too often today, market forces drive museums, transforming them into activity centers, which exalt attendance over art, de Montebello says. To draw big crowds, museums have become hyperactive, with endless special exhibitions and activities, which increase both attendance and costs. To balance the books, museums resort to blockbuster shows, which only intensify the hyperactivity. Museums are under attack from both ends of the political spectrum, says Wood. The more society recognizes the museum as a source of authority, he writes, the more individuals and groups within that society will try to usurp or corrupt it to become a means to their ends. He adds that the art museum is asked to maintain its distinguishing values of excellence and spirituality as it competes with popular entertainment like rock concerts and theme parks -- an impossible straddle. Whose Muse is an excellent, very conservative book. The Guardians of the Permanent Things have devoted their lives to studying and conserving the finest fruits of civilization -- and to sharing them with us. They are humble, serious men who have earned our admiration and our trust.


VICTOR M. CASSIDY writes on art from Chicago.