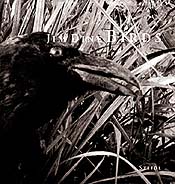 Jim Dine
Birds
(Steidl)
Lawrence Weiner and Eve Sonneman
How To Touch What
(Powerhouse)
Rita Blitt
The Passionate Gesture
(Ram)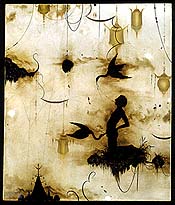 Darren Waterston
(St. Ann's)
Adam Fuss
My Ghost
(Twin Palms)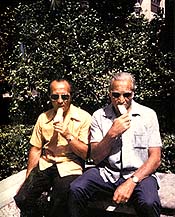 Tacita Dean
FLOH
(Steidl)
Book Report
by Greg Bork
The hottest of the hot new titles in art publishing are limited editions. These are collector's items that you will rarely find on the shelves of your local bookstore. You will certainly never find a comprehensive selection from all the publishers in one place, as you will in the Artnet.com Bookstore.

Limited editions by artists occupy a unique place in the world of publishing. These books lend themselves to all kinds of design innovations, using everything from type to photography to inserts -- the artist can, for instance, make a work in edition specifically for inclusion with the book.

The market for limited edition books can be lucrative -- these publications often sell out quickly, and sometimes the demand is so great that they even sell out before the release date. Needless to say, then, it's important to order early to avoid disappointment (orders made through the Artnet.com Bookstore aren't charged to buyers until the order ships).

This year, several new publishers have thrown their hats into the limited-edition ring. An extensive list -- every limited edition we have found to date, in fact -- can be referenced in the bookstore's Rare and Limited Editions category. This grouping also features a few gems that publishers have pulled out of their vaults to offer exclusively through Artnet.com. What better way to give a high value item maximum exposure, without the potentially damaging effects of human contact?

New artist's editions:

Jim Dine: Birds (Steidl, $350)
Limited Special Edition of 150 including an original heliogravure.
A childhood encounter with a crow at a zoo led to a lifetime fascination with avian life for the American artist Jim Dine.

Prince Eagle: An Artist's Book by Elizabeth Peyton (Powerhouse, $2,250)
Limited Edition of 30 includes a signed and numbered gold-leaf artwork by the artist inside a specially constructed clamshell box wrapped with silk.
An artist's book by Elizabeth Peyton about a friend who resembles Napoleon, her early childhood hero.

Lawrence Weiner and Eve Sonneman: How to Touch What (powerHouse, $1,000)
A signed hardcover book accompanied by an archival Iris print, signed and numbered by the artists, and individually hand-stamped by Weiner. The edition is held to strictly 25 copies.
A collaboration between Conceptual Art pioneer Lawrence Weiner and New York photographer Eve Sonneman.

Rita Blitt: The Passionate Gesture (Ram Publications, $350)
In this unique slipcased set, limited to 350 copies, the artist has enclosed a signed and numbered copy of the book along with a custom wooden sculpture.
This elegant publication is an overview of Rita Blitt's expressionistic drawings, paintings and outdoor sculptures.

Darren Waterston (St. Ann's Press, $850)
Deluxe limited edition of 50 includes hand-colored etching.
The multiple layers of paint Los Angeles artist Darren Waterson uses as the foundation for his sensual paintings infuse them with a atmospheric quality.

New Signed Editions:

The Book of 101 Books: Seminal Photographic Books of the Twentieth Century (Roth Horowitz, $750)
This deluxe edition of a leatherbound volume in silk slipcase, signed and numbered by all of the authors, is limited to 101 copies.
The history of photography books in one spectacular volume.

Adam Fuss: My Ghost (Twin Palms Publishing, $250)
Slipcased edition of 200 autographed copies.
Adam Fuss continues his evocative use of the qualities of light and dark inherent in the photogram process, in a new body of work which essays loss and its attendant ghosts.

Araki (Taschen, $1,250)
A limited edition of 2,500 copies worldwide, numbered and signed by the artist.
An oversized survey of the work of Japanese art and erotic photographer Nobuyoshi Araki.

Lee Friedlander: The Little Screens (Fraenkel Gallery, $200)
Signed and numbered edition of 100
"The Little Screens" is a revered and influential body of early work by American photographer Lee Friedlander.

Tacita Dean: FLOH (Steidl, $28)
Signed, limited edition of 4,000
The images in FLOH are photographs discovered by English artist Tacita Dean in flea markets across Europe and America.

Juergen Teller: Tracht (Lehmann Maupin Gallery, $180)
Available in a signed and numbered edition of 500. Tracht is based on photographer Juergen Teller's "Miss World" project, in which he took portraits of the contestants from each country during the 1999 pageant.

Classic Best-selling Editions:

Life is Paradise: The Portraits of Francesco Clemente (Powerhouse, $500)
Limited edition slipcased hardcover with signed and numbered original aquatint etching by the artist, done in an edition of 400.
Francesco Clemente's oil, pastel and watercolor portraits of personalities from the worlds of pop culture, high society and art.

Louise Bourgeois: The Insomnia Drawings (Scalo Publishers, $195)
Edition of 1,500, in a linen clamshell box.
This series is a unique mirror of an extraordinary woman's life and work.


GREGORY BORK is director of the Artnet.com Bookstore, and can be reached at gbork@artnet.com.