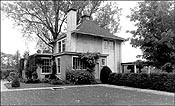 Daniel Chester French's studio at Chesterwood. Photo by Polly Rettig, National Park Service
Rodin Museum, Philadelphia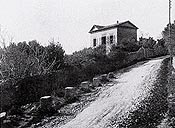 The Atelier Czanne in Aix en Provence
Jackson Pollock's studio in Springs, Long Island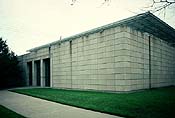 Cy Twombly Gallery, Houston
The Thorvaldsens Museum, Copenhagen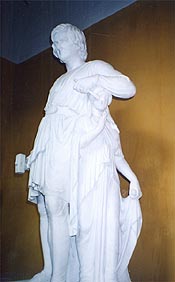 Bertel Thorvaldsen's portrait of himself leaning on the 1859 statue Hope, cast from the original plaster model of 1839. Photos by Phyllis Tuchman
Bertel Thorvaldsen
Christoffer Wilhelm Eckersberg 1816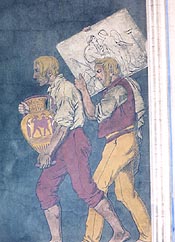 The arrival of Thorvaldsen's collection at the museum, as shown in murals on the museum faade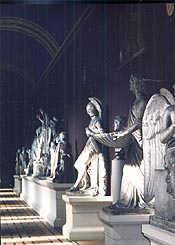 Plasters lining the interior courtyard at Thorvaldsens Museum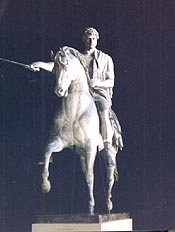 Thorvaldsen's portrait of the Polish prince and general Jzef Poniatowski
Going Solo
by Phyllis Tuchman
From Peter Paul Rubens' palatial digs in Antwerp to the coziness of Arturo Michelena's casa in Caracas, solo artist museums come in all shapes and sizes. There are painters' studios, say, like Eugene Delacroix's on Paris's rue de Furstenberg; and sculptors' estates such as Daniel Chester French's Chesterwood in Western Massachusetts.

For every artist's home, there's another which houses a collection amassed by a wealthy patron (the protean Auguste Rodin is represented by both varieties: the former in Paris; the latter, in Philadelphia). Some sites are filled with work by artists who once enjoyed world class reputations: Bourdelle and Gustave Moreau in Paris, and David d'Angers in Angers.

Much is to be learned from solo artist museums. All sorts of details convey a sense of a life once lived. Czanne's studio in Aix looks like the archetypal atelier until someone points out the tall slit in the wall which made it possible for the Philadelphia Museum of Art's Large Bathers to be slipped through it. In Much Hadham, England, sheep still graze in the meadow alongside the outbuildings on Henry Moore's property. And the Muse Maillol on the Left Bank offers two for the price of one: its entry door is beside a huge and graceful fountain by Bouchardon, with aspects that inspired paintings by Chardin, who passed it daily.

Who isn't amazed when they enter the barn in the Springs where Jackson Pollock made his pour paintings? He hardly had room to back up. In Greenwich Village, there's a whiff of bohemian in the figure-filled garden floor studio which once belonged to wood carver Chaim Gross.

While France surely holds the record for solo artist museums, Texas has two that render most visitors speechless. From what people do say about it, the Chinati Foundation in Marfa sounds as if it is as much an artwork by Donald Judd as are the specific objects and structures he sited in the former army barracks and fields not far, as the crow flies, from the sets where the movie Giant was filmed. The erstwhile Minimalist found a spot to put his life's work and art he respected and collected a three hour drive from the nearest airport.

In comparison, Houston's Cy Twombly Gallery, built by architect Renzo Piano, is a gem of a building a stone's throw from the Menil Collection and the Rothko Chapel. Last winter, as snow blanketed New York, this jewel box looked like something every artist should aspire to having. His paintings, sculpture and works on paper have never looked more eloquent, elegant and elemental. The light is divine; the rooms are perfectly proportioned.

From the moment it was inaugurated in September 1848, the Thorvaldsens Museum in Copenhagen has set the gold standard for solo artist museums. It was preceded four years earlier by the Gipsoteca, in Possagno, outside Venice, which was built to display work by Antonio Canova. But plasters by this Neo-Classicist populate the galleries in the Veneto region of Italy. To appreciate the Italian sculptor's marble statues in depth, you would be better off visiting the Hermitage in St. Petersburg. To get a handle on the art of Danish sculptor Bertel Thorvaldsen (1770-1844), though, you must go to Copenhagen.

The museum includes this Neo-Classicist's drawings, sketch models, plaster casts, stone statues carved under his supervision and finished by him, and marble sculpture based on work from his hand and executed after his death by others. Also installed on the second floor are his collections of Egyptian art, Greek and Roman statues, vases, antique glass, gems, coins, books, engravings, watercolors and paintings, especially art by his contemporaries executed during the Golden Age of Denmark.

The museum and the building stand out for additional reasons. For one, many believe this is the first one-artist museum sponsored by a city. Though Thorvaldsen was named a professor at the Copenhagen Academy of Fine Arts in 1805 and its director in 1833, he retained his studio in Rome near the Palazzo Barberini. About the time plans for a permanent home for Canova's plasters were initiated, the Dane entered discussions with his hometown about the future of his statues and collections. In 1837, he willed everything to his country's capital. And the following year he left the Eternal City for his birthplace, though he would continue to visit Italy.

Thorvaldsens Museum also distinguishes itself as -- dare we call it this -- a post-modern masterpiece. Its exterior is sleek, crisp, and colored. Put it next to a Michael Graves, and you might have trouble telling which twin has the tony. Three sides of the building variously portray the sculptor's arrival in Copenhagen; the ship which transported his work from Italy to Denmark; and art being carried to the museum. The images were made by applying cement plaster directly to the walls.

Architect Michael Gottlieb Bindesboll was a master of adaptive use as well. Think Dia:Beacon (once a box making factory) or MoMA QNS (a former staple factory) and then ponder this: before becoming a museum, this site was a stable. While the walls were razed, the foundations were retained. Today a graceful statue occupies each small, window-lit room which previously held one horse per stall. Marbles appear in individual spaces while plasters are set in rows in the long corridors surrounding the interior courtyards.

The one new addition -- a huge ceremonial entrance hall -- is, of course, filled with giant-sized work, including two equestrian sculptures. This is where you'll find the original plasters for a monument to the German poet Friedrich Schiller erected in Stuttgart; another of Pope Pius VII placed in St. Peter's; and one of Jozef Poniatowski, a Polish prince and general, made for Warsaw.

Bertel Thorvaldsen is one of those historical figures whose art has been in and out of favor more than most. Born Nov. 19, 1770, he was admitted to the Academy of Fine Arts when he was only 10 years old. Before he won a traveling scholarship that brought him to Rome at the age of 25, he had been awarded various medals, including a gold for the relief, The Apostles Peter and John Healing a Lame Man. But Canova, who was 17 years older, was already an art star in Italy. And Neo-Classicism was in full throttle when the Dane appeared on the scene.

For Americans flocking to Rome, however, Thorvaldsen was their hero. The Indian Chief standing atop the dome of the Capitol building in Washington, D.C. might look different had Thorvaldsen not been Thomas Crawford's hero. Nevertheless, by the end of the 19th century, Rodin was the most famous artist in the world and Thorvaldsen was dated. Things didn't change with the advent of welded metal constructions nor with the emergence of Minimalism, no matter how austere and plain its style.

These days, though, with figures popular once again, Thorvaldsen's statues look fresher and fresher. He mastered a range of types, from reliefs to portrait busts to monuments for basilica and public square; and he depicted religious, mythological and heroic subjects. Making three dimensional art is a laborious process, and at Thorvaldsen's Museum you can watch the evolution of a number of works from preliminary ideas to final realization. Right now there's much to be said for work that's resolved, reserved, and regal. A dose of Thorvaldsen and tradition is just what the doctor ordered.


PHYLLIS TUCHMAN publishes regularly in the Smithsonian, Town & Country and other journals.