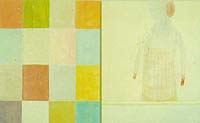 Hiroshi Sugito
flowers (left) and
elephant man (right) 1998
JERRY SALTZ 1998 ARCHIVES

WAR AND PEACE
by Jerry Saltz 12/3/98
Hiroshi Sugito's paintings at Nicole Klagsbrun.

FLEETING LIFE
by Jerry Saltz 11/25/98
Live now, live here, in photos by Wolfgang Tillmans.

KARA WALKER
by Jerry Saltz 11/24/98
Hysterical ecstasy with slaves, masters, sex and art.