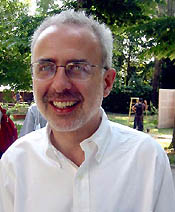 Francesco Bonami, curator of the 50th Venice Biennale, in 2003
JERRY SALTZ ARCHIVES

FLOUNDERING
by Jerry Saltz 7/6/05
Is the Venice Biennale too big, baggy, sluggish and bureaucratic?

UNEQUAL PARTNERS
by Jerry Saltz 6/27/05
Discerning difference between the good and the great in MoMA's "Cézanne and Pissarro."

ANAL-RETENTIVE WARRIOR PRINCESS
by Jerry Saltz 6/20/05
Sarah Szes magical, maniacal ways of looking at structure and space.

REASON WITHOUT MEANING
by Jerry Saltz 6/6/05
Neo Rauchs contradictory, hallucinogenic spaces.

HAMMERED
by Jerry Saltz 5/31/05
Auctions are like stripteases, enticing the audience with whats just out of reach.

RESTORATION DRAMA
by Jerry Saltz 5/26/05
Daniel Burens Guggenheim installation turns the museum into a kind of sex machine.

MYSTIC RIVERS
by Jerry Saltz 5/17/05
Intriguing questions in "3 x Abstraction" at the Drawing Center.

WAYS OF SEEING
by Jerry Saltz 5/6/05
Looking at Michelangelo's David with Thomas Struth.

WHATEVER LAUREL WANTS
by Jerry Saltz 5/6/05
Laurel Nakadate is a wolf in baby dolls clothing.

DIRE DIARY
by Jerry Saltz 4/26/05
The gushy artforum.com items read like the Us magazine of art criticism.

TO HELL AND BACK
by Jerry Saltz 4/19/05
Jean-Michel Basquiat emerged rough but ready, not fully formed but fully loaded.

THE EMPEROR'S NEW PAINTINGS
by Jerry Saltz 4/6/05
Is Damien Hirst more than hype, hubris and money?

LESSER NEW YORK
by Jerry Saltz 3/29/05
P.S.1 and MoMA try to tame the wildness of youth.

WE ARE THEIRS
by Jerry Saltz 3/23/05
Sarah Morris' new film reverses Warhol's dictum about 15 minutes of fame.

THE ICON AND THE ICONOCLAST
by Jerry Saltz 3/8/05
One of the best shows of the season -- Rudolf Stingel at Paula Cooper Gallery -- takes place in an empty gallery.

SYSTEM OVERLOAD
by Jerry Saltz 3/4/05
Transforming the junk pile of culture into something ominous, investigative, and visionary.

IT CAME FROM OUTER SPACE
by Jerry Saltz 2/11/05
Impish new paintings by Jason Fox.

MOURNING GLORY
by Jerry Saltz 2/8/05
British artist Steve McQueen engages with history both as a participant and an outsider.

FEEDING FRENZY
by Jerry Saltz 2/2/05
Are art fairs the triumph of the corporate avant-garde?

A MODEST PROPOSAL
by Jerry Saltz 1/25/05
Some ideas for a better Museum of Modern Art.

LOST HORIZON
by Jerry Saltz 1/5/05
The ego, libido, ambition and energy of the volatile East Village art scene.

LIKE A ROCK
by Jerry Saltz 12/21/04
Daniel Lefcourt is a non-painter's painter.

HARD ATTACK
by Jerry Saltz 12/7/04
Critics clash on painters Christopher Wool and David Reed.

RETURN ENGAGEMENT
by Jerry Saltz 11/22/04
Is the Museum of Modern Art already running out of space?

BOTH SIDES NOW
by Jerry Saltz 11/10/04
Paul Chans apocalyptic landscapes.

THINKING OUTSIDE THE BOX
by Jerry Saltz 11/4/04
Trisha Donnellys art is difficult -- and electric.

DEALING WITH RACE
by Jerry Saltz 10/20/04
Ellen Gallaghers work is inventive, eye-catching and kitschy.

CRITICAL CALL
by Jerry Saltz 10/4/04
Assessing the new season -- highs, lows, kitsch, shtick and one flamboyant failure.

ADDING UP, LETTING GO
by Jerry Saltz 9/28/04
Phoebe Washburn works the gap between necessity, serendipity, impulse and order.

HELL HOLES
by Jerry Saltz 9/21/04
A survey of Lee Bontecous sexual, terrestrial, and celestial work at MoMA.

SUPER BABYLON
by Jerry Saltz 9/14/04
The new season in New York begins with a super paradigm.

1557: A SPACE ODYSSEY
by Jerry Saltz 7/14/04
Byzantium at the Met.

SUPER THEORY WOMAN
by Jerry Saltz 7/8/04
Going to bat for Andrea Fraser on MSNBCs Scarborough Country.

TERMITE THEORY
by Jerry Saltz 6/23/04
Cutesy, crafty and unavoidable.

MODERN MANNERIST
by Jerry Saltz 6/9/04
Modigliani, looking like Antonio Banderas and acting like Courtney Love.

BLOTTO, MEET BUZZED
by Jerry Saltz 5/19/04
The spirit of abandonment in Drunk vs. Stoned.

BEING THERE
by Jerry Saltz 5/13/04
Eve Sussman breathes new life into appropriation.

BOROUGH HALL
by Jerry Saltz 5/5/04
The Brooklyn Museum's "Open House" is less an exhibition than a shout-out.

VITO DE MILO
by Jerry Saltz 4/28/04
Radical work from the 1960s and '70s by Body Art pioneer Vito Acconci.

A FINE LINE
by Jerry Saltz 4/7/04
Beguiling drawings by Parmigianino at the Frick.

SHRINK-WRAPPED
by Jerry Saltz 4/2/04
On the couch with photographer Shellburne Thurber.

THE OK CORRAL
by Jerry Saltz 3/16/04
Leaving postmodernist and postminimalist strategies behind.

THE RICHTER RESOLUTION
by Jerry Saltz 3/9/04
Calling for an end to a fashionable trend in painting.

WORLDS APART
by Jerry Saltz 3/3/04
Amar Kanwar's film explores the disputed Kasmir border between India and Pakistan.

REACTION SHOT
by Jerry Saltz 2/10/04
Does John Currin live up to the hype?

MODERN GOTHIC
by Jerry Saltz 2/4/04
Elusive, deluded and chic, a new version of an old style takes hold among young artists.

ART AS SALVATION
by Jerry Saltz 1/27/04
Arshile Gorky drew his way to greatness.

BLINDED BY THE LIGHT
by Jerry Saltz 1/7/04
Keith Sonnier's Arte Povera brightened up the '70s.

POOR MEMORIAL
by Jerry Saltz 12/23/03
The pseudo-solutions for the World Trade Center Memorial.

BREATHING LESSONS
by Jerry Saltz 12/16/03
Jeff Koons, between innocence and cunning.

DESOLATION ROW
by Jerry Saltz 12/10/03
Gregor Schneider turns a white cube into a black hole.

FIRST-ROUND KNOCKOUT
by Jerry Saltz 11/19/03
James Rosenquist's wraparound wow! at the Guggenheim.

HEAD CASE
by Jerry Saltz 11/12/03
Jim Nutt, a key member of Chicago's Hairy Who.

AFTER SHOCK
by Jerry Saltz 11/4/03
An optimistic reassessment of the British art scene.

FOREVER YOURS
by Jerry Saltz 10/29/03
Patricia Cronin's Memorial to a Marriage in Woodlawn Cemetery.

VISIONARY LOGIC
by Jerry Saltz 10/15/03
El Greco, one of the greatest weird painters ever, at the Metropolitan Museum.

AT THE CROSSROADS
by Jerry Saltz 10/6/03
Under a new director, will the Whitney's future be brighter than its recent past?

THE ARTIST WHO FELL TO EARTH
by Jerry Saltz 10/2/03
Janine Antoni, riveting events and inert objects.

ONLY THE LONELY
by Jerry Saltz 9/17/03
Richer, riskier new work from photographer Katy Grannan.

ASS BACKWARDS
by Jerry Saltz 9/17/03
Piotr Uklanski's smug pillow talk in Artforum.

BABYLON RISING
by Jerry Saltz 9/9/03
Reasons to be cheerful in the new season.

APOTHEOSIS NOW
by Jerry Saltz 7/16/03
A labor of love at the Dia:Beacon.

OUT OF LINE
by Jerry Saltz 7/2/03
The incisive drawings of James Siena.

BURN, BABY, BURN
by Jerry Saltz 6/4/03
Keegan McHargue and Jules de Balincourt make their debut.

LEWD AWAKENING
by Jerry Saltz 5/28/03
Christian Schad at the Neue Galerie.

A STUMBLEBUM'S PROGRESS
by Jerry Saltz 5/21/03
Amy Sillman gets "shaggy."

DARK STAR
by Jerry Saltz 5/14/03
Mark Lombardi's conspiracy theories.

PRIMAL TIME
by Jerry Saltz 4/30/03
Adolph Wölfli's ecstatic shamanistic devices at the Folk Art Museum.

BORDERLINE PAINTINGS
by Jerry Saltz 4/23/03
In "Sunday Painters," painting so bad, it's good.

ARCHITECTURAL FOLLIES
by Jerry Saltz 4/16/03
A fiasco from Diller, Scofidio and the Whitney.

DOG GONE
by Jerry Saltz 4/2/03
William Wegman's paintings at Sperone Westwater.

ELEPHANT MAN
by Jerry Saltz 3/25/03
Douglas Gordon and Minnie at Gagosian.

FILM COMMENT
by Jerry Saltz 3/19/03
John Waters at American Fine Arts.

SWEPT AWAY
by Jerry Saltz 2/25/03
On still being smitten with Matthew Barney.

MOMA'S BOYS
by Jerry Saltz 2/19/03
With Matisse and Picasso, Friendship + Rivalry = Great Radical Art.

STICKS AND STONES
by Jerry Saltz 2/12/03
Second thoughts on British earthworker Andy Goldsworthy.

PAPER TRAIL
by Jerry Saltz 1/29/03
Drawing is on the rise in New York.

RAYS OF LIGHT
by Jerry Saltz 1/21/03
Another opening, another 85 shows.

LOOKING BACK
by Jerry Saltz 1/6/03
Four years on, a critic reassesses and reconsiders.

HISTORY DRAWING
by Jerry Saltz 12/30/02
William Kentridge's Zeno Writing.

WILD CARD
by Jerry Saltz 12/18/02
Dana Schutz paints the last man on earth.

PAINTING A LA MODE
by Jerry Saltz 12/4/02
"Painting as Paradox" at Artists Space.

SLEEPERS AWAKE
by Jerry Saltz 11/6/02
Alexander Ross and Steve DiBenedetto stand out in Chelsea.

GOOD ON PAPER
by Jerry Saltz 10/30/02
"Drawing Now: Eight Propositions" at MoMA Queens.

CARPE DIEM
by Jerry Saltz 10/23/02
Peter Cain's sexy cars at Matthew Marks Gallery.

REPEAT PERFORMANCE
by Jerry Saltz 10/9/02
Beth Campbell makes art out of the way we think.

MOMMIE QUEEREST
by Jerry Saltz 9/25/02
Robert Melee's abject, abusive and out-there art.

NAUGHTY, NAUGHTY
by Jerry Saltz 9/18/02
Saccharine, mindless sex in "Exposed: The Victorian Nude."

LEARNING ON THE JOB
by Jerry Saltz 9/11/02
The critic reflects on his role at the beginning of the new season.

WORKING CLASS HERO
by Jerry Saltz 6/12/02
Ralph Fasanella at the New-York Historical Society.

BOSOM MAXIMUS
by Jerry Saltz 6/6/02
Russ Meyer at Feigen Contemporary.

CIRCUIT PARTY
by Jerry Saltz 5/29/02
Great new paintings by Brice Marden.

THE RAPTURE
by Jerry Saltz 5/16/02
Renaissance tapestries at the Metropolitan Museum.

A WORLD APART
by Jerry Saltz 5/9/02
"Black Romantic" at the Studio Museum in Harlem.

SOMETHING ELSE
by Jerry Saltz 5/2/02
"Demonclownmonkey" at Artists Space.

BABYLON AS USUAL
by Jerry Saltz 4/23/02
When the going gets gloomy in the art world.

WIGGED OUT
by Jerry Saltz 4/12/02
Ellen Gallagher at the Drawing Center.

PUDENDA AGENDA
by Jerry Saltz 4/10/02
Shaved vagina monologues.

POSITIVELY 24TH STREET
by Jerry Saltz 4/3/02
A block of spectacles in New York's Chelsea art district.

MILD THING
by Jerry Saltz 3/26/02
"Mirroring Evil" at the Jewish Museum.

AMERICAN BLANDSTAND
by Jerry Saltz 3/12/02
I went to the Whitney and all I got was this lousy biennial.

SCALING RICHTER
by Jerry Saltz 2/27/02
A Gerhard-is-God moment at MoMA?

SEX AND SENSIBILITY
by Jerry Saltz 2/20/02
"Surrealism: Desire Unbound" at the Metropolitan Museum.

GUGGENRON
by Jerry Saltz 2/13/02
The Guggenheim has touched bottom.

WILD KINGDOM
by Jerry Saltz 1/30/02
Bruce Nauman maps the studio at Dia.

HARLEM ON HIS MIND
by Jerry Saltz 1/23/02
Jacob Lawrence's epic "Migration of the Negro."

LORD OF THE LOLITAS
by Jerry Saltz 1/2/02
The Henry Darger Collection at the American Folk Art Museum.

SOMETHING WILD
by Jerry Saltz 12/20/01
Katherine Bernhardt's funk, punk, pop paintings.

NAILING FAILING
by Jerry Saltz 12/13/01
Michael Smith and Joshua White's Latest Success.

HISTORY PAINTING
by Jerry Saltz 11/28/01
Kai Althoff's exploration of karma and history.

TEN YEARS AFTER
by Jerry Saltz 11/21/01
The art world in 1991.

MIDDLE AMERICANA
by Jerry Saltz 11/14/01
"I never painted pictures to be seen," Norman Rockwell at the Guggenheim.

FIGURE ONE
by Jerry Saltz 10/31/01
Giacometti and the invention of modern sculpture.

INSIDER OUT
by Jerry Saltz 10/24/01
Louis M. Eilshemius and the quadruple whammy of unluckiness.

CRAVING GRACE
by Jerry Saltz 10/18/01
Oliver Payne and Nick Relph's video trilogy at Gavin Brown's Enterprise.

ALL AT ONCE
by Jerry Saltz 10/3/01
Benjamin Edwards and a new dimensionality for painting.

KEEPING THE FAITH
by Jerry Saltz 9/26/01
When everything changes, what happens to art?

BABYLON NOW
by Jerry Saltz 9/5/01
Bucking the system in Bizarro World.

SCREEN SAVERS
by Jerry Saltz 7/25/01
Video and the artists who love it.

BLOWTORCH REALISM
by Jerry Saltz 7/18/01
Leon Golub's blowtorch realism at the Brooklyn Museum.

AFTER THE GOLD RUSH
by Jerry Saltz 7/11/01
New York's Chelsea art scene comes of age.

COVER ME
by Jerry Saltz 6/20/01
A staggering blur in Carlo McCormick's "LP Show" at Exit Art.

PRIMORDIAL SEASONINGS
by Jerry Saltz 6/13/01
Verne Dawson at Gavin Brown's Enterprise.

LIKE LIFE
by Jerry Saltz 6/6/01
Ron Mueck at James Cohan Gallery.

DRAWN AND QUARTERED
by Jerry Saltz 5/30/01
James Ensor at the Drawing Center.

POST-BLACK
by Jerry Saltz 5/16/01
"Freestyle" at the Studio Museum in Harlem.

SUPERNATURAL THING
by Jerry Saltz 5/10/01
Tantric snake temptation in Chelsea.

WOMAN OVERBOARD
by Jerry Saltz 5/2/01
Hilary Harkness paints a black-comedy universe of perversion.

BYTE LYTE
by Jerry Saltz 4/25/01
Tepid "BitStreams" at the Whitney.

WILD THING
by Jerry Saltz 4/11/01
William Blake brings heaven and hell to the Met.

HEAT OF THE MOMENT
by Jerry Saltz 3/28/01
Gary Hume's rakish new paintings have an air of now.

BACKDOOR MAN
by Jerry Saltz 3/14/01
The wit and wisdom of Paul McCarthy.

PSYCHITECTURAL DIGEST
by Jerry Saltz 2/21/01
Ricci Albenda's "Tasseract" at Andrew Kreps.

HISTORY LESSON
by Jerry Saltz 2/14/01
Huyghe's debut, a fascinating media spectacle.

ON THE ROCKS
by Jerry Saltz 2/7/01
Nan Goldin at Matthew Marks Gallery.

WALL POWER
by Jerry Saltz 1/24/01
Has Sol LeWitt gone stale?

SOLAR POWER
by Jerry Saltz 1/19/01
After three decades, Twombly returns with a majestic cycle of paintings.

STOP MAKING SENSE
by Jerry Saltz 1/5/01
MoMA's "Open Ends" is a perfect mess.

TERMITE QUEEN OF THE THAMES
by Jerry Saltz 12/28/00
The Tate Modern rules the British art world.

LIVING LARGE
by Jerry Saltz 12/6/00
Thinking about museums thinking about themselves.

AMERICAN FLAMER
by Jerry Saltz 11/30/00
Peter Saul is raising hell again.

OUT THERE
by Jerry Saltz 11/27/00
Matthew Ritchie paints a world of "Parents and Children."

TRUE CONFECTIONS
by Jerry Saltz 11/10/00
Sarah Sze's psychedelic neo-Constructivism.

DREAM ON
by Jerry Saltz 11/2/00
Utopia's on the map at the New York Public Library.

THE PURSUIT OF HAPPINESS
by Jerry Saltz 10/11/00
Damien Hirst, the one true pop-star artist.

TEEN ANGELS
by Jerry Saltz 10/5/00
Rineke Dijkstra's adolescents, stilled and in ecstatic action.

TILE AND FASHION
by Jerry Saltz 9/27/00
Jorge Pardo's Project at the Dia Center for the Arts.

BABYLON CALLING
by Jerry Saltz 9/13/00
Thoughts on newness for the new season.

AMAZING GRACE
by Jerry Saltz 8/9/00
The resonant art of Chardin at the Metropolitan Museum.

HOSTILE WITNESS
by Jerry Saltz 8/2/00
Barbara Kruger's retrospective at the Whitney Museum of American Art.

AUNTIE HERO
by Jerry Saltz 7/19/00
Alice Neel's amazing portraits at the Whitney Museum.

THE REALM OF THE SENSES
by Jerry Saltz 7/5/00
Works by 12 young artists at Deitch Projects.

SUBSTITUTE FOR LOVE
by Jerry Saltz 6/28/00
Morton Bartlett's ardent, awkward, inexplicable photographs at Ricco/Maresca.

JEFFERSONIAN KOONS
by Jerry Saltz 6/21/00
Sitting in the midst of Rockefeller Center, Puppy is like a new Statue of Liberty: it receives and redeems.

THE TAMING OF THE '80s
by Jerry Saltz 6/8/00
"Around 1984: A Look at Art in the '80s" at P.S.1 in New York.

ONLY SUBVERT
by Jerry Saltz 6/2/00
Robert Rosenblum's "1900" at the Guggenheim.

RUFF TRADE
by Jerry Saltz 5/25/00
Thomas Ruff turns on-line porn into art.

SWISH MYTH
by Jerry Saltz 5/12/00
A tribute to Andy Warhol's women at C & M Arts.

HOME ALONE
by Jerry Saltz 4/27/00
James Castle at the Drawing Center.

ANYTHING GOES
by Jerry Saltz 4/6/00
New work by Tom Friedman at Feature.

MY SIXTH SENSE
by Jerry Saltz 3/29/00
Dead people everywhere at the Whitney Biennial.

LUCIDITY ON FIRE
by Jerry Saltz 3/22/00
The Metropolitan's Walker Evans retrospective.

GREATER EXPECTATIONS
by Jerry Saltz 3/8/00
No dead animals, very little sex in "Greater New York" at P.S.1.

SOCIETY'S CHILD
by Jerry Saltz 2/23/00
Sam Taylor-Wood depicts the London bohemian at Matthew Marks.

SCIENCE FAIR
by Jerry Saltz 2/17/00
Scientific and medical illustrations at the New York Public Library.

RUNNING AMOK
by Jerry Saltz 2/17/00
Alex Bag at American Fine Arts.

PAINTING.COM
by Jerry Saltz 2/10/00
Is Cecily Brown to art what tech stocks are to the market?

STRAIGHT, WHITE AND BITTERSWEET
by Jerry Saltz 1/28/00
Tim Gardner's suburban status quo at 303 Gallery.

THE I-DON'T-GET-IT ESTHETIC
by Jerry Saltz 1/20/00
"Opposite Day," new work by John Miller at Metro Pictures, New York.