The Bellagio in Las Vegas

The Bellagio Gallery

Pollock catalogue
Dora crying

Vanessa Beecroft
Show
1998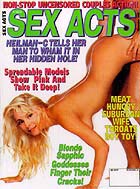 Heilman-C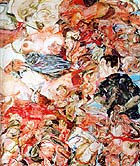 Cecily Brown
Pure Moment
1997
(detail)

Martin Wong
Clones of Bruce Lee
1992

The Whitney

Maxwell Anderson
Vincent van Gogh
Self-portrait without Beard
1889
$71.5 million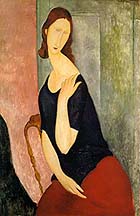 Amedeo Modigliani
Portrait of Jeane Hebuterne
1919
$15.1 million
Brice Marden
Yellows
1972
$1.49 million
Jeff Koons
String of Puppies
1988
$288,500
Thomas Schutte
Gross Geister
1998
$245,850

Jean-Michel Basquiat
Self-Portrait
1982
$3.3 million
Esthetic value is a delicate condition, far too tender to withstand the gale-force glitz of Las Vegas. So it should come as no surprise that the motley assortment of multimillion-dollar masterpieces put on view in 1998 by casino king Steve Wynn at the Bellagio were all miraculously converted into … kitsch! It's not such a difficult alchemy, especially with van Gogh and Renoir. Wynn seems to have the Midas Touch. Now he's got the Kitsch Touch, too.

Kitsch has been spreading through high modernism like a virus for years. Worst hit is Ab-Ex, as witness the recent museum retrospectives of Rothko and Pollock. What keeps this stuff from becoming hopelessly dated just like Life magazine, which originally made it so renowned? It must be something in the paint. And it's absurd that such successful artists should have come to such bad ends. They should have done more pink paintings, both of them.

And Picasso, what is it with that little ham? All those portraits of Dora Maar crying -- could anything be funnier, to paraphrase Oscar Wilde on Little Nell? They were on view both as part of the Paris sale of the Dora Maar estate, and in San Francisco in "Picasso and the War Years: 1937-1945," which is on its way to the Guggenheim here. Maybe they'll look less ahistorical in person.

The art business, if you ask me, is mainly about the scopic regime of patriarchy, which is to say, guys looking at chicks. It was raunchy enough in 1998, that's for sure. Who could forget Show by Vanessa Beecroft, which posed 20 nude or bikini-clad babes in the Guggenheim rotunda? Or Heilman-C's great sex performance at Jack Tilton, in which members of the audience -- and believe me, the crowd stretched all the way down Greene Street -- were allowed to put the four authentic porno stars through their porno paces? I don't know about you, but it isn't that often that I get to see real people in the flesh having sex.

Cecily Brown's triumphant painting show at Deitch Projects was sold out at $14,000 per. I still like Paul H-O's description of her work: an aggressive explosion of sex organs connected to human bodies, like a de Kooning that's not afraid to make its obsession with sex lividly pornographic. And Karen Finley returned as the Chocolate-covered Woman with a great monologue about getting down and dirty with Jesse, Bill and Teddy....

For the men, you can go to museums! Kick-ass museum shows included Martin Wong at the New Museum, Chuck Close at MoMA and Charles Ray at L.A. MoCA. The Gugg had its motorcycle show and its China show. The National Gallery had "Manet, Monet and the Gare St. Lazare" and "Degas at the Races" along with blockbusters of van Gogh and Calder. There was Soutine, Segal and Shahn at the Jewish Museum, Delacroix at the Philadelphia Museum and Impressionism shows almost everywhere. The Met did much, as always, notably trotting out its Netherlandish paintings.

And 1998 was also the year that museums discovered that while the art scene shuts down in the summer, tourism doesn't. The Museum of Modern Art led the way in scheduling wall-to-wall blockbusters during New York's hottest months, including surveys of Yayoi Kusama, Tony Smith, Alexsandr Rodchenko and Pierre Bonnard.

But whither the Whitney? The big people news of 1998 was the departure of most of the Whitney top staff -- director David Ross for the San Francisco MoMA, contemporary curator Lisa Phillips to head the New Museum, and curators Adam Weinberg, Thelma Golden and Elisabeth Sussman to various points elsewhere. This on the eve of a 1999 superblockbuster of American art icons, dubiously dubbed "The American Century."

The Whitney is cursed with an anachronistic nationalist mission, unfriendly Brutalist architecture and caustic critics at every turn. What new director Maxwell Anderson can make of this intractable mess remains to be seen. But with the increasing imports of new art from London, Berlin and even Paris (the only U.S. "brand" of new art is "Yale"), this is no time to quail from the Whitney's traditional role as champion of the American avant-garde. Faint hope!

As for the auction houses, it's a sea of money, with most of us standing at the shore, trying to figure out how to dip our tin cups in for just a little drink. For 1998, the auction market seemed like some kind of weird foreign aid program, what with collectors throwing money at art made by Germans (Baselitz, Kiefer, Polke, Richter), the Brits (Lucien Freud, Hockney, Damien Hirst) and the dead (from Basquiat and Warhol to Modigliani, Monet, Picasso and van Gogh).

Resolved for 1999: Stop complaining! Here's the 1998 Auction Top Ten, according to the flawless ArtNet database:

1. $71.5 million for van Gogh's Self-portrait without Beard, 1889, at Christie's New York, Nov. 19. We're all still waiting to find out who bought it!
2. $33 million for Monet's Water Lily Pond with Path, 1900, at Sotheby's London, June 30.
3. $17.3 million for Warhol's Orange Marilyn, 1964, at Sotheby's New York, May 14.
4. $15.2 million for Modigliani's Portrait of Jeanne Hébuterne, 1919, at Sotheby's New York, Nov. 16.
5. $12.1 million for Monet's The Grand Canal, 1908, at Sotheby's New York, May 13.
6. $11.6 million for Cézanne's The Dark Chateau, ca. 1904, at Christie's New York, Nov. 19.
7. $11 million for Cézanne's View of L'Estaque through the Pines, ca. 1882-83, at Sotheby's New York, Nov. 16.
8. $11 million for Picasso's Nude, 1909, at Sotheby's New York, Nov. 17.
9. $9.9 million for Monet's Water Lilies, ca. 1917-19, at Sotheby's New York, Nov. 16.
10. $9.9 million for Modigliani's Portrait of Jeanne Hebuterne in an Armchair, 1918, at Sotheby's New York, Nov. 16.

But what about the trade in contemporary art -- that is, work made since 1960? Let's leave out all the dead artists and concentrate on the still-breathing. So here you go, top works at auction 1998 by contemporaries -- and be warned, it's a depressingly consistent list:

1. $5.8 million for Lucien Freud's Large Interior W11 (after Watteau), 1981-83, at Sotheby's New York, May 14.
2. $4.7 million for Freud's Naked Portrait with Reflection, 1980, at Sotheby's London, Dec. 9.
3. $3.7 million for Gerhard Richter's Domplatz, Mailand, 1968, at Sotheby's London, Dec. 9.
4. $2.5 million for Richter's Seascape, 1969, at Christie's New York, June 3.
5. $2.4 million for Richter's Seascape (See-See), 1970, at Sotheby's London, July 2.
6. $1.5 million for Brice Marden's Yellows, 1972, at Sotheby's New York, Nov. 17.
7. $1.3 million for Cy Twombly's Untitled 1964-72, at Christie's London, July 1.
8. $1.2 million for Jasper Johns' White Flag, 1960, at Christie's New York, Feb. 19.
9. $1.2 million for Richter's Renate and Marianne, 1964, at Sotheby's London, Dec. 9.
10. $1 million for Richter's Candle, 1982, at Christie's London, Oct. 8.

Auction records were set for scores of younger contemporary artists, thanks in part to bellweather collector Charles Saatchi's London sale on Dec. 8 and due also to a strong move into the contemporary market by the auction houses in general. As Kent Gallery proprietor Doug Walla said to me not too long ago, "Next we'll be seeing new art go right from the artist's studio to the auction block."

Auction records were set in 1998 for Sigmar Polke ($882,500), On Kawara ($574,500), Robert Gober ($552,500), Martin Puryear ($376,500), Carl Andre ($332,500), Richard Tuttle ($310,500), Jeff Koons ($288,500), Thomas Schütte ($245,850), John Baldessari ($233,500), Rachel Whiteread ($220,800), Walter De Maria ($200,500), Charles Ray ($189,500), Cindy Sherman ($144,045), Jenny Saville ($84,150), Gary Hume ($80,520), Janine Antoni ($76,890), Sarah Lucas ($51,000), Mona Hatoum ($46,000), Ron Mueck ($41,000) and Chris Ofili ($36,000), to name only a few. Did someone say artists were starving?

But the real auction story for the last year is the commanding results from the speculative market in works by Jean-Michel Basquiat and Damien Hirst.

Over 50 works by Basquiat were sold at auction during the year (another 20 or so were bought in), led by his gray, forboding and (some would say) clap-infected 1982 Self-Portrait, which was knocked down at Christie's New York on Nov. 12 for $3.3 million. If there's anybody out there with a scrap of paper with some Basquiat doodles on it, don't take a cent less than $5,000.

As for Hirst, 18 of his works sold at auction, with another seven bought in. Like Richter, the British bad boy has several different lines. The record for a medicine cabinet is $316,000, for a spot painting it's $203,000, for a spin painting it's $120,000, and for a hermetically sealed cage installation, with or without formaldehyde, it's $212,000. Of course, only one or two of this last has been offered. So far.

Now, about 1999....



WALTER ROBINSON is editor of artnet.com Magazine.