Poster announcing
Blue Boy's arrival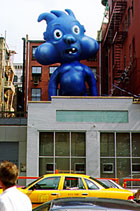 Blue Boy
on the roof of
Christinerose Gallery


Maria Kozic
Blue Boy
1992




blue boy 
welcomes you 
to the 
soho arts 
festival

by Walter Robinson
He grows on you, and it's not just because 

he's inflatable. It's Blue Boy, a 30-foot-

tall blue plastic personage who lorded it 

over this fall's SoHo Arts Festival from 

the rooftop of Cristinerose Gallery on West 

Broadway. The creation of Australian artist 

Maria Kozik, Blue Boy wears a trademark 

look of utter bewilderment which, along 

with his two lonely teeth, is a franchise 

that commends him to us utterly, as an 

emblem of the current state of art as well 

as a philosophical and spiritual avatar at 

the end of the 20th century. Let us note 

here two other manifestations of Kozik's 

creature: one as a whimsical and imaginary 

presence, looming huge over a Manhattan 

skyline, as seen in numerous posters on 

SoHo walls; and another as a hard blue 

plastic figurine, six inches tall, 

purchasable for a modest $19.95 at the 

gallery as well as seen revolving on our 

cover. "It's a limited edition of 1,000, 

selling well" Kosik told us. "I painted all 

the eyes by hand. That's 2,000 eyes," she 

said, with a grasp of mathematics 

surprising in an artist.


Blue Boy has previously toured Australia 

with a bunch of rock bands on the 1994 Big 

Day Out tour, appearing on the side of the 

stage at every venue, along with his twin,

Cherry , who is red and, needless 

to say, female. Blue Boy's 

visit to New York was his first trip 

abroad. It was no easy task making the 

arrangements, either. "It took five months 

to get him here," Kozik said, so she 

celebrated with a dinner across the street 

at Barolo, a fine restaurant where a plate 

of noodles fetches $25 and up. Just the 

artist and Blue Boy, visible through the 

window. "It was a little thing I wanted to 

do," Kosik said. Blue Boy is now packed up 

and ready for his next appearance, details 

to be announced. For further info on Kosik, 

whose other art manifestations include a 

presentation titled "Maria Kozic is Bitch," 

contact the Cristinerose in New York or 

Anna Schwartz Gallery in Melbourne, 

Australia.


Meanwhile, we proudly offer here a 

coordinated group of articles and reviews 

meant to kick off the new art season. Okay, 

okay, we know the SoHo Arts Festival was 

three weeks ago (this labor-saving 

technology takes so much time). Tune in 

anyway to what you can't miss: Robert 

Goldman's Artist's Diary, the ArtNet Hit 

List by William McCollum and Robert 

Mahoney's "Out of the Debris Field: A 

Search for a Season," plus "Vote Tisdale: 

An Artist for a Change" by Yasmin Ramirez 

and a review of "Alt.Youth.Media" by Paul 

H-O. Plus still more.



Walter Robinson is editor of  ArtNet 

Magazine.