Botticelli
The Madonna and Child, a Landscape through a Window Beyond
est. $700,000-$900,000
at Sotheby's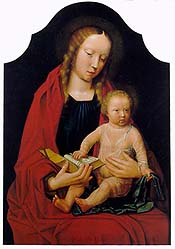 Master of the Bentinck-Thyssen Madonna
The Virgin and Child
ca. early 16th century
est. $200,000-$300,000
at Sotheby's
Abraham Janssens van Nuyssen
Lascivia
est. $150,000-$250,000
at Christie's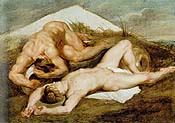 Rubens Studio
Study of Two Male Nudes
est. $50,000-$70,000
at Christie's
Lascivious Old Masters
by Walter Robinson
It's Old Master week in New York, with five separate sales of paintings and drawings coming up at Sotheby's and Christie's in the next four days, Jan. 23-26, 2001. Within the art biz, these auctions are thought to appeal largely to "the trade," dealers as opposed to collectors and the idly curious public.

At no other previews do visitors dare to lift $50,000 paintings off the wall to examine their backsides, or rub their thumbs across crackled surfaces, seeking imperfections with a raking light. Faced with these transgressions, the guards at Sotheby's and Christie's look on blandly.

Sotheby's starts things off on Tues., Jan. 23, with a sale of over 100 drawings from the Franz Koenigs collection, which has quite a World War II-era pedigree -- some were practically stolen by Hitler himself. Sotheby's has also put together a special "Arts of the Renaissance" sale for Jan. 25, featuring sculpture and decorative arts as well as a rather cranky-looking Madonna by Sandro Botticelli (est. $700,000-$900,000).

As for Christie's, it presents the finale on Jan. 26, with an auction that includes a lively (if rather boring) Rembrandt portrait, once owned by Steve Wynn and shown at the Bellagio in Las Vegas (est. $6 million-$8 million).

Why the Old Masters don't inspire a greater pop-cult following is a mystery. The auction-house exhibition galleries were busy this weekend, but not crowded. And the New York Times, which fawns over the Impressionist and contemporary sales, barely gives notice to OM auctions.

The works themselves are utterly unique, however, and combine sensuality and spirituality in a way that should demand a premium in our digital age. The paintings of the Virgin can seem especially beatific, while the infant Jesus seems ... out of this world. For example, Sotheby's is selling an early-16th-century Virgin and Child by the Master of the Bentinck-Thyssen Madonna (est. $200,000-$300,000) in which the artist has somehow managed to give his holy subjects the most amazing expressions.

But what makes the Renaissance seem particularly well suited for our "amoral" time is that it defined carnality as well as theology. As a case in point, take lot 77 in Christie's "Important Old Masters" painting sale on Jan. 26, a painting called Lascivia (ca. 1618) by Abraham Janssens van Nuyssen (est. $150,000-$250,000) that has been previously exhibited at Newhouse Galleries in New York. Now beautifully cleaned, it gives a fabulous classicist spin to its allegory of hedonism.

In the same sale is An Allegory of the Five Senses by Jan Brueghel and Hendrick van Balen (est. $500,000-$700,000), a complex composition that features a curly-haired young man attended by cupids and surrounded by five women representing the five senses. The personification of the senses as a series of beautiful women in antique dress, the catalogue tells us, was a device that first came into wide use in Antwerp in the 1560s.

Carnality truly belongs to the male of the species, as we all well know -- or so one might conclude from a third painting in the Christie's sale, a Study of two male nudes from the Studio of Sir Peter Paul Rubens (est. $50,000-$70,000). These two sleeping Adonises were originally painted on a triangular canvas that was laid down on panel and reworked into a rectangle. What's more, it has been previously attributed to the master himself, so watch for fireworks in the salesroom.


WALTER ROBINSON is editor of Artnet Magazine.