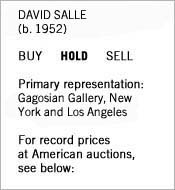 Record price for a painting:
Tennyson
1983
$550,000
at Christie's
Nov. 7, 1989
Record price for a work on paper:
Untitled (women)
1979
$28,600
at Christie's
May 8, 1990
Skintight Worldwide
1983
$236,750
at Sotheby's
May 17, 2000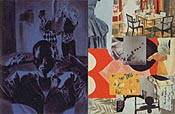 Candor
1995
$138,000
at Christie's
Nov. 16, 2000
Bell Tower
1987
$137,500
at Phillips
Nov. 14, 2000
Art Market Guide 2001
by Richard Polsky
Of the six or seven major art figures to emerge from the 1980s, perhaps David Salle remains the most mysterious. He's had plenty of attention, has sold a ton of work and is represented by one of the world's top galleries. Yet, ask someone what his work is about and virtually no one can give you a satisfactory answer. As anyone familiar with Salle's work knows, his paintings combine disparate images that make connections that seem evident only to the artist. Unlike the more profound James Rosenquist, who also collages snippets from everyday life, Salle's images simply don't hold together.

When Salle burst upon the scene during the early 1980s he was labeled the next "big thing" in painting, along with Julian Schnabel, Eric Fischl, Francesco Clemente, Phillip Taaffe and Jean-Michel Basquiat. It has now been almost 20 years since the public began viewing Salle's work and the paintings remain as inscrutable as ever.

However, this is not a particularly good thing. Mystery can be compelling -- as demonstrated by many artists ranging from de Chirico to Balthus. But when an artist juxtaposes a lewd image of a nude woman with a Native American totem pole and a basket of oranges -- it is simply incoherent.

Salle's market is also a bit of an enigma. Over the last decade, his works have appeared at auction on a regular basis. Sometimes they sell, sometimes they don't. When they do sell, they generally sell below estimate or within estimate -- usually in the $75,000-$125,000 range for a large canvas. Rarely does a Salle sell above expectations.

During the last ten years, the most expensive work to appear was Skintight Worldwide, which sold for $236,750 (Sotheby's May 2000). However, this pales in comparison to the routine mid- to high-six-figure prices achieved by his 1980s peer group. The bottom line is that Salle is often a tough sell at auction, unless the price is right. You never see collectors stretch for his work the way they will for a Basquiat or a Fischl.

When Salle defected from the Mary Boone Gallery, it was said he did so because he was tired of competing with stable-mate Julian Schnabel. But at least Salle's work looked good in the context of his own generation. Now that he's with Gagosian, his work has to withstand comparison to the likes of Ed Ruscha, Cy Twombly, and even Damien Hirst. What's more, with new paintings costing around $125,000, collectors have many options.

During his glory days, Salle managed to provoke the viewer with his quasi-pornographic images of women with their legs spread. At least they made you think -- a little bit. They also forced you to give the artist a grudging amount of respect for being gutsy.

Ironically, while Salle has become better as a pure painter, his most recent work lacks the daring and provocative edge of his vintage pieces. Critics have begun labeling the new work Salle-lite.

Obviously, David Salle is in many ways an easy target. Any artist who enjoyed a certain level of fame is always going to be closely scrutinized by the press, which is anxious to exploit any false step. Jealous dealers and artists are always sharpening their knives, as well. But when you're as successful as Salle has been, the art world holds you to a higher level of expectation. Often, it's impossible to live up to that.


RICHARD POLSKY is a private dealer specializing in post-1960 works of art. Questions or comments can be directed to him in San Francisco at at 415-885-1809 or Polskyart@aol.com.