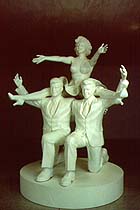 Family
1997




















Faith
1997




















Untitled (Not Ugly Enough)
1997






















Power Pleasure
Desire Disgust
1997



















Power Pleasure
Desire Disgust
1997
After a four-year absence in New York galleries, Barbara Kruger has returned to action with a vengeance, showing sculpture at Mary Boone, an installation at Jeffrey Deitch and a bus-as-artwork sponsored by the Public Art Fund.

The large statue titled Family is arguably the star attraction at Kruger's sideshow of Koonsian tableaux at Boone. The comedy team of Jack and Bobby Kennedy, good old boy Democrats who, shockingly, slept around, make their sideshow ta-dah on bended knee, and do their famous comedy routine, "Who got there first?" holding aloft the amazing Marilyn Monroe who, we discover each passing season, slept with just about everyone who was anyone in the '50s. (This season we are hearing about Frank Sinatra's "night of passion" with MM.)

The Kennedys' likenesses are so crudely done, they almost look like Siamese twins, with Frankenstein shoes and stilted smiles (where's that "Now it's onto Chicago and let's win there" charm?). There is something freakish about their appearance, which makes me wonder. Surely, on the surface, we are meant to deplore the hypocrisy of two men whose mystique for the voting public was primarily bound up in their being the family men of Camelot -- the word F-A-M-I-L-Y is inscribed on the base. In this scenario, Marilyn remains the helpless victim passed around by disrespecting pricks and she had to kill herself because of low self-esteem (either that or the mob did the Ruthless One a favor). Is that why the Kennedys are rendered so charmlessly?

But then there is a greater issue: Kruger has made the decision to expose Marilyn's genitalia to view. Marilyn is perched up on the Kennedys' shoulders with white dress flying high ala the famous Seven Year Itch subway shot, a shot which, when hubby Joe DiMaggio saw it, made him realize that she and her sexuality were public property -- something he could not live with (end of marriage). In Seven Year Itch, Billy Wilder only gives us leg; in candid on-the-set photography since, we have seen her undies; Kruger now gives us much, much more.

This exposure does several things: for one thing, as critique, it represents a double standard. The Kennedys are dressed for campaigning, praised for their minds; Marilyn is half-dressed, praised for her never-mind. Then again, there is a whiff of '90s-style neo-Hannah Wilke this-is-my-weapon feminist rhetoric here, showing us what Marilyn is packing.

These would be workable critiques, of course, though the introduction of Marilyn's genitalia changes things. The exposure goes a step too far, and resonates as an emblem of a privacy which should be inviolable, even in celebrity culture. So I can't tell if Kruger is making a straightforward critique of the Kennedys, or making an attack on the whole tabloid mentality, debunking it all, both Kennedys and Monroe victims of a prurient interest in things that are none of our business.

Does Kruger care if any of the Kennedy-Monroe rumors are true? Once again, the crude description of Marilyn, from top to bottom, indicates, no, she does not: not one thing is got right with this particular Marilyn, not her face, not her breasts, not her legs. One comes away with a suspicion that these are all Vegas look-alikes trading on the days of wine and roses: no, Kruger is debunking tabloidism in total, which, while a futile effort today, nonetheless resonates in the current anti-paparazzi hysteria following the death of Princess Di.

Faith features Christ and Santa Claus. There is something almost Lutheran -- I mean, Martin Luther-an himself -- in Kruger's juxtaposition of cross and dollar sign: of the deposed Christ and the floored Santa; of the agonized face under a crown of thorns, and the smiling drunk of contemporary Christmas. Surely, I thought to myself, Kruger has not gone to all the trouble of creating a work of "high art" in order to deplore the commercialization of Christmas. An untimely critique in any case, as Christmas's hold on retail profit is waning and it would be more au courant now to deplore the commercialization of Halloween!

And, oh, that sly Santa, smuttily looking up an angel's little skirt. Well, Santas run amok are common in popular entertainments, from the surly drunken Santa in A Christmas Story to the black market Santas in Schwarzenegger's Jingle All the Way, and I am not sure Kruger's variation improves upon the convention. But wrapped snugly in the blanket of Mary Boone's darkish outpost over the FAO Schwartz, Faith has, for me, a kitschily pleasant presence which unravels critique and finds solace in the survival of Christ in each and every descendant, however "lowly," of St. Nicholas. I came away liking both these thought-provoking statues.

Kruger's old red edge of anger also circumscribes four pat canvases on the theme of "not enough." Andy Warhol (Not Cruel Enough), Eleanor Roosevelt (Not Ugly Enough), Malcolm X (Not Angry Enough) and Marilyn (Not Stupid Enough) again are all "not enough," even though they were all obviously something enough to get famous.

Downtown, at Jeffrey Deitch's new project space on Wooster Street, Kruger reincarnates a ghost of her last downtown Mary Boone installation, also on the theme of "not enough." On video, some obnoxiously elitist Benningtonesque art-worlders vent their smug rage ("Who the F--- are you?") at their ever-insignificant others in a manner that is impossible to listen to after a few minutes. Senselessly addicted to anger (senseless because elitist road rage is a function of their power -- as these kids will find out someday), this dark, slide-projected installation is not worth fighting back against.

As I do in real life when confronted with such anger, I walk away. As for the bus, Kruger hails "Give your brain as much attention as you do your hair and you'll be a thousand times better off." In an epoch when even Ruth Messinger had to get a makeover to run for Mayor, this advice sounds positively antique. Can't we be smart and have a nice "do" too? The main event here is uptown at Mary Boone: where Kruger is trying something that is just a little bit out of her control -- which is good for her.

ROBERT MAHONEY is an art critic.