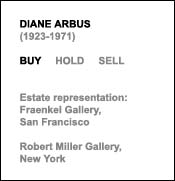 Diane Arbus
Identical twins, Roselle, N.J.
1967-1969
$270,000
Christie's New York
Oct. 12, 2000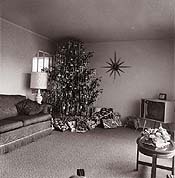 X-mas tree in a living room in Levittown, L.I.
1963
$147,000
Phillips, de Pury & Luxembourg
Oct. 17, 2003
Child with a toy hand grenade in Central Park, N.Y.C.
1962
$37,200
Sotheby's New York
Oct. 17, 2003
Art Market Guide 2004
by Rachael Lorenz-Polsky
And the revelation was a little like what saints receive on mountains -- a further chapter in the history of the mystery. . .

-- Diane Arbus, ca. 1960


The work as well as the life of photographer Diane Arbus are brought into the spotlight in "Revelations," the aptly titled exhibition currently on view at the San Francisco Museum of Modern Art, Oct. 25, 2003-Feb. 8, 2004. In addition to signature Arbus works like Identical twins, Roselle, N.J. and A Jewish giant at home with his parents in the Bronx, N.Y. 1970, the show includes rare or never-before-seen images that progressively trace the artist's unique vision. Also on hand are notebooks, letters and other various writings by Arbus, affording the opportunity to gain further insight into the mind of the artist.

Thirty years have passed since the last retrospective of Arbus' work, and the new show has generated much press coverage -- which has, among other things, stimulated the interest of collectors. "It's time for Arbus," commented Frish Brandt of Fraenkel Gallery. Prices are soaring for those images that have become familiar, while those that are less known can be had for much lower prices. The younger generation is growing up with these images, which have become icons of a certain period in American society. "It's as if Arbus lived and created another body of work that is being seen for the first time."

The last round of photo auctions in New York, back in October 2003, reflected this new awareness, with many Arbus lots selling for well above their presale estimates. At Christie's, a print of Patriotic young man with a flag, which was estimated at $8,000-$10,000, sold for $20,315, including premium. Sotheby's sold Child with a toy hand grenade in Central Park for $37,200 (est. $25,000-$35,000), while The King and Queen of a senior citizens dance NYC (from a box of ten photographs) sold for $19,200 (est. $5,000-$8,000).

A box of ten photographs (portfolio of ten with title, various sizes), offered at Phillips, de Pury & Luxembourg, went for an amazing $405,500, considerably above its $90-000-$120,000 estimate. Another high price was garnered by X-mas tree in a living room in Levittown, L.I., which sold for $147,000 (est. $60,000-$90,000). Some lesser known images sold close to or at estimate: Girl in storm coat, NYC, went for $3,585 (est. $3,000-$4,000); Woman on a sun deck, Coney Island, N.Y. sold for $3,585 (est. $3,000-$4,000).

San Francisco is the first venue for "Diane Arbus: Revelations," which is subsequently appearing in Los Angeles, Houston, New York, Essen (Germany), London and Minneapolis. The exhibition is tantamount to looking through Arbus' camera lens -- in fact, her cameras are on display along with her photographs -- seeing not just what she saw but how she viewed the world. Both viewers and art buyers are responding with renewed interest. Indeed, "It's time for Arbus."


RACHAEL LORENZ-POLSKY is a photography dealer. She can be reached at rachaellorenze@sbcglobal.net.