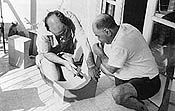 Oded Halahmy with his father in 1968 working on Songs of Songs, Father and Son at their home in Ramat-Gan
Oded Halahmy
Song of Songs, Father and Son
1968-1969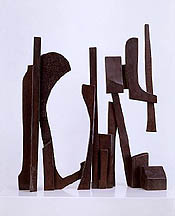 Walk
1977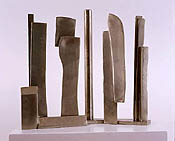 Family
1978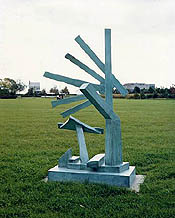 First Peace
1976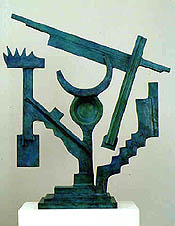 Openness
1990
Homemade
1984-1986
Touching Heaven
1990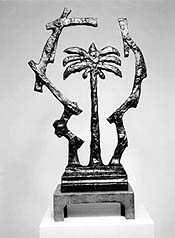 A Gift to a Palm Tree
1991
Politics and Peace
by Marius Kwint
As an abstract modernist sculptor, Oded Halahmy has not sought topicality. But as an Iraqi-born Israeli-American established in New York since the 1970s, he has had topicality thrust upon him. Halahmys recent sculptures, done mostly in bronze, incorporate simple shapes and forms inspired by Middle Eastern landscape and myth. He is represented in major museum collections, including the Guggenheim, the Israeli Museum and the Smithsonians Hirshhorn Museum. In the West, Iraq is represented either by images of destruction or the kitsch vulgarity of Baathist art, leaving most of the U.S. population unaware of serious artistic initiatives from the Middle East. Determined to remedy this shortcoming, Halahmy established the Oded Halahmy Foundation to support artistic expressions of peace by translating Arabic and Hebrew writers into English. Halahmy has traveled the exiles tortuous path to arrive at his own particular confluence of art and geopolitics. His father, Salech Haskel Chebbazah, was a prosperous goldsmith in Baghdad and a Jewish member of the Communist Party when Jews comprised more than a quarter of the population of Baghdad. In 1951, 13-year-old Halahmy and his family were airlifted out of the country along with 100,000 of their compatriots. His family brought only their memories of Baghdad to the wind-ripped refugee camps in Israel, where little more than menial jobs were available. Eventually settling in an Arab neighborhood of Jaffa, they would surreptitiously listen to Arabic music condemned by Israeli authorities. While the young Halahmy completed his schooling and military service, he helped look after his brothers and sisters and worked as a gardener and house painter in the wealthy northern suburbs of Tel-Aviv. There was no time for formal artistic training. However, by the late 1950s, Halahmy had taught himself drawing, painting and sculpting. One of his first commissions was a monument for the city of Bat Yam, to the Jewish refugees who converged illegally on what was then British Mandate Palestine. Measuring some four meters long, Daring (1963) depicts in bold, folk-art style a boat in mahogany relief. Its passengers huddle behind the sail and strain their oars against a writhing sea. Modernism was the international artistic language that enabled Halahmy to transcend political and cultural boundaries. In 1966 he closed his studio and headed across Europe. Crossing to Britain, he settled for two years to pursue advanced studies at St. Martins School of Art, which was then a leading center for sculpture, led by Anthony Caro and Philip King and having links to Henry Moore. In England, Halahmy shed his tentative eclecticism and struck forth with his own abstract but representational style. He cut deep angles in bronze as well as new materials such as Plexiglas and Styrofoam, as in The Couple No. 3 (1966). The influence of Caro remains clear in Halahmys later work, but his 1960s interest in apertures, held in tension with a tectonic dynamism, also reflect his collaborations with Henry Moore. Moore offered Halahmy an assistantship, but he chose the independent path and accepted a teaching post at the Ontario College of Art in Toronto. Though Canada offered opportunities, Halahmys final destination was the United States, which he first visited in 1969 when he took his Ontario students to SoHo to witness how Clement Greenbergs formalist esthetic was imploding under the pressures of a new generation of artists working with mass imagery, graffiti, performance and video art. By 1971 Halahmy was able to move to a SoHo loft and obtain teaching posts at the Cooper Union School of Art and Parsons School of Design. He left behind most of his large sculptures in Canada. Only then, Halahmy says, did I feel as free as a bird. . . My loft was a mecca for friends who often stayed over. It was all happening in my loft: making art, making love and sharing everything I had. My friends became my family, like a little kibbutz. In New York, Halahmy was free from ethnic discrimination, free from academic pecking orders, free from the atavistic histories of the Old World. But he was also nearly penniless -- though as his sculptures became more abstract he increasingly found patrons, including institutions such as the Guggenheim Museum, the Prudential Insurance Company in San Francisco, and the Peter Samuel Foundation in London. In 1980, in the afterglow of the Israel-Egypt peace treaty, Halahmy visited Egypt for the first time. There he decided to return to figuration, delving into personal memory and the universal elements of Middle Eastern heritage. He began to play with the common symbols of the diverse cultures that sprang from ancient Mesopotamia -- the pomegranate of love and fertility, the amulet hand of sanctity, or the palm tree that links the earth, water and sky. In works such as Babylonian River Banks (1989) and Sky Moon Pom (1997), Halahmy incorporated these emblems into zigzag, mirage-like tableaux inspired by the graphic exuberance of Iraqs famous antiquities and the sunny memories of a liberal Baghdad childhood. Since his Voice of Peace, completed on Mar. 26, 1979, six days after the U.S-brokered peace treaty between Egypt and Israel, Halahmy has been exploring the themes of harmony and tranquility in his work. His celebrations of liberty, mobility, openness and the hybridization of East and West seem innocent in contrast to the bitter conceptual protests of many more radical Middle Eastern artists (such as the Palestinian-British artist Mona Hatoum, whose works express the gagged pain and violation of a confined people). Nevertheless, Halahmy is no blithe cultural tourist. He has a realistic side, sharpened by army experience that extends beyond the studio. Working with his foundation, Halahmy strives to defy the regions image as consisting only of irreconcilable ethno-religious monoliths, fit only to be posed, balanced or smashed on the orders of Western strategists. One project of the Oded Halahmy Foundation was support for the poem Letters to my Brother by Jamal Jumah, written after the first Gulf War in 1991 and translated by Salaam Yousif with Emily Howard in the book Iraqi Poetry Today: Farewell, children sheltered in al-Amiriyya
Your parents will come to see you in the morning
To see nothing but your white teeth
Glittering in your roasted bodies
Like diamonds in the coal mine
Of the New World Order.
The blood shed by generations of Iraqis, from the times of earlier colonial rule through dictatorship to the present, stains many of the pages. The issues that flow from the Middle Easts deep well of bitterness may seem impossible to resolve. But while we hope, Halahmy is keen to remind us that it is better to exchange words and images than bullets and bombs. This essay is excerpted from the catalogue for Oded Halahmys exhibition this spring at the Sundaram Tagore Gallery at 137 Greene Street in New York City.


MARIUS KWINT is associate professor of art history at Oxford University and a fellow of St Catherine's College, Oxford.