Autori Cambi's owner Matteo Boetti
Photos of openings by Mark Kostabi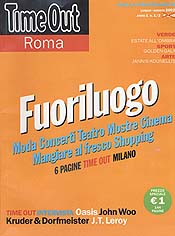 The first issue of
Time Out Roma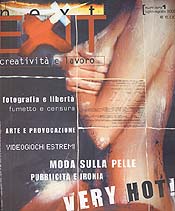 The first issue of new Italian art mag Next Exit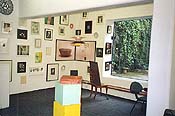 The Inaugural show at Roma Roma Roma, installed to resemble a collector's home
Artists Francesco Impellizzeri and Mark Kostabi anticipated Roma Roma Roma's collector's idea by two years in their show at Temple Gallery, Rome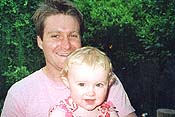 Toby Webster, Glasgow dealer and partner in Roma Roma Roma, with his greatest creation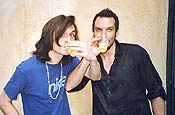 DJs Ben Brunnemer and Spencer Sweeney at Roma Roma Roma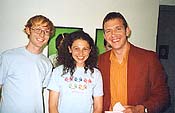 Artists Toby Patterson, Paula Pivi and Martin Creed at Roma Roma Roma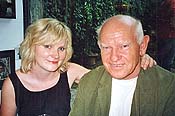 Pompidou Center curator Alison Gingeras and her friend, collector Marcel Brient at Roma Roma Roma
Simeone Crispino, from the art team Vedova Mazzei with painter Carla Accardi at Vedovamazzei's opening at Magazzino d'Arte Moderna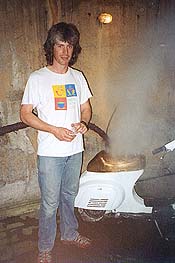 Roma Roma Roma gallery designer Mark Handforth with his Vespa sculpture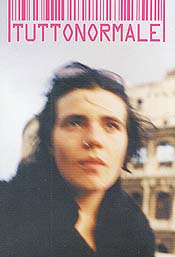 Invitation for "Tutto Normale"
at Villa Medici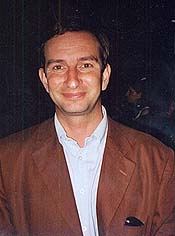 Ludovico Pratesi, the hard working curator of "Tutto Normale"
Alessandro Gianvenuti and Chiara
at Villa Medici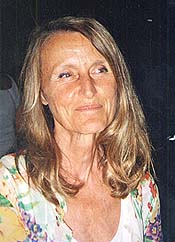 Photog Elisabetta Catalano
at Villa Medici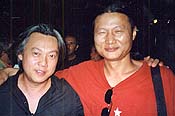 Artists Lim and Wang Du
at Villa Medici
Wang Du's homage to Arman at Villa Medici
Olaf Breuning
Skeletons
installed in the garden of Villa Medici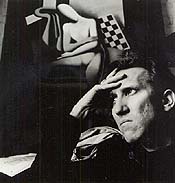 Mark Kostabi
Photo by Hisashi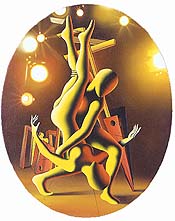 Mark Kostabi
The Limelight
2002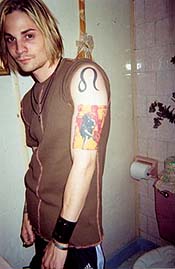 Guns N' Roses fan Sal Blandino with his Kostabi Use Your Illusion tatoo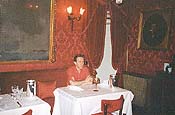 Mark Kostabi occasionally dines alone in Roman splendor to contemplate his next career move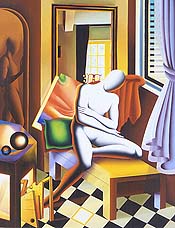 Mark Kostabi
Metaphysical Illumination
2002
Ask Mark Kostabi
by Mark Kostabi
Dear Mark,
Your naive enthusiasm for Rome is charming but I'm afraid I have to break this news to you: Rome will never be a major contemporary art center. Nothing works in Rome. It's too unorganized and there are no collectors.

Reality Check


Dear Reality Check,
I've heard this complaint many times. And, as I said in my last column, I never expected Rome to be a major contemporary art center, but the truth is -- it's happening.

Here's the latest news: Eight new serious contemporary galleries have suddenly opened (or are about to). 1. Autori Cambi (owned by Matteo Boetti, the son of the late Alighiero Boetti). 2. Roma Roma Roma (owned jointly by New York dealer Gavin Brown, Turin dealer Franco Noero and Glasgow dealer Toby Webster). 3. Studio Lorcan O'Neal (whose namesake owner was the director of Anthony d'Offay in London). 4. Casa Gianferrari (owned by Claudia Gianferrari, a major Milan dealer). 5. Alessandra Bonomo. 6. Valentina Bonomo (sisters who hail from an influential art world family in Bari and have separate galleries). 7. Galleria Arturarte (owned by Massimo Lupoli). And 8. Lipoli & Lopez. The rumor mill has reports of many other galleries opening as well, including Guenzani, Sadie Coles, Lia Rumma, Massimo Minini and Larry Gagosian.

A dynamic young dealer, Vanessa Buia (who used to work for Larry Gagosian) is busy visiting the studios of practically every living young artist in Rome. She will show her discoveries in her soon-to-opened gallery in Chelsea, N.Y. Seems like the Roman contemporary art export channels are already gearing up.

The new editor of Time Out Roma is Claudia Colasanti, an art critic, which means the owners of Time Out feel that art is where it's at. The first issue under her direction had especially strong art coverage.

A new art magazine, called Next Exit, has just released its first issue. Next Exit is published out of Rome.

A year ago, no one from Milan visited Rome. Now Milanese are everywhere. During the eight-hour Roma Roma Roma opening, which lasted from 4 p.m until midnight and was heavily attended, there was another much bigger opening at Villa Medici, "Tutto Normale," organized by the indefatigable Roman curator Ludovico Pratesi. Some 4,000 people came to the opening, and more were trying to get in as the doors were closing. Where did all these people come from? From New York, Northern Europe and Asia, to be sure, but many were among the five million people who live in Rome. With such a population there's no reason Rome can't be a major force.

Gallerist Matteo Boetti says Rome is "very horny right now." He says he's never been so focused and worked so hard in his life. His gallery is open six days a week and he's busy constantly selling art and giving interviews about the hot new Rome scene. To show commitment to his artists, he buys all the work outright. No consignment. This is common practice for Italian dealers with established foreign artists, but rare with young Italian artists. Matteo is breaking new ground here -- all dealers should abandon consignment. Contrary to a widely held opinion, Matteo says there are Roman collectors, and he sells to them. Artist Sandro Chia says the same. His recent Rome show sold out -- all to Roman collectors. Speaking personally, I have many Roman collectors too, whose homes are filled with impressive local and international art. When I asked Boetti why he thought Rome was exploding, he said, "Rome has been cut out for too long. It's an unconscious revenge."

In my last column I predicted that the glossy international art magazines would soon descend on Rome to do major features. Unless someone else quickly beats it to the punch, the first will be ArtReview, published from London and about to have wide U.S. distribution. The recently re-invented ArtReview, under its new editor Meredith Ethererington-Smith, who has rapidly quadrupled the magazine's circulation, has sent art writer and former New York Gallery owner Joe La Placa to Rome to do the reporting. You read all this here at Artnet first.

Although the Rome scene is exploding right now, it also seems like a long-term phenomenon. A giant new fairground is slated to open in Rome in 2005, which will further bolster Rome as an international business destination. And a huge new music auditorium, designed by Renzo Piano, recently opened. All this only strengthens Rome's already eternal international appeal.


Dear Mark,
I exhibit regularly in L.A. and joined an Italian gallery in the past year. My arrangement with them is that they buy some of my work up front at a "bulk rate" discount and take other pieces on consignment. When (and if) the pieces on consignment sell the gallery takes 50 percent, which is the same rate as my gallery in L.A.

Recently, my Italian gallery offered to buy a group of my paintings that it was already holding on consignment at a discount rate similar to what it might pay if it bought them right out of my L.A. studio. This is to help me out -- or is it? How can I know if the gallery has in actuality already found collectors for the works and is really asking for a discount price "after the fact"? I'm happy to take the cash, but what if this is just a tricky way of getting me to accept 35 to 40 percent for the paintings instead of 50 percent?

The gallery knows what my paintings sell for in the U.S. (and so do Internet-savvy Italian collectors), so it can't offer me ridiculously low "returns" on my paintings -- plus, I can always say no to the offer and hold out for more. To be fair, I've gotten used to my L.A. dealer asking me to discount my prices, too. (Collectors have become so bold. They expect 10, 20 and even 30 percent off the sticker price! They'll walk away from a sale because you won't cut the price another lousy $1,000.)

When beginning a relationship you don't want to act overly mistrusting, but I'm not going to be a sap, either. Do I have a question, or is this just - Duh. . . Welcome to the life of trying to survive as an artist? The fact is, if the gallery offers me too little for my work I'll just keep the good stuff for the American market. No, wait. That sounds like a bad strategy. I want people in Italy to know how good I am. I guess eventually the price will get right. What do you think -- oh master of markets?

Smiling Faces


Dear Smiling Faces,
What a nasty little trick your dealers are pulling on you. Most likely you're right -- the gallery has found collectors without risking anything and now it's negotiating after the fact. You have every right to say no and make them stick to the agreed-upon deal. But you're also correct to be concerned about coming off as distrusting and inflexible.

Sometimes a dealer's (or artist's) ego will lead to rash, mutually destructive behavior. I've killed a few good deals because I stubbornly wouldn't give in an extra one percent. Sometimes I'm glad I did it -- other times I just feel bad and everyone leaves empty-handed.

In this case I lean towards advising you to accept the payment your dealers are offering, so you don't risk anything, and next time they want your work tell them "no more consignment." You can say you can't afford to consign works overseas anymore because you need work to supply the demand for actual buyers.

If you're forced to consign to them again and they play the same trick -- then play hardball. By accepting this compromise now, you're surer that they'll see profit from your work and hence they'll come back for more. It's not normal for an Italian gallery to take work from an established American artist on consignment anyway. Almost all of them buy it all up front. Think of this as the gift you're giving them to get them hooked . . . then gradually the tables will turn.


Dear Mark,
I'm getting to be a well-known artist, to the point that many photographers are asking me if they can take my portrait. I agreed to a shoot with a fairly well-known professional photographer. The photos came out great. I asked him if I could have a print. He said we could do a trade for a drawing, which I agreed to, reluctantly, because my drawings are priced much higher than his photographs and I had just given him three hours of my time for the photo shoot, which he asked me for -- I didn't ask him. A few months later I asked him if I could publish the photo in a catalogue of my paintings. He said I could for $500 plus photo credit plus 10 copies of the catalogue.

I agreed, even more reluctantly, but I figured this is the way it's done with professional photographers. When the beautifully printed catalogue came out I proudly delivered the 10 copies to him. He didn't even bother to look at the art reproductions and immediately looked for his photo credit. When he found out it was on a general credit page at the back of the catalogue, which is the style of this prestigious publisher -- and not next to his photo -- he flipped out and threatened to sue the publisher. Is this normal?

Out of Focus


Dear Out of Focus,
Years ago I had similar problems. Eventually I asked a lawyer to draft me a photo permissions form which I would ask photographers to sign before the shoot. The expensive lawyer drafted six different versions which I could use for six different types of photographers. They ranged from complicated to very complicated. I trashed them all and decided to use my own, simple handwritten contracts.

Now, whenever a photographer calls to do my portrait, I tell them first that I have to see their work and then, if I like their work, I agree to the shoot if they give me at least five different prints and permission to use the photos for publicity purposes without charge.

When they show up, before the shoot begins, even before offering chocolate to the photographer, I get the contract signed. It usually reads something like: "Joe Hot-Shot Photographer agrees to let Mark Kostabi use the photos he took of Mark Kostabi for publicity purposes such as in catalogues, books, newspapers and Internet sites, free of charge. Joe Hot-Shot agrees to give Kostabi, within two weeks, at least five different 8 x 10 in. prints to be mutually selected by Hot-Shot and Kostabi. Hot-Shot will get photo credit." After Joe signs the contract I break out the Peyrano Chocolates and start posing.


Dear Mark,
I show at a prestigious New York Gallery and have a weird personal relationship with my dealer. He says I'm a great artist but he repeatedly tells me that my only problem is that I believe my own hype. What am I to think?

Perplexed


Dear Perplexed,
That statement is a cliché. Dealers like to repeat their favorite nuggets of wisdom, especially as they get older. Don't let your dealer treat you like he or she is your parent. Ignore the condescending remarks and direct the conversation towards constructive business. Or, just switch the topic to art history and be privately amused by their ignorance or pretension. If you don't know much about art history yourself, read three books on one giant, like Caravaggio, and become an expert on that subject. Call up some of the authors of the books, who are usually accessible as university professors, so you can confidently claim to have spoken with the published experts. Then whenever you encounter Mr. Know-It-All, veer the conversation into your bailiwick and you'll be in control. Your new power will be psychologically transferable into other areas.


Dear Mark,
Somebody once asked Art Blakey, the great jazz drummer, to sum up his life. His answer was very simple: "Some people chose money. I chose respect."

I have a lot of artist friends, some famous, some unknown. What's amazing to me is that everybody, and I mean everybody, has had to make compromises -- no matter how much success came their way.

Money affects your work, so does lack of money. So does having a family, so does not having a family. Playing the Chelsea game affects your work, so does living in a log cabin in Oregon. The idea that the artist is beyond all that daily-grind, nitty-gritty is complete myth.

As a kinda-sorta successful artist myself, I'm well aware of the compromises I had to make and the ones I should have made but didn't because of ego and stubbornness.

I was wondering what were the biggest compromises you feel you made to get to the top. In particular I'm interested in what were the most painful decisions of your journey. I know you project this image as an artist who's got it all -- fame, respect, money, etc., but we all know it's never that simple. In order to gain, what did you have to lose?

HM


Dear HM,
There was no pain. Sometimes I cry when I don't get my way, but it's basically been a blast. I'm still the same teenager from suburban Whittier, Ca., who wanted to draw for Marvel Comics but couldn't, because I couldn't do anatomy well. So I switched to fine art which was easier and pays more anyway.


Dear Mark,
How did you come to decide on the faceless humanoid forms in your paintings? Did you say to yourself, "this will be how all my paintings look, with these funny faceless guys in every one," and then go from there? Do you ever regret limiting yourself to that one style?

From Simon in England


Dear Simon,
That's an interesting question. I wish I could give you an interesting answer. It just sort of happened. I have no regrets and I like to paint that way. Maybe I paint faceless figures because I ask so many faceless people to add input to my work. My work is a dialogue with a giant committee. Perhaps that's why it has mass appeal. But you don't need mass appeal to be a successful artist.


Mark,
What if your work is not presently "in style" with the art world? Should you change your style of work even though you are passionate about it, or should you go on and hope it will be understood?

SR


Dear SR,
A true style is probably not possible to change. On the other hand, many great artists, like Caravaggio, de Chirico and Warhol, have used their style to satisfy the requests of clients. It can be an interesting challenge to get a little direction from clients. Think of it as dialogue -- not compromise.


Dear Mark,
It seems like every time something great happens in my career, someone always has to point out a negative. When I joined a new gallery recently, an artist friend of mine said: "I would have thought you could have found a better gallery." And when I told another friend that I was going to spend the weekend with a certain well-known artist in his country house, my friend said, "You're better off in a hotel -- the wife of certain artist is a serpent!" How do you deal with all the badmouthing and backstabbing in the art world?

Can't We All Just Get Along?


Dear Can't We All Just Get Along,
My guess is that your first artist friend doesn't have a gallery. And that your second friend is also jealous -- either that you're not spending the weekend with him or her, or that he or she wasn't invited by the well-known artist. Don't judge people by their reputations or gossip. Find out for yourself. It's okay to listen to warnings, and keep them in mind, but to dismiss people entirely based on cruel, jealous or simply misinformed gossip will lead to a lose-lose situation.

I once knew someone who loved the band Guns N' Roses and would have done anything to meet Axl Rose. He was also an artist who ridiculed me when I started showing at a commercial chain of galleries called Hanson Galleries. Then Axl Rose bought one of my paintings from the Hanson Gallery in Beverly Hills. The painting was called Use Your Illusion and ended up being on the cover of Guns N' Roses next CD, which is one of the best selling albums of all time. Obviously this person won't get an introduction from me. Keep in mind that when you attack one person -- you're also attacking all of that person's supporters. If you say something negative, it will be used against you.


Dear Mark,
I know you say it's important to attend art world dinner parties but I don't like to eat. All I eat are green peas and whenever I go to a dinner party I have to ask the host if there are any green peas in the fridge and usually there aren't so I have to just sit there awkwardly while everyone munches away and the topic of conversation invariably centers on me and my weird diet. Everyone spends almost the whole dinner telling me about all the flavors I'm missing out on and they always try to get me to taste a carrot or spaghetti or something not round. And they endlessly grill me on my green-peas-only diet decision. I think I make them feel guilty for indulging in multiple food flavors. Anyway, I go to these dinners to advance my career but we never get around to talking about art or anything interesting. What do you suggest?

Pressured to Eat


Dear Pressured to Eat,
I have a similar problem, being a non-drinking vegetarian. But I consider it a blessing in disguise. It's forced me to learn how to take control and direct the flow of the dinner conversation. When I used to eat meat and drink, I would comfortably just sit there anonymously, listening to everyone else do all the talking while I was somewhat ignored. Now I'm forced to say something like, "Yes, I'm a vegetarian who doesn't drink but so is Luigi Ontani. Did you see his show at P.S. 1 recently?" Then, after making my art views heard and encouraging the others to do the same for much of the dinner, by the time we retire to the living room, I've been asked to be in a group show, or a critic wants to set up an interview, or a collector wants to visit my studio. Attending smallish art-world dinner parties is a goldmine for success. If you're not invited -- be proactive and organize them yourself -- in restaurants or your home. You'll be amazed.

Have a great summer,
Mark Kostabi


Readers are welcome to submit questions by emailing askmarkkostabi@yahoo.com.


MARK KOSTABI is an artist who lives in Rome and New York. For more information visit www.kostabi.com.