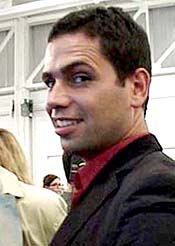 Gavin Brown
Sandro Chia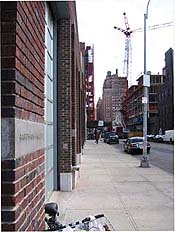 Gagosian on West 24th Street
in New York
Sadie Coles
Francesco Clemente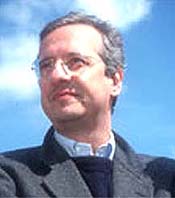 Rome mayor
Walter Veltroni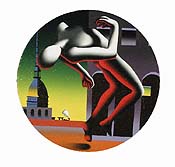 Mark Kostabi
Flipping Out
2002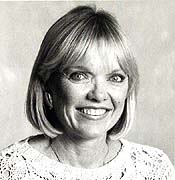 Molly Barnes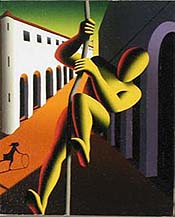 Mark Kostabi
Burglar
2002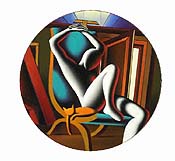 Mark Kostabi
Waiting for Anina
2002
Caravaggio as Goliath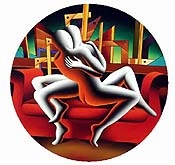 Mark Kostabi
The Mood of the Moment
2002
Mark Kostabi
Some Acceptance Gained in the Comfort of the Inherent Lies in Everything
2002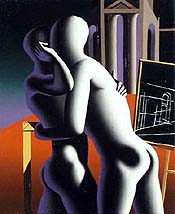 Mark Kostabi
Theft
2002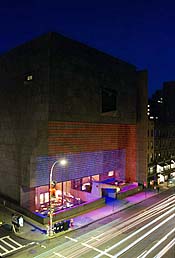 The Whitney Museum, under Erwin Redl's LED cloud in the 2002 Biennial Exhibition
Mark Kostabi
Knowing All Too Well
2002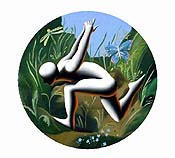 Mark Kostabi
Run Run Run
2002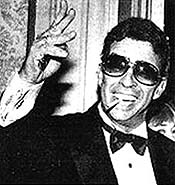 Morton Downey, Jr.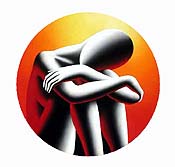 Mark Kostabi
Ostracized
2002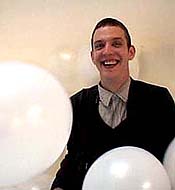 Martin Creed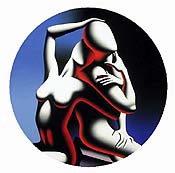 Mark Kostabi
Don't Let It Slip Away
2002
Ask Mark Kostabi
by Mark Kostabi
Dear Mark,
New York has dominated the art world since the middle of the 20th century. During the 1990s, London convincingly threatened to usurp New York's hegemony as the art-world capital. But now the London thing seems to have petered out. Do you think any other city has the potential to take over the number one spot?

Jess Vundrin


Dear Jess,
Funny you should ask. During Caravaggio's day, Rome was the center. I predict Rome will reclaim its title. Why? Here's the scoop: 1. ) Gavin Brown, one of New York's hippest dealers, will open a gallery in Rome in partnership with Franco Noero, who formerly worked for Sperone and currently has a gallery in Turin. 2.) Lorcan O'Neal, the former director of the suddenly closed London mega-gallery, Anthony d'Offay, will open a gallery in Rome in a few months, not far from where 3.) Sandro Chia just acquired a 6,000-square foot studio.

Chia, you may recall, had the foresight to buy a 12-story building in West Chelsea for under half a million dollars in the 1980s -- and then sold the floors for a million dollars each as Chelsea became magma hot. For several years Chia was Larry Gagosian's landlord, back when Larry was showing Warhol's piss paintings on West 23rd Street. 4.) Important London dealer Sadie Coles is looking for space to open a gallery in Rome. 5.) Stefan Ratibor, who opened the Gagosian Gallery in London, is looking for space to open a gallery in Rome. 6.) Franz West, one of the most successful German artists, has just moved to Rome, joining an already impressive list of artists who live and work there: Carla Accardi, Sandro Chia, Enzo Cucchi, Joseph Kosuth, Jannis Kounellis, Luigi Ontani, Cy Twombly -- and me.

Rumor has it that Francesco Clemente, who still owns an apartment in Rome, is considering moving back from New York. 7.) The American Academy in Rome consistently attracts artists the likes of Ross Bleckner, Chuck Close, Eric Fischl, Donald Lipski, Gary Hill and David Salle, and who seem to enjoy working in Rome. 8.) Rome is home to two of the world's most influential art critics: Achille Bonita Oliva in contemporary art and Vittorio Sgarbi for Old Masters. 9.) The mayor of Rome, Walter Veltroni, and deputy mayor Enrico Gasbarra, are mounting a major campaign to make Rome the new art, fashion and cultural capital of Italy. And 10.) On average, food in Rome tastes better than the best food in New York.

I moved to Rome six years ago, not because I expected that it would be a major contemporary art center, but simply because I love Italy and wanted to see more of the world, having already lived in New York full-time for 15 years. I like the people, the art history, the architecture, the food and the quality of life in general in Rome. I'm not stressed here. I also sell a lot of art here, easily.

Rome is widely considered the most beautiful city in the world. About a year ago I bought a 3,000-square-foot apartment with 15-foot-high ceilings and breathtaking views overlooking a huge park. In New York, for the same amount of money that I paid, I could have bought a studio apartment with breathtaking views of a brick wall. Don't get me wrong -- I love New York, and it helped me get famous, so I'm grateful, but it's normal to pay eight dollars for a bottle of water in New York's "better" restaurants while in Rome they deliver 24 bottles of the best bottled water (glass bottles) to my home for a total of seven dollars (for all 24 bottles). By the way, after only a year, my Rome apartment is now worth double what I paid, which is still cheap compared to New York, but now that Gavin's moving here, expect prices to go in Chelsea directions soon.

There's still time though, so sign up for your Italian lessons ASAP and buy your plane ticket now. I witnessed the East Village art explosion in the '80s and the Chelsea phenomenon in the '90s and I never expected anything mediagenically similar would happen in Rome. . . but suddenly all the pieces are quickly falling into place for an art explosion that will once again attract all the Condé Nast magazines with their glossy features. But this time the backdrop is Piazza Navona and the Pantheon instead of Empire Diner and the car wash, so expect bigger, sexier and glossier features.


Dear Mark,
I'm represented by a fairly good gallery in Chelsea. The dealer is very loyal to me and shows my work on a regular basis. However, I've never felt my esthetic fits in the gallery's stable and I wish I could move on to a better gig. Question: How do I move on without pissing my dealer off? I'm worried that my dealer will find out that I'm fishing around elswhere. An angry dealer can cause a lot of trouble. This is delicate. How do I do it? And should I? After all, she's loyal.

Seven Year Itch


Dear Seven Year Itch,
Yeah and I bet your Mommy's loyal too but do you still sleep in the crib? Remember, now you're in the New York snakepit of ruthless competion filled with artists who will gleefully obliterate your chances of claiming even a half inch of wall space if it infringes on theirs. You're operating in a world where even if you do manage to claim a piece of the pie, if you don't then grab the whole rest of the pie, all the pies next to it and then stage a hostile takeover of the pie company and all its affiliates, you will inevitably be completely airbrushed out of art history in less than five minutes. Look what happened to Jedd Garet, Steve Keister and Robert Zakanitch, all big stars in the 1980s. I recently had trouble remembering the name of the guy who makes paintings with elephant dung when I tried to explain to a friend about how London dominated the art world five years ago.

My first dealer, Molly Barnes, is one of the most loyal people I've ever met. She's helped me immensely and I continually do my best to reciprocate. But I can't depend on one angel to support my enterprise, which includes running a New York art studio with 20 assistants.

So unless your dealer shows a clear sign of keeping up with your ambitions, yes, you should move on. You have an advantage of already having a gallery, so you will seem less needy when socializing with other artists and dealers. Start trading studio visits with other artists whose work you admire and become part of their network of friends. As you meet their dealers, express your fascination with their programs. Ask questions about the art they show. When you get in a comfortable coversational groove, suggest lunch. Eventually there will be a moment when you can express your desire to switch galleries.

I know a very well-known artist who showed at a respected SoHo gallery but had the same frustrations that you have. He felt his gallery was not growing at the same pace as his career. Being very well known and in demand, he could afford to drop his SlowHo dealer before having a specific alternative lined up. Then, for almost a year, several top New York galleries courted him with impressive offers, until he finally chose one. Not all of us are in such a power position, so for you I'd suggest the quiet search, so you can still fall back on your loyal-but-not-royal dealer, just in case Gagosian fails to plead.


Dear Mark,
What is your definition of success? And how do you continue to sell so much art? Many artists, even after enjoying notable success, fade out after a while and revert back to a day job.

Rick Renzoni


Dear Rick,
If you're able to read this column, you're successful. Realize that and get in a good mood. Relish and learn from your "small" successes as much as your big ones. The goal is not "how to become successful," it's "how to become even more successful."

Attitude is almost everything. Relentless determination helps too. How do I continually make significant money selling art? First of all, I really believe that my work is the greatest work. The best there is. The cat's meow. I think I'm as great as Caravaggio, better than Michelangelo, on par with Picasso, way better than Bacon, higher than Hirst, and keener than Koons.

But I'm also realistic. Although I happily live in my own world, I realize that not everyone else does, yet. Apparently some people still think I'm a joke. Anyway, I make the art and I call the customers. I sell to dealers, mostly in Italy. Sometimes "they call me" but it's always really me calling them because I'm out there pushing my work in the press, at art fairs, by attending openings, and making calls. So when they "call me," in a way they're just returning my calls. My many calls.

I have a list of my best repeat customers and every time I have a new batch of Kostabi masterpieces I get on the horn. Usually the dealers come right over when call them because they know how easy it is to resell my work at a profit. I live in Rome and a dealer usually takes a plane or train down from northern Italy (where the money is) and returns the same day with a roll of 20 paintings under his arm and a smile on his face.

Sometimes they have objections, like "I only want small paintings." They won't even bother to visit if I don't have small paintings. So I tell them I have small paintngs, but it's really just the bait to get them into the studio where I make sure they confront the big masterpieces that I'm really trying to sell. They inevitably buy some of the big masterpieces, along with the small ones (piccolini), which they "sell like bread." I also always hide some of the best paintings under the bed and pull a few of them out every time a different dealer arrives, so no one ever gets offered just leftovers.

After the sale, I usually take the dealer out to lunch at La Pollarolla, where we talk about mutual friends, family, what I'm missing by not drinking wine, the ever-present crisis in the art market (which doesn't make sense because they keep buying my work), and future projects (the next deal). At the post-sale lunch I tell them how much I would appreciate their reproducing one of my paintings in the next Bologna art fair catalogue. If I have to, I'll kick in to help with the expense with a small painting. Consequently I am sometimes the most reproduced artist in the catalogue. It's about visual domination.

All this is much easier if the paintings are good. If they've got punch. I'm told that my market is mostly made up of married couples under 40. They're drawn to the work like a magnet and they can handle the price. The subject matter speaks, the blending is perfect (or at least good enough), the colors sing and lure (or at least aren't muddy), the contrasts are clear and logical, the forms bulge and interlock, the shadows absorb and diffuse, there is mystery, there is clarity. It's about our world. And it's all committee-approved and they can't get enough of it. A good Kostabi is a perfect product. Who wouldn't want one? I mean really!


Dear Mark,
I'm a 19-year-old, straight-A college student who until recently had no direction. I've excelled at everything I've done, from sports to science to math to theater, but I had no feeling for any of it. I quickly become the best of my peers at everything I try. A week ago a puzzled friend of mine advised me that maybe I should just randomly plunk my finger into a dictionary and pursue a career most related to whatever word I touched. I touched "paint," so I've decided to be a artist. By Internet, I immediately began my research. It seems that Artnet.com is the most important site. I found your column quickly and concluded that it is the clearest portal to art success. I will use your principles to guide me on my quest to rise and conquer in my chosen field. I feel I will radically succeed because I have absolutely no emotional attachment to art.

Question: I noticed that one of your Artnet colleagues, Jerry Saltz, just panned the current Whitney Biennial and suggested that historically it's always been a bad show. What would you do, if you ran the Whitney, to solve the Biennial's constant PR problem?

Michelle


Dear Michelle,
I would round up the Whitney Biennial's harshest critics (the ones who write for major publications) and give them the job of organizing the next one. That way, even if the show gets panned, at least the critics will be attacking themselves for a change instead of easy targets.


Dear Mark,
When an artist is about to have a show, is it a good idea for the artist to carry a stack of invitations while making the rounds and hand them out to everyone?

Dante DiMaggio


Dear Dante,
It depends how it's done. It's often very annoying and perceived as too pushy or desperate when artists aggressively hand out their invites at openings... although I certainly did it at the beginning of my career and who knows if it hurt or helped. I have now evolved the following approach, which is more dignified and ultimately more effective: I think of the long term. I try to get the name and address of all the people who I want at my show and simply mail them the invite at the proper moment. This way the person feels more special and not simply rounded up as part of the herd at the last minute.

But just in case, I also carry a small stack of invitations in my inside jacket pocket, but I never just shove one in someone's face as soon as I meet them, like so many other artists do. I carry on a real conversation and when it's my turn to talk about myself I ask the person if they'd like an invitation to my show.

I've met several artists who amazingly even hand out invitations to shows they had long ago. This is really sad and desperate. The worst thing an artist can do, on this subject, is carry a stack of their just published catalogues to openings and give them to everyone they talk to. The artist is probably really proud of the catalogue and probably thinks he or she is being both generous and effectively self-promotional, but what really happens is that the recipient is awkwardly stuck with this big thing that they don't want to carry to the next opening and dinner and the artist comes off looking small time.

Gift catalogues should be mailed or given as presents when visiting the recipients home or studio. You can give away a catalogue when people visit your studio too, if you're sure they don't mind carrying it. Otherwise offer to mail it. Now if you want, you can just say "screw Kostabi" and go on aggressively slapping invitations onto people's faces, because you're a happy anarchist, and you rule, but I just had over 1,000 people attend my recent Stux Gallery opening, so maybe I know what I'm talking about.


Dear Mark,
I remember in the early '90s watching all these career-minded artists sink like rocks. The attitudes shifted around that time from a sort of top-down production system to a hands-on one. It was the same thing in the tech world, too -- when all the kids started up little bohemian web shops in their apartments. The companies that were founded by creative visionaries that understood the technology from the inside-out were, in the long run, the most successful. The "organization men" surrounding themselves with a lot of venture capital and flashy promotion eventually tanked.

The great irony was that bohemian attitudes often had better pay-offs than professional strategies. So business advice, especially in the artworld, is a thorny thing. I think young artists lumped the artists of the '80s, with their big studio production methods, to this older business model. Despite of all their "artist-as-businessman" rhetoric they couldn't keep afloat. . . Real "businessmen" were simply more perverse and wild.

Jackson Pollock


Dear Jackson,
Perverse and wild is good, but only in concert with consistent, focused, organized professionalism. During the peak phase of my "art world bad boy" period, when I would get into violent bloody fights with volatile talk show hosts like Morton Downey Jr., or wrap the standing bodies of late night television talk show hosts in aluminum foil and then pour ketchup on their heads, or spontaneously jump around like a spastic tree frog and destroy the sets of conservative morning talk shows in Boston. . . during the peak of this perverse and wild madness, people would repeatedly comment on my seemingly opposite, polite and professional behavior as soon as the cameras were off. If you have a spaz-attack without a press kit, nobody will notice.


Mark,
What if your work is not presently "in style" with the art world? Should you change your style of work even though you are passionate about it, or should you go on and hope it will be understood?

SR


Dear SR,
This is not a problem in our pluralistic era. Anything goes. You can win the Turner Prize with an art piece that consists of a room where the lights turn off and on, like Martin Creed, or you can be an art star while making realistic oil paintings of famous movie sets without the actors, like Damian Loeb. Or you can take any of a million other avenues and be accepted.


Mark,
Jerry Saltz (and the rest of us) already suffer a fate much worse than banishment to an island of 10,000 clones. We have to share Manhattan with one unfortunate clown: you.

You drop names in your column and pretend that the people you mention take you and your "art" seriously, that just by mentioning them you have established some sort of dialogue, some parity and common cause. It would be laughable were it not so pathetically deluded.

Do you not hear yourself crying in the wilderness, begging for legitimacy from a public that, at best, thinks of you as a bad joke? Is this so-called column supposed to be therapy? But why publish your rantings? You continually tell us how rich you are. Take some of the money, hire a professional who might care to listen, and treat yourself privately.

Steven Kaplan


Dear Steven,
When you get an erection, your brain releases a hormone which sends blood to your penis, filling your erectile tissue. The blood cavities in your erectile tissue fill to the maximum, giving you an erection. Now get this. . . the maximum your erectile tissue can fill with blood creates the size your erect penis presently is. But here's the breakthrough we've discovered. . . Your erectile tissue can be developed much longer and stronger than it is with our product Longitude.

Simply put. . . your penis is EXTREMELY unfit and smaller than what it could be if your erectile tissue chambers were larger (holding more blood). Longitude will go to work on these chambers -- increasing their size in both length and width. . . to hold more blood. . . getting you the few extra inches you wish you were born with.

After just a few days on Longitude, you will start to see and feel much difference in the way your penis hangs and feels when erect. Longitude will also promote increased sensitivity. . . getting you more "feelings" during intercourse, enabling you to achieve ROCK HARD erections ANY time you desire.

Longitude will give you a more muscular look, surely standing apart from other penis. . . Strengthen and harden your erections like a length of STEEL PIPE! Enlarge your penis 1-3 inches or more AT HOME, without vacuum pumps, weights or surgery. Intensify your orgasms. Achieve more powerful thrusting ability. Last as long as you want without drugs. Achieve ROCK HARD erections any time you want. . . your lover won't believe it! Safely and Permanently enhance your penis size, strength, and ability without expensive and dangerous pumps, weights, drugs or surgery.


Mark,
Your column just brightened my day.

Diana Balton


Dear Diana,
Thanks. More to come.

Readers are invited to e-mail questions to askmarkkostabi@yahoo.com.


MARK KOSTABI is and artist who lives and works in Rome and New York. He is represented in New York by the Stefan Stux Gallery. For more information, visit www.kostabi.com.

According to all aerodynamic laws, the bumblebee cannot fly. Its body weight is not the right proportion to its wingspan. Ignoring these laws, the bee flies anyway.

Take what you have and rearrange it so you have something better.