Dario Olivi interviewing Mark Kostabi for Galeria Orler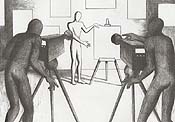 Mark Kostabi
Selling Art on TV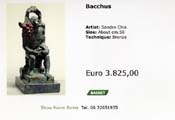 Telemarket on the web
Next Exit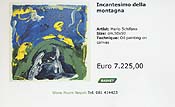 Mario Schifano on Telemarket
Mark Kostabi
Surprise
2002
Onions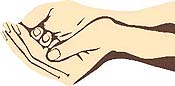 Hands Out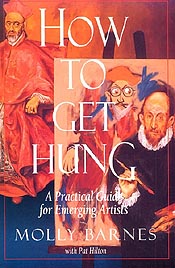 Molly Barnes
How to Get Hung
(Tuttle)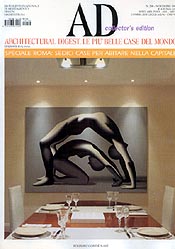 Mark Kostabi featured on the cover of Architectural Digest in Italy, Nov. 2002
Waves of Doubt
2002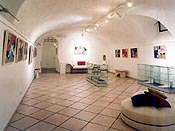 Galleria Tondinelli, Rome
Matteo Basilé
Ladder by Fire Escape Systems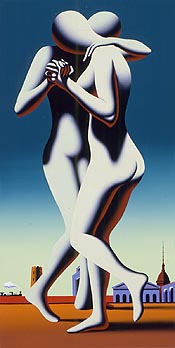 Torino Tango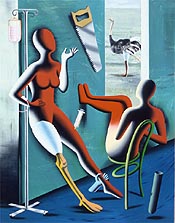 Operation
2002
Neo Rauch
Excelsior: The Amazing Life of Stan Lee
Cecily Brown by Chuck Close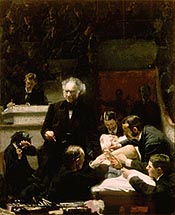 Thomas Eakins
The Gross Clinic
1875
Tragedy and Farce
2001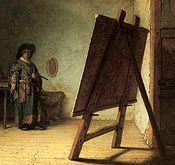 Rembrandt
1629
Honoré Daumier
Art Lovers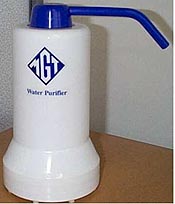 Water purifier
Scale
Ask Mark Kostabi
by Mark Kostabi
Dear Mark,
I applaud you for your advice column and for embracing alternative venues for selling art, like eBay. I find the things that happen around your work (your media persona, your advice column, Kostabi World, selling through the Internet, the forgery scandals, the fights with certain celebrities) even more amazing than your paintings. Is it true that you are now selling your paintings on a round-the-clock "home shopping network" for art?

Lucas


Dear Lucas,
Thank you for saying my paintings are amazing. My paintings are actually more interesting than the conceptual hijinks which you listed above, but you'd have to be a painter to understand that. It's much easier to be entertained by anti-establishment intellectual slapstick than it is to understand what's going on in a painting.

Anyway, yes, it's true my paintings are being sold through television, in Italy. The exclusively Italian phenomenon of selling art via TV has been going on since around 1980 and was very successful throughout the '90s and is especially hot now. I'm amazed it hasn't caught on in the United States yet.

Three main gallery chains do it on a national level: Telemarket, Galleria Orler and Gio. Then various smaller outfits do it on a regional basis, concentrating just on Naples, for example. Telemarket is the biggest. Owned by Giorgio Corbelli, it has its own TV station that broadcasts 24 hours a day, selling contemporary art, modern masters, antique rugs, jewelry and furniture.

Telemarket occasionally sells my paintings, which they buy "in giro," meaning works that are "going around" the secondary market. Orler is the gallery I recently started working directly with. They rent air time every weekend. They sell contemporary art on Friday nights, antique rugs on Saturday nights and contemporary art again on Sunday mornings. In the past month they bought about 100 paintings from me and many others "in giro."

They invited me up to Padova, where they broadcast from, to give a half hour live interview for a "Kostabi Special," meaning they'd offer only my works for a two hour period instead of their usual mixture of Picasso, Warhol, de Chirico, Arman, Fontana, Paladino, Chia, Cucchi, Pomodoro, Alighiero Boetti, Piero Manzoni, Mario Schifano, the Futurists and others. During and after my half hour interview, I watched them sell about 50 of my paintings, large and small, to callers throughout Italy, in a total of two hours.

The television presentation is dramatic, passionate, authoritative and informed. His name is Dario Olivi, and to watch him passionately and theatrically sell a $180,000 small, pink Lucio Fontana painting on TV (as I saw him do) or 50 Kostabis in two hours, is like watching brilliant performance art. Michael Smith, Andrea Fraser or Christian Jankowski would be envious. If one were to project one of Dario's selling segments on a wall in a dark room in the Whitney Biennial, it would be hailed as a brilliant parody of consumerism and the art world. But in Italy it's in everybody's living room and it's a real business.

Several years ago one of the TV galleries offered me a $1.5 million, exclusive three-year contract for Italy. I declined because I didn't want to put all my eggs in one basket. I didn't want to cut out all my other Italian dealers, who've promoted me for years -- and because the TV gallery offered me only 25 percent of retail instead of my normal 50 percent. Plus, I was already doing as well on my own.

You'd think what they're selling would be mostly junk but it's not. They also do sell things that might be called junk but more than half is work by internationally known, museum-sanctioned artists. Many people watch, with great interest, and many people buy. For example, one collector friend of mine, Matteo Palumbo, who owns a hotel in Rome, says he spends practically all his free time watching art being sold on TV. He says it's meditative, educational and a cultural experience -- much more interesting than most Italian TV shows. On Sunday mornings all three major TV art dealers turn up the volume and offer their most impressive contemporary art. The ratings are highest for art buying on Sunday mornings, which is in sync with a popular American observation that art museums have replaced the church.

Dear Mark,
I was at a glamorous art-world party recently and while I was talking to the editor of an important magazine, she literally walked away from me in mid-sentence. Something similar occurred a few minutes later. Is this normal?

Snubbed


Dear Snubbed,
You might have bad breath. I'm noticing that more and more, people are fearlessly and foolishly attending social events with the most horribe alcohol or smoker's breath. It's your spouse's responsibility to tell you if you have bad breath. But if your spouse is an alky or onion-lover too, what are you to do? Every once in a while, ask your close friends if you have, or have had, bad breath. Get second opinions. Then do what you have to to get rid of it. Personal presentation definitely affects your career. You don't have to be a Prada model (although that wouldn't hurt), but bad breath is a bad idea. Long, curled nosehairs and visible snot dripping from your nose are not a plus either.

Dear Mark,
Now that I'm famous I get asked by charities for donations of artworks all the time. I don't want to be cold or selfish, but nobody gave me a handout when I was a struggling unknown artist. Up till now I've always "taken the high road" and given generously. But now it's getting overwhelming! And how can I be sure if it's a legitimate charity? I just got a call from someone who addressed me as another famous artist whose last name began with the same first letter as mine. He was obviously just going down a list and got my name wrong. What should I do?

Overwhelmed


Dear Overwhelmed,
Molly Barnes, the author of the great artist's advice book, How To Get Hung, told me that many people choose their favorite charity (or a few favorite charities) and give only to them, generously. When others call from out of the blue, they say they just don't have the time to deal with all the countless requests, therefore they make all their contributions to a specific charity.

Molly also told me that many artists, in response to the overwhelming requests, now give artworks to benefit auctions only if the work has a reserve equal to its retail value and only if the artist receives his or her normal 50 percent.

Some people will tell you that charities are the best thing you can be involved in. One of my dealers recently told me that if you're ever in doubt about how much to give -- give double. But how realistic is that? When would you have time to paint? The whole situation gets trickier and understandibly confusing, especially when the fundraiser lures you with a mixture of prestige and moral responsibility. And this happens a lot. I'm frequently told: "It's for a good cause AND your painting will be auctioned by Sotheby's and reproduced in a beautiful catalogue." My advice is keep giving, when it feels right. But don't feel guilty if sometimes you have to say no.

Dear Mark:
I recently was invited to be represented by Galleria Tondinelli in Rome. Since I have never done any exhibiting in Europe, I am a bit flabbergasted by the costs of such a venture. This gallery, which I believe you have shown with, is asking me for $1,000 per year as an annual "representation" fee plus the cost of ads and a catalogue. And, insurance and shipping of my work is on my shoulders. They also mentioned a fee for having a gallery show which I find very high. As you know, things don't work that way in the USA unless you are involved with a "vanity" gallery. Is this a normal thing?

Confused


Dear Confused,
Similar practice DOES occur in the USA, by well-known galleries that get reviewed in major newspapers and major art magazines. I've noticed it more and more recently. As I'm writing this, an artist called me with a similar dilemma. This development betrays a lack of confidence among some dealers and the reality of the growing intense competition in the art world. These dealers are not necessarily ruthless opportunists. They might actually love art. They might very well like to buy all your work up front, but they simply don't have the money. As I've said many times in these pages, I hate consignment. So naturally I hate even more the situation you're faced with. I would never become an art dealer unless I could afford to buy all the work that I wanted to show, up front, in addition to paying the gallery rent and promotional expenses.

Most of my Italian dealers work this way with me, because they know how easy it is to sell my work. But that's not the case for all artists. I called Floriana Tondinelli, with whom I did have a show (but I didn't have to pay) after I received your letter. She calmly defended her position, citing the expenses of promoting an unknown artist. She said she is even publicly offering her representation services in a current ARTnews ad.

Then she wanted to come to my studio to buy more paintings at a 50 percent discount. I hadn't spoken with her in a while and she hasn't bought paintings from me recently, but my calling her on your behalf reminded her of my existence and gave her the idea to buy more paintings. Thank you.

Are you still confused? Maybe things have changed. I'm 42 now and don't know what it's like to be a 20-something in 2002. When I started out in SoHo and the East Village in the mid 1980s, I and my peers never had the problem you're faced with. We didn't have to "pay to play." My brother, Paul Kostabi, a painter and rock musician, says that most upcoming bands routinely pay for the privilege of performing in New York. Perhaps the art world is becoming more like the super-competitive rock music world, but I kind of doubt Will Cotton, Inka Essenhigh, Cecily Brown and Matteo Basilé are paying "representation fees." It's not that bad yet. My advice: Don't "pay" to have a show, unless you're 100 percent sure you're getting more than your money's worth.

Dear Mark,
I'm a painter that has been living in New York for about two years now. Like most others, I'm very eager to get into the Chelsea scene. I've been hitting openings almost every week for about a year now. I've met quite a few artists (even yourself) at these openings, some of which have been followed up with studio visits. So I'm pretty sure I'm on the right track. The problem is: what now? Some of these artists are at the bottom rung of the ladder like myself. Others are in much better positions, represented by decent galleries. How can I proactively make these relationships move to the next level, where I might get a show? It seems that nobody is willing to offer anything outright since I'm not in much of a position to help them in return. Should I just ask some of these people to recommend me to their galleries (seems tacky to me)? Should I just wait,

Frustrated


Dear Frustrated,
I've never bluntly asked an artist to recommend me. Probably because I don't like it when it's done to me. I've never tried it, so I'm not sure if it'd work. You will however meet the dealers anyway, just by hanging out with the artists. As you get to know the dealers, you don't want to be unpleasantly pushy, but you can't just wait around either. Let them know you're available, but do it in a charming way. Every once in a while, lightly punctuate your conversations with phrases like: "It sure would be nice to see my paintings in that room over there." Or: "So when are we gonna do the Kostabi show?" You can also be less jokey and say: "Would you be interested in seeing my studio?" or when talking to a prolific curator: "Could I become involved in some of your projects?" But always make these invasions after they've talked about their own activities for a while. Watch, listen and wait for the gate to open before you slide in.

Dear Mark,
With your huge output I can't believe you are using ordinary oils. Do you ever use water soluble or alkyd-based, fast-drying oils? And what is your opinion on these fast-drying options?

Colin Mummery


Dear Colin,
I occasionally use Liquin, when I need a painting to dry in a day, for an urgent commission. Otherwise I don't mind if the paintings spend an extra three days in the studio to dry before being sold. It's nice to look at them for a while.

Dear Mark,
The first time I was made aware of your work was around 1990, through a show on MTV, "Buzz," where you gave advice about "selling yourself." As I was, at the time, a mere freshman in art school, it was this advice that kept me going, through everything that life throws at me. Thank you. It was your advice that saved me from despair. Recently, I've taken a job as a web designer, utilizing my talents in a new and different way. My question is: Can an artist in his 30s (who remains inspired and driven, even though surrounded by a less than artistically knowledgeable atmosphere) still make a break in the art world?

Brian Stupski

Dear Brian,
It helps to be 20 and good looking, but many famous artists got their first major exposure in their late 30s and 40s. Fred Tomaselli and Neo Rauch are two recent examples. You can break in at any age but it does get harder as you get older. So start immediately.

Dear Mark,
Recently you wrote in your column that you originally wanted to be a comic-book artist. I fantasize that you live your life like a comic strip or at least sometimes present it outwardly as if it was "unreal." Has this been a kind of tactic to draw attention?

Heie


Dear Heie,
I had dinner last night with a successful comic-book artist who recently switched to fine art. He agreed with me that painting is much easier than drawing comics, where you really have to master anatomy, composition and narrative devices. In fine art you can fake it and still make it. But, as a comic book artist, once you become a master, you end up a slave. In fine art you're always free. And you're right, since I couldn't make it at Marvel, I made my life a carnival. And now Stan Lee comes to my art shows and Robert Crumb drew a caricature of me in one of his comics. I couldn't make it as a comic book artist so I became an actual character in comics.

Dear Mark,
Would you say figurative art comes and goes, or would you say it's more of a constant, since average viewers are naturally drawn to the human element? I am a figurative artist but I haven't found my niche yet. I like to depict actual faces (even though I just make them up sometimes) instead of a generic head like you do. I'm sure you don't take offense to that comment as you deliver substance in a different way (humor, opinion, intellect, etc.). I like mine to deliver the substance of flesh and human emotions. Would you say I am working against the grain? Won't being true to myself somehow become my salvation?

Chiatzy


Dear Chiatzy,
Figurative art (or representational art) is as popular now as it's ever been. Most photography, video and installation art is figurative. The most successful current artists are making figurative work: Matthew Barney, Jeff Koons, Damien Hirst, Robert Gober, Inka Essenhigh, Cecily Brown, Paul McCarthy, Anselm Kiefer, Gerhard Richter, Maurizio Cattelan, Kiki Smith, Bill Viola, Bruce Naumann, Gregory Crewdson, Fred Tomaselli, Neo Rauch. These are not abstract artists like Barnett Newman or Joseph Albers. Nor are they Conceptual artists like Lawrence Weiner or Joseph Kosuth.

Figurative art has been around for a long time, and no matter how brilliant, amusing or intelligent the creek of abstraction, Dadaism, Minimalism and Conceptualism of the 20th century was, it didn't much affect the historical river of figuration. I predict that in 50 years and in 300 years, figurative art will still be strong and important. The substance of flesh, human emotions and generic heads will still be issues. Of course with all the new hybrid species that human scientists are now concocting, anatomy class will not be the same. The future may look like an Alexis Rockman or Hieronymous Bosch painting.

Dear Mark,
I recently finished an MFA program, one of the big important ones in the New York area, full of important art-world superstars as the faculty. Unfortunately I found the faculty to be very reactionary, conservative, cowardly and petty. Particularly the full timers, whose stars are waning. I found them to be the most petty, reactionary, and holding the most power.

While being one of the most talented and intelligent students to come out of this program, these faculty members have done everything they can to get in my way, from blatant sabotage, spreading rumors about me, to withholding opportunities from me, to attempting to derail me and attempting to make me believe the work I was doing was not worthwhile. They only supported my mediocre peers who made their jobs easy through compliance and general flattery.

Fortunately, I did manage to make just a few friendships with some professional art world people who are supportive of originality and a rebellious art making spirit and are helping me to achieve my vision slowly and methodically.

Question: How can I carry out my civic duty as an artist to other younger artists and convince them not to waste their time with MFA programs (especially ones who have conservative dusty old faculty holding full time faculty positions) and avoid legal slander and libel?

I really enjoy your column Mark. There should be more teachers like you.

The Next Big Thing


Dear Next Big Thing,
On the one hand, you seem genuinely paranoid. Unless you really posed a threat (which you didn't define here), why would so many tenured teachers take the time out of their busy drinking schedules to methodically attempt to derail one student? On the other hand you raise some real issues about faults in the education system. Tenure only benefits the teachers who have it. Teaching, the most noble profession, should be rewarded based on merit alone, not seniority. For students considering art school, or actually enrolled in one, the best approach is to research heavily the reputations of individual teachers and mostly take classes with the very best teachers. Also take a few classes from the most famous teachers regardless of weather they're good teachers.

Dear Mark,
Some artists complain that their dealers are excessively inflating their prices and thus creating a hype bubble that could easily burst. I have the opposite problem. I can only make so many paintings and the demand is high. But every time I raise my prices, my dealers literally get angry and suggest that they might not continue to represent me. Should I increase production by hiring assistants and keep my prices low? Or should I bravely raise my prices and continue making the same amount of work?

Devon


Dear Devon,
Many pseudo-purists will advise you to keep production low and prices high. But Picasso and Warhol are the kings and barometers of the art market because they had huge quantity as well as quality. Duchamp is just as important historically but no one makes an art-market decision based on how the Duchamp market is going. Because there is no "Duchamp market." He produced too little. If you have no spiritual objection to having assistants work on your work, do it. Try it, you'll like it. At the same time, raise your prices every January and have an annually dated price list. If you don't raise your prices at least according to the decline of the value of money, then your prices are actually going down. If you have an explosive career development, like a major museum show or a deluge of great press, then you should raise your prices again, in addition to your January increases.

Dear Mark,
How do you deal with a dealer who has undeniably helped you a lot -- but then does something horrible to you?

Torn


Dear Torn,
Breaking up is hard to do. You have to weigh the pros and cons of your specific situation. Sometimes a little abuse is acceptable if there's a big upside. But don't let them lay a guilt trip on you. Dealers are generally not known for doing something for nothing. While they were "undeniably helping" you, they were also helping themselves. The score should be about even. So when they start making you uncomfortable, it's probably time to move on.

Dear Mark,
How do you deal with all the badmouthing in the art world? I have several well-known artist friends. I like them all -- but some of them hate each other. When Artist X badmouths Artist Y, I'm tempted to pretend I'm not really Artist Y's friend because I don't want to fall out of favor with X. If I defend them both against each other I'm afraid I'll have neither in my camp? Do I have to choose sides?

Nervous

Dear Nervous,
It's easy to say stuff like: "It's time to graduate from high school" and "Always stick up for your friends despite peer pressure." But that's Hollywood happy-ending stuff. These high schoolish cliques have been common in the lowest and highest levels of the art world for a long time. When they successfully force you to choose sides, you win the respect of both your enemies and your enemies. The best approach is to look at the art. Honestly decide who your favorite artist is and try to get to know that artist and stick with him or her. If he or she is a jerk (which is possible since bad people can make good art) try your second favorite artist. You can still respect your favorite artist's work. You don't need to be friends with every good artist out there.

Dear Mark,
Why is negative art criticism so popular?

Alice


Dear Alice,
Negative art critics are sexually frustrated. When we hang on every word of some bitchy, negative art critic, it's the same as watching someone scream on the street, publicly begging for sex. Wouldn't you be amused?

Dear Mark,
Do you really think that your work is more innovative now than Picasso's was in the early 1900's? If so, is your innovation based purely on "bringing home the Bacon," or drawing parallels with corporate culture.

Concerned Student

Dear Concerned Student,
I don't remember ever making such a claim. But I'm publishing your letter to demonstrate how an artist's mythology grows. People are starting to say stuff like that about me. I recently paid a well-known British art critic $2,000 to write a glowing, over-the-top advertorial about me, using a pseudonym, which I then published as a two-page ad in Flash Art. I thought that anyone, after getting past the second paragraph, would realize it was parody. But it ended up being taken seriously and now college students who are writing papers on me interview me about the faux-critic's exaggerated claims. All you have to do is throw out the seeds and they will take root and grow into majestic weeds. For example, if I were to say, "No, it's not true that Roberta Smith in the New York Times wrote that 'Mark Kostabi is the most important artist of his generation,' " some people will take it out of context and say: "Roberta Smith in the New York Times wrote that Mark Kostabi is the most important artist of his generation."

Dear Mark,
I loathe your paintings. I always dismissed you, never even considering you an artist. You're always photographed wearing shirts and ties that I find hideous. Your paintings actually make me mad I detest them so, all that blending makes me cringe. About a year ago I came across your advice column and I was sure I was going to hate it. But now, a year later, I have to admit, I look forward nothing more (on the Internet) then the coming of your next column. Your levelheaded advice is always brilliant. While I find your optimism and wit so refreshing; even inspiring. As I grow, mature as an artist, and person in general, I find it interesting that while I can be absolutely esthetically opposed to an artist's work, and think that personally they have no taste whatsoever, I can still have so much respect for their thoughts and writings. I have also been surprised that artists whose work I love (Paul McCarthy, Jason Rhoades, Tom Sachs) often fail to impress me in their writing or interviews. My point is, please don't stop writing your fabulous column. I am noticing that they are becoming fewer, further between, and I would hate to see them disappear altogether. I will look forward to reading your column, as long as you write it. Thank you for all your hard work, and sharing your insight with us all.

C.J. Stafford


Dear C.J.,
I'm so sorry, but one reason you see less of my columns is that I've picked up the brush again myself, after 15 years of having assistants almost exclusively do my blending. You see, I just can't get enough of my blending. Nor can my collectors. And since I can blend five times faster than my assistants it's like having five extra assistants blending away. A good blender is hard to find. If it's any consolation, at least I can tell you I almost never wear ties anymore and I now wear ordinary, bland shirts so I can blend in at openings while I'm not blending in my studio.

Dear Mark,
Just found out today -- I got picked up by a really good gallery in London. One of the best-known in the UK. Had I not discovered your column, it never would have happened. I mean it. Thank you. Yes, you can quote me on that.

Hugh MacLeod

Dear Hugh,
Thanks.
All the best,
Mark Kostabi

When people are feeling insecure, they'd rather have someone who is strong and wrong rather than somebody who is weak and right.


-- Bill Clinton



Readers are welcome to submit questions by emailing askmarkkostabi@yahoo.com.


MARK KOSTABI is an artist who lives in Rome and New York. For more information visit www.kostabi.com.