Sister Gertrude Morgan
New Jerusalem from the Prayer Room
"Tools of Her Ministry: The Art of Sister Gertrude Morgan"
American Folk Art Museum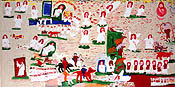 Book of Revelation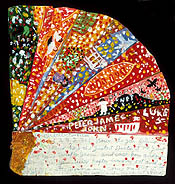 Charity Hospital
Sunday June 9th 1967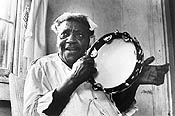 Sister Gertrude Morgan singing and playing the tambourine, ca. 1973
Photo by Sylvia de Swaan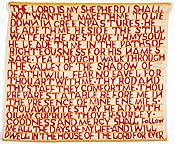 Lena Moore
Psalm 23 Quilt
ca. 1930
Collection of Janet M. Green
"Talking Quilts"
American Folk Art Museum
Pieties Quilt
probably Maria Cadman Hubbard
1848
American Folk Art Museum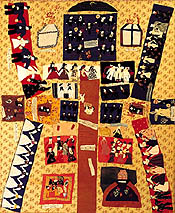 Susan Arrowood
Sacret Bibel Quilt Top
1875-95
American Folk Art Museum
Elizabeth Hamilton
Teaching Quilt
1934
Collection Ruth G. Strong
The Minister's Art
by N. F. Karlins
Two terrific shows are currently brightening the galleries at the American Folk Art Museum: "Tools of Her Ministry: The Art of Sister Gertrude Morgan," Feb. 25-Sept. 26, 2004; and "Talking Quilts," Feb. 11-Aug 1, 2004. Sister Gertrude Morgan (1900-1980), a preacher, musician and poet, was a natural as an artist, although she got a late start, like many self-taught artists. Her paintings and drawings, often on found objects, are profoundly religious yet joyous. It also offers a vivid self-portrait of herself and her life as a self-proclaimed missionary, as she appears in the majority of her figurative work. She also produced some handsome, color-added text-only pieces late in her life. Sister Gertrude's works are blasts of exuberant primary colors laced with a luscious, electric white paint (originally white shoe polish, according to one account) and often threaded with lines of text. Her repetitive patterns, especially dots, make her a prime candidate for the Pattern and Decoration School, though her subject matter is entirely different. The seventh child of an Alabama farmer with a third-grade education, Gertrude Willliams married Will Morgan in 1928 and lived in Georgia. She received a call from God to preach in 1934. She experienced other revelations during her long career as a self-proclaimed missionary, which lasted until her death. In 1939, called again, she moved to New Orleans, where she set up a children's home with two other women. They all wore black dresses with a white collar. What happened to the marriage is unknown. She traveled in the south preaching and attending religious gatherings. Back in the French Quarter, she distributed food and clothing along with her other missionary duties. Around 1956, Sister Gertrude, already deeply involved in art-making as a religious poet and musician, received another revelation telling her to use art to illustrate her sermons. About a year later, she was called to become the "bride of Christ," after which she dressed completely in white. She went out on her own to preach, eventually establishing her own mission. She sold her artworks to help support herself and her mission, made a record of her songs, and received national recognition for her art. "Tools of Her Ministry: The Art of Sister Gertrude Morgan," curated by William A. Fagaly of the New Orleans Museum of Art, who knew Sister Gertrude during the last 12 years of her life, neatly lays out the development of her distinctive art. Her development, from copying from the Bible and possibly other religious texts to a signature style of her own, appears to have been rapid. Drawn to the book of Revelation, like many other self-taught preacher-artists, her vision of a New Jerusalem is her most important theme. This vision translates in her paintings into images of multi-storied houses, gardens (which often resemble the one near her Everlasting Gospel Mission in New Orleans), and Sister Gertrude herself, dressed in white with "Dada Jesus." The skies above are typically filled with multicolored angels, like those swooping overhead in the undated There's a Bright Crown Waitang (sic) for Me in acrylic and/or tempera, pencil, ballpoint pen on wood panel. In 1974, she received another revelation to stop painting and to devote her time to poetry, which may have had something to do with difficulties with her eyes. Sister Gertrude, a single-minded missionary, never took credit for her art. She maintained that everything she created came from God, just like the Reverend Howard Finster, John (J. B.) Murry and a host of other self-taught artists. She once said: "He moves my hand. Do you think I would ever know how to do a picture like this by myself?" After its appearance at the Folk Art Museum, "Tools of her Ministry" travels to the New Orleans Museum of Art, Nov. 13, 2004-Jan. 16, 2005, and Intuit: The Center for Intuitive and Outsider Art in Chicago, Feb. 11-May 28, 2005. The catalogue is from Rizzoli and is $35 in hardcover.
The accompanying exhibition, "Talking Quilts," features 19 quilts that incorporate Bible verses, homespun sayings and other words, in a show selected by Stacy Hollander, senior curator and director of exhibitions at the American Folk Art Museum. The show makes it clear that long before the Conceptual artists of the 1960s and '70s began using words as art, American women had already come up with the idea and spent about 100 years in perfecting it. I don't know exactly when the first quilt with more elaborate lettering than a simple name and date appeared, but "Talking Quilts features many spectacular examples of this creative strategy. Some use religious texts. Lena Moore's circa 1930 Psalm 23 Quilt uses pieced cotton letters to spell out, sometimes creatively, "The Lord is my shepherd. . . ." The irregular red letters on a white ground are separated by ocher-colored lines, producing an edgy effect. From Red Hook, N.Y., around 1874-76 comes Cornelia Catherine Vosburgh's doubly pixilated Religious Text Quilt. The text may have been designed to teach the alphabet as well as religion, as it contains all 26 letters. It is impossible to decipher close up. The tiny disjointed squares that form the words will only snap into shape when viewed at a distance. The red cotton forming each letter also has a tiny dot-like pattern that further shatters the lettering. Jessie B. Telfair of Parrott, Ga., made her Freedom Quilt in 1983 after she was fired from her job for trying to register to vote. The word "freedom" is spelled out vertically six times in red, white and blue. Insistence is inherent in the design. Of course, not every quilt with words is solely conceptual in nature. Elizabeth Hamilton, probably from Patchogue, L.I., made her Teaching Quilt with scores of simple two-dimensional objects surrounding two kids on a teeter-totter. The word "baby" is balanced on the teeter-totter, and the alphabet can be found in the borders of this 1934 quilt. It may be only partly conceptual, but it's totally enjoyable. So are the other quilts in this show, which range in date from 1848 to 1998.


N. F. KARLINS is a New York art historian and critic.