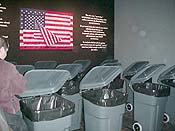 Hans Haacke
Sanitation
2000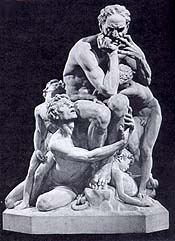 Jean Baptiste Carpeaux
Ugolino and His Children
1865-67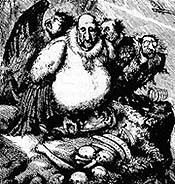 "Let Us Prey" Boss Tweed cartoon by Thomas Nast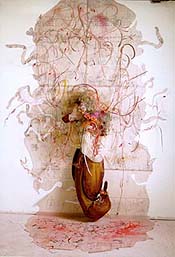 Rina Banerjee
Infectious Migrations
1999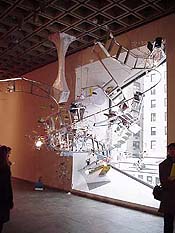 Sarah Sze
Untitled
2000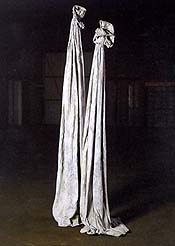 Joseph Havel
Curtains
1999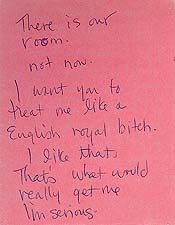 Joseph Grigley
Untitled Conversations
1999
(detail)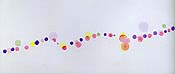 Laurie Reid
Ruby Dew (Pink Melon Joy)
(detail)
1998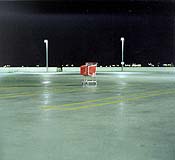 Doug Aitkin
Still from Electric Earth
1999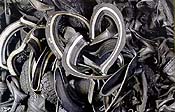 Chakaia Booker
Homage to Thy Mother (Landscape)
1996
(detail)
Tara Donovan
Ripple
1998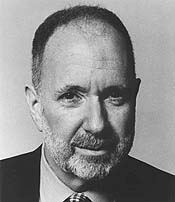 Brooklyn Museum director
Arnold Lehman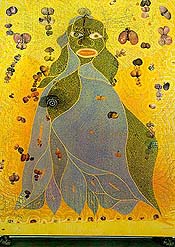 Chris Ofili
The Holy Virgin Mary
1996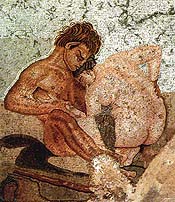 Satyr and Nymph
from the House of Faun, Pompeii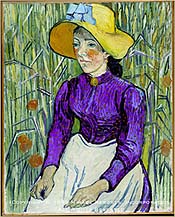 Vincent van Gogh
Peasant Woman Against a Background of Wheat
1890
Pierre-Auguste Renoir
The Loge
1874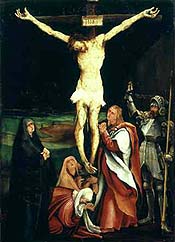 Matthias Grünewald
The Crucifixion
ca. 1505
at the National Gallery, London
Matthias Grünewald
The Ressurection
1512-1515
from the Isenheim Altarpiece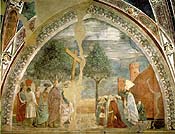 Pierro della Francesca
Exaltation of the Cross
from "The Legend of the True Cross"
ca. 1466
San Francesco, Arezzo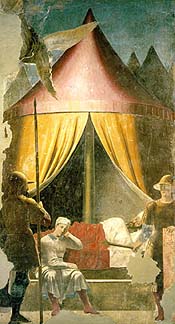 Pierro della Francesca
Constantine's Dream
from "The Legend of the True Cross"
ca. 1466
San Francesco, Arezzo
My Eye
by Thomas Hoving
The veiled room -- with nothing inside
There's a curtain over the portal like one of those rooms in an ancient museum where the ancient porn is. It fills a miniscule room on the third floor of the diminutive Whitney Museum and surely you've seen it or read about it -- Hans Haacke's political diatribe against the despoilers of the First Amendment.

On the floor near the entrance is a blown-up fragment of a copy of the amendment in the script the blessed founding fathers used. Between this and a jet-black wall are 12 black plastic trash containers on wheels sending forth the hollow sounds of marching feet. Against the wall there are several one-upon-another Jasper Johns American flag lookalikes with the outer, smaller one hanging down, limp and defeated so to speak. Flanking the flags are six quotations in Mein-Kampf, Gothic-Fraktur typeface condemning contemporary art by the likes of "art experts" Pat Buchanan, Jesse Helms (one wonders what happened to Morley Safer) and, of course, Rudy the G. Hizzoner gets three lengthy quotes, every one a statement calculated to gain the Catholic vote, which is the reason why he attacked Brooklyn's "Sensation."

Weak, weak, weak
It's called Sanitation. The title is the only thing that works, because the piece is sophomoric garbage, not to be taken seriously. It's as powerful as some political thunder from the mouth of Alf Landon.

Where is Thomas Nast when we really need him?

The once-notorious "portrait" of the late Chicago Mayor Walter Washington wearing bra and panties which a Chicago alderman "arrested" and removed from the School of the Art Institute of Chicago was a lot crunchier.

Maybe Haacke should have made an exquisite heroic-sized portrait of Rudy the G mimicking to the exquisite detail the style Hitler's favorite sculptor, Arno Breker, and let us ponder the deeper meaning.

Or Haacke's version of Rudy by Arno Breker wrapped by the Christos.

Or Rudy as Carpeaux's Ugolino about to eat the Brooklyn Museum, its staff and board of trustees.

Or as a huge Boss Tweed body with Rudy's angelic phiz.

Or as a giant-projected clip of Rudy the G as Jimmy Cagney squashing the grapefruit into the facade of the Brooklyn Museum with grisaille images of Robert Rubin and Arnold Lehman painted in.

Or Rudy slouched in the tub in Jacques-Louis David's Death of Marat.

Too soft and cuddly?
The general word in the art press is that the Whitney Biennial 2000 is deliberately soft and cuddly, non-confrontational, non-controversial and non-political.

I don't buy it.

This Biennial, like all of them, has no theme. It's essentially what one, six or whatever number of keen-eyed curators happened to like. Yes, this year there are the clichs and the dross among the works of 97 artists ranging from old-style easel painting and traditional photography, to video work to computer art. But there are also some gifted, lyrical, tough, determined and wide-awake works very much worth seeing.

My blindingly fast tour of the show -- top to bottom:

Rina Banerjee, Infectious Migrations, 1999. This sprawling sculpture-installation is a gorgeously crafted visual allegory of the AIDS epidemic in India. She talks in the recorded tour about how she wanted the piece to be monumentally tactile, the vein-like functioning and decorative interior of a human body escaping to it own exterior outside. It is deft, elegant and sinuous.

Sarah Sze, Whitney Window, 2000, is a complex and massive installation of aluminum step-ladders all broken apart and reassembled floating amongst a welter of objects, water bottles, Q-tips, pushpins and stuff, all jammed into and rocketing out of one of those trapezoidal Marcel Breuer Whitney windows, which Sze wanted to extend, refine, decorate and make sculptural. She succeeded with this joyful, rambling cornucopia. (The catalogue, by the way, shows another, less-accomplished work.)

Joseph Havel, Curtains, 1999. Three tall and mysterious contemporary dolmens (you know, those mammoth Celtic stones cast about the French countryside) in marvelously patinated bronze were actually cast from draped, common fabric the artist bought a thrift-shop "Value Village" near his home. He has a special gift to transform the ordinary into sheer poetry.

Joseph Grigely, Untitled Conversations, 1998-1999. A bunch of handwritten and printed meandering sayings written down and given to the profoundly deaf artist. Some are scatological, some nonsensical, but the array is curiously prescient and moving. "Indeed," says one. Another,
"I used to live in Royal Oak, MI, just outside of Detroit"
"6 months"
"I was taking care of an ex-girl friend's elderly grandfather"
"We have love potion on I got it from a witch."

Laurie Reid, Ruby Dew, 1998. A whopping 192 by 240 inches of four swaths of drawing paper is marked with a wavering line of smudged droplets in pastel hues of yellow, rose, violet and pink, which, as the artist explains, happened without plan. "It has a mind of its own. These were mistake drips. I loved the character they had and what would happen if I made a painting of nothing but mistakes." To me it looks like a poetic necklace.

Doug Aitkin, Electric Earth, 1999, is a gripping video experience which booms throughout multiple galleries and traces the jerky and compelling night-time wanderings of a young black man through the deserted streets of L.A. As the artist says, "It's a journey in flux, and all about time." If I could, I'd rip out the rooms in my apartment and install this powerful work.

Chakaia Booker, Homage to Thy Mother (Landscape), 1996. This is a fine, strong and monumental piece (it looks like it takes up a half acre) made of shredded and twisted bicycle and motorcycle tires. A ghastly dream on the way down Ho Chi Min Trail, which is indeed of "furious beauty" as the catalogue entry puts it so well.

Tara Donovan, Ripple, 1998. The artist was fiddling around with some silver electrical cable and when she cut it into small pieces she discovered to her delight that it had an incredible ability to adhere to itself and it stuck to walls and the floor with a delicious sense of controlled randomness. The piece will never look the same way twice.

Only artists know what contemporary art is anyway
Although I know the public needs and values recorded tours of museums and art shows, I can't stand listening to them. They are mostly pompous faux-academic pronouncements with little narrative juice. But the Whitney Biennial has done something new with them. For the first time artists have been encouraged to explain their works.

I have enough art history degrees to say out loud that I don't know anything about contemporary art (and I don't think the vast majority of art critics, curators, collectors or academics do either.) Only the artists know. Sure, the clich is that artists cannot explain their works, which is why they create them in their own language. But these Biennial comments are scintillating and disprove the old saw. Take at least part of the tour -- the machines are as small as cellular phones and they are free, free, free. I was entranced and learned a helluva lot.

Rudy in a decision over Brooklyn
Speaking of winners, the way I see it, Rudy the G came out as the clear victor in the "Sensation" fracas and the Brooklyn Museum was severely damaged.

* The museum has to pay its legal defenses -- the chatter is, upwards of a million, which I have a sneaking suspicion is more than "Sensation" earned at the box office and more than Charles Saatchi will divvy up.

* Yes, the membership is up 20-25 percent since the show. But will it stick?

* The city will give a mere $5.8M toward the sorely needed renovation of the facade instead of the $11 million that the job will take.

* Rudy the G solidified his Catholic vote just when he sure needed a few and slips out of possibly embarrassing public testimony. He's using the controversy in his literature and in recent speeches.

* Brooklyn's director Arnold Lehman is career-tainted by the weasely stuff that came out in discovery -- his attempted cover-up of Saatchi's mammoth secret funding and curatorial role and his attempts to pick up soft money from some of the dealers of the artists in the exhibition.

Where will the poor, underfunded, underappreciated museum go now? I still think the trustees should move the museum out of town and start anew.

Hot new, old symplegmata
I'll never forget my first trip to Pompeii and the guard who whispered into my ear that for a price a very special series of corrugated-iron galleries could be entered. They contained "symplegmata," the official art historical word for pornography. Of course my wife and I paid and laughed at the raunchy side of ancient Rome with its frank and intentionally funny depictions of all sorts of wild positions and couplings. Next month, a new, modern (with recorded guides?) series of galleries will open in the venerable Naples Archaeological Museum for the massive porn collection. Here's a posting by Reuters on March 30th in the India Times, which is an appropriate place for such news to appear:

A collection of ancient Roman erotica, thought too scandalous for mere mortals to view and stashed in a Naples museum for the best part of 200 years, is to go on public view next month.

Unearthed from Pompeii, Herculaneum and other ancient Roman towns, the so-called "secret cabinet" made kings blush, outraged the Catholic Church and was condemned by a priest as a "hell to corrupt the morals of the chastest." After years of restoration, the more than 300 artifacts depicting both mainstream and less widespread sexual acts will be unveiled at the National Archeological Museum in Naples, curator Stefano De Caro told a news conference on Wednesday.

"It was a collection created that dared not be shown," De Caro said. One of the collection's most famous pieces is a second century marble statue of the mythological figure of Pan -- the god of shepherds and nature -- cavorting sexually with a goat.

Considered obscene, the statue was locked in a closet by the Bourbon King Charles III shortly after it was unearthed at Herculaneum in 1752. Not even the esteemed German archaeologist of the time, Johann Winckelmann, was allowed to see it.

Paintings, which make up the bulk of the collection, range from mythological scenes of love and sex between nymphs, gods and satyrs that decorated Roman homes to erotic images which were hung in brothels to arouse clients or advertise services. Phalluses of all shapes and sizes, given as gifts or votive offerings by liberal Romans, are among the displays.

"The plague of religion"
In 1819, an anonymous Neapolitan priest wrote of the collection to King Francis I: "Your Majesty, this room is the plague of religion. It is a hell which corrupts the morals of the chastest, most religious and holiest people." The king ordered the objects locked away.

From then to 1848, access to the "secret cabinet" was given only to "people of mature age and respected morals." During the revolutions that swept Europe in 1848, the collection was made briefly accessible but closed again a year later. Ordered re-opened by Italian revolutionary leader Giuseppe Garibaldi, the collection was soon hidden away for nearly 100 years, enjoying a short period of liberation at the end of the 1960s. The collection was then closed for restoration.

"Since the excavations at Pompeii began, the diaries (of the archaeologists) were registered with barely hidden embarrassment," De Caro wrote in the collection's catalogue. "The discovery of "obscene" objects -- amulets, lanterns, pictures and reliefs ... explicitly and often humorously depicted scenes of sexual activity," he said.

But when the doors to the collection are flung open from April 10, the exhibition will be given an "X-rating." Youths will only be allowed in with an adult or written permission."

Trustee behavior
A couple of gossip columns had the word not too long ago that Steve Wynn of Las Vegas Mirage Resorts, Bellagio hotel and art collection fame had been blackballed by Metropolitan Museum trustee and New York social doyenne Jayne Wrightsman from buying a super-expensive apartment in her 820 Fifth Avenue building. Might not have been the best thing for a Met trustee to do.

As enterprising Wall Street Journal reporter Daniel Costello, now on the Art and Money beat, revealed, Wynn "might keep his famed art collection after all." He has cut a deal, which, if it holds, enables him to keep much of the $400 million art collection now on display in the Bellagio Hotel and buy whatever is left for under-market prices. The collection which Wynn assembled to rent to Mirage Resorts for a hefty fee and for a sizable Nevada tax deduction has some superior works, one of which is a lean and crisp Vincent van Gogh, Peasant Woman against a Background of Wheat, which looks like a late 19th-century Botticelli. Another Wynn work is one of Renoir's rare triumphs, The Loge. The collection, funnily enough, happens to fit into the Met's awesome Impressionist and Post-Imps like a hand to a glove.

Plus, Wynn sold his empire to MGM for $4.4 billion and the pick-up of some $2 billion in debt and thus may be rich. The last I heard the Met was supposed to be interested in very rich people with fab art collections. And trustees were supposed to work tirelessly to yank money and art into the establishment. Maybe that's changed.

Great shows to see and wonders to behold
At London's National Gallery until May 13th is a small show of 15 paintings by Matthias Grünewald and his contemporaries like Hans Baldung Grien and Lucas Cranach, mostly from the Kunstmuseum in Basel, Switzerland. The gem of the stunning group is a dynamic and terrifyingly beautiful early 16th-century crucifixion by Grunewald. As Rachel Campbell-Johnston puts it so nicely in the London Times:

No one actually knows who Matthias Grnewald was. It is unlikely that that is even his name. He may have been referred to contemporaneously as "the German Correggio" but he is as great a mystery to us as Shakespeare -- probably, explains the art historian Gombrich, because Grnewald considered himself simply a craftsman working within the traditions of religious art of the time.

But what art. What religion. Grnewald's Isenheim altarpiece is perhaps more brutal, more intense, than any other single artwork. "It is as if a typhoon of art has been released," wrote Huysmans of the harrowing meditation on physical suffering and divine sacrifice that form the central crucifixion panel. Christ stretches suppurating and dead: a "morgue redeemer", a "sewer deity." It obsessed Beckmann, Picasso, Rilke and Mann.

What few know is that Grünewald painted the altar for the chapel of a 15th-century hospital for incurable syphilis and Christ was shown ravaged by the disease and on his resurrection cleansed of it.

As Campbell-Johnson goes on:

The much smaller Grnewald painting which the National Gallery now shows is one of a few which resemble the Isenheim altarpiece (which now hangs in Colmar). The crucified Christ, spotlighted against a pitch black sky, is finally dead. His body, battered and emptied of its spirit, hangs above the group of mourners, above his mother robed in black, above the hunched and weeping Marys (Mary Magdalene and Mary the mother of James) and a miserable St John the Evangelist, whose blood red robes make vivid contrast with the green of fields beyond.

But it is the body of Christ, spectrally pallid, supernaturally enlarged, that provides the focus. Bruised, scourged and studded with thorns, nailed, and pierced with a spear, it provides a terrible inventory of the Passion's suffering. This painting has nothing to do with the ordered beauty of the Renaissance, or even with the thoroughgoing naturalism of The Netherlands. It is medieval in its manic fervor. It does not ask to be judged by aesthetic standards; it is meant to be looked at with religious devotion. Every detail is there to be meditated upon, so that Christ's sacrifice might be more deeply felt and understood.

The divine Piero revealed
On April 7th one of the wonders of the Renaissance world will be on view again after too long a restoration -- Piero della Francesca's scintillating fresco cycle, "The Legend of the True Cross" in Arezzo's church of San Francesco.

Here's Frederika Randall to talk about it -- from her recent article in the European Wall Street Journal: "As the Wraps Come Off, Piero's 'True Cross' Fresco Looks Good as New."

It makes me want to take the first plane to Italy.


THOMAS HOVING is former director of the Metropolitan Museum of Art.