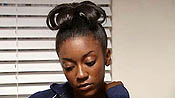 Barbara Kruger
still from Twelve
2004
Mary Boone Gallery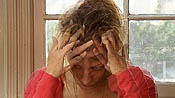 Barbara Kruger
still from Twelve
2004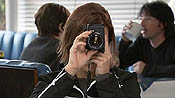 Barbara Kruger
still from Twelve
2004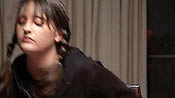 Barbara Kruger
still from Twelve
2004
Christian Jankowski
still from This I Played Tomorrow
2003
Maccarone Inc.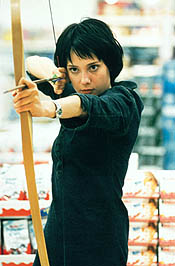 Christian Jankowski
still from Rosa
2001
Phoebe Washburn
Untitled
2004
Cuchifritos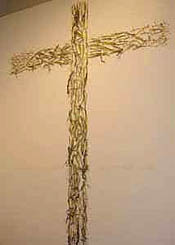 Reynard Loki
Mañana por la Mañana (Tomorrow Morning)
2004
Cuchifritos
Jonah Koppel
Construction 2 (Braque)
2003
"Time and Ebb"
Rivington Arms
Jonah Koppel
Construction 1
2003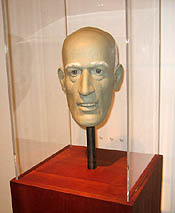 Jonah Koppel
Plasticine Head 3
2003
New York Horticulture
by Ana Finel Honigman
Art today has become completely amoral, in search of "sensation" and market success. But a few die-hards insist on addressing issues of social and cultural importance -- they're just using soap opera emotion, saucy plots and rough materials to do it. At Mary Boone's Chelsea space, Barbara Kruger, that 1980s icon of bookish art, presents her new video installation Twelve, a smorgasbord of dysfunctional relationships demonstrating (rather than illustrating) theories of race, gender, class and power. Consisting of 12 short scenes set at mealtime, Twelve (on view Mar. 6-Apr. 24, 2004), was written by Kruger and performed by 39 professional actors. Each mini-drama runs between six seconds to two minutes and involves two to four actors whose faces are projected large onto the gallery's separate walls. Nine of the scenes occur at the same time in the same bland diner setting (the others were in a school cafeteria and at family dinners). As if made uncomfortable by the camera's close proximity, all but a few of the actors stiffly deliver their lines like drama students straining to emote, or perhaps like art students trying to highlight the artificiality of their stock characters. In one particularly hammy moment, a woman angrily confronts a friend who has poached her man, and a crash of soap-opera music crescendos as she reaches the height of her fury. Two other chillingly sparse scenarios show a black family and later, a white family, bitterly squabbling over dinner. A different sort of forced intimacy and animosity is depicted in a scene where a circle of pretty teenage girls snub and insult each other, using racial barbs and catty fashion criticism as artillery in their silly high-school power battles. A "discourse"-laden conversation between four pedantic art critics is as vicious and childish as the roundtable of Heathers-like girls. The critics argue over the merits of a woman artist whose work they describe as evoking the "whole irony versus sincerity debate," but are really only interested in exposing each other's weakness. Underneath all the overwrought theatrically run continuous lines of text, like CNN's news crawl (or Kruger's own signature interrogations), bulletining the characters' unconscious judgments, rage, insecurities and ulterior motivations. Lines like "what am I doing here?" and "could you be more stupid?" accompany a scene of domestic violence and again pop up underneath the art critics' intellectual competition. Woody Allen's movie Annie Hall contains a famous scene in which Diane Keaton and Allen have a skittish, pretentious flirtation, while at the same time running subtitles transcribe their interior monologues -- which are considerably more insecure. In the vignettes in Twelve, Kruger uses a similar technique in a powerful demonstration of the complex interplay of political, social and psychological prejudices that underlie our everyday exchanges. The piece is in an edition of three, and all are marked sold on the gallery checklist at $120,000 each. Christian Jankowski's three new films, currently playing at Maccarone Inc, are more playful than Kruger's harsh trauma-dramas, but he is equally concerned with action versus didacticism. In 2002, the Berlin-based artist's first show at the fashionably dilapidated, three-story Chinatown gallery explored the Pied Piper role artists and galleries play in the gentrification of ethnic neighborhoods, like the originally Hasidic Lower East Side (Jankowski's two-channel video piece featured interviews with both the young art dealer Michelle Maccarone and the older Jewish hardware-store owner who was her landlord.) Now, in his second Maccarone exhibition, Jankowski is concerned with fiction instead of reality. On the ground floor is This I Played Tomorrow (2003), an English-subtitled Italian-language black-and-white film that Jankowski made using actors and sets from Cinecitt, the famous Italian film studio. The actors (including one in a Fellini-esque minotaur mask) declaim about life and art in what together forms a disjointed Marat/Sade-like skit. On the second floor is What Remains (2004), an English-language film in which Jankowski takes his cue from Roland Barthes and empowers the viewer -- that is, the movie is a series of brief interviews with a series of moviegoers, who give their impressions of a film they have just seen without divulging the movie's title or plot. The segments range a heavy bald man who says he liked the film because the music reminded him of his youth to a plump little girl who giggles hysterically and a matronly viewer who claims the film she watched made her feel patriotic. Jankowski merges two of his older projects in the English-subtitled German-language film that is playing on Maccarone's third floor, Rosa (2001). In 2001 Columbia Tri-Star Pictures used two of Jankowski's performance pieces in the hit German comedy Viktor Vogel - Commercial Man. As compensation, Jankowski borrowed the big budget film crew and German stars, who are wildly famous on their home turf, for Rosa, his mini-production about the interplay between art and commerce. Here, he casts an earnest young woman as the author of two of his own previous performance pieces. The plot in Rosa is inspired by Jankowski's 1992 The Hunt, a performance where he roamed the aisle of a florescent-lit supermarket with a bow and arrow shooting the groceries. In Rosa, the archer is a young woman artist, who hopes to show a video of the piece the gallery of an oily art dealer, who is more interested in her body than in her work. Rosa's gangly, selfish but sweet boyfriend takes some pictures of her performance, and shows them to his boss at the ad agency where he works. The next thing they know, the ad agency has appropriated Rosa's work for a national ad campaign -- and her dealer is threatening to cancel her show unless she lets him romance her. The boyfriend rushes to the rescue, but calamity ensues. Will true love prevail? As the engrossing story develops, individual cast members abruptly turn to the camera to make comments about their ideas on art. The actors' ruminations seem sincere and are often enlightening -- but the drama is infinitely more interesting. The final scene of the movie reenacts Jankowski's 1996 performance, My Life as a Dove, in which the artist had a magician transform him into a dove for three weeks. In Rosa, the artist vanishes and the boyfriend is left holding a bird in a cage -- he can't step out of the narrative, even though he knows it is a trick. Art looses its intellectual pretensions at Cuchifritos, the gallery space of the Lower East Side-based Artists Alliance Inc. that is nestled inside the Essex Street Market. On view is "Rubbish," an exhibition of art made from recycled and redeemed trash from the neighboring fruit stalls, fish-mongers and the venders of random items of questionable provenance. In the center of the tiny but friendly space, Phoebe Washburn installs a large sculpture made by sandwiching rows of plastic cups coated with bright paint between layers of cardboard. Like a creative kindergarten teacher who scavenges materials for a class project, Washburn collected the cups and boards after the market closed each day. The refuse makes a cheerful moment to child-like play. Equally fun is Paul Amenta's topographical map of a lunar landscape cut from the market's discarded cardboard boxes. Hung high on the wall, the large brown structure appears plain at first but contains enough layers and dents to represent a dire cosmic landscape hovering over the gallery's quiet intimate space. While Amenta's installation is tranquil and intriguing, Reynard Loki's installation of rotting husks pinned to the wall in the shape of a cross is a bit more eerie. Apparently based on do-it-yourself Christian iconography he encountered while traveling in Mexico, the piece recalls the horror movie classic Children of the Corn. Needless to say, even the most prosaic materials have creative and spiritual potential -- as "Rubbish" proves rather well. Washburn's cup sculpture is $10,000; Amenta's lunar map is $3,000; and Loki's crucifix is $1,000. All are made-to-order. Around the corner at Rivington Arms is a show of new works by Jonah Koppel, whom avid gallery-goers will remember from the gallery's stellar 2002 group exhibition, "I Keep All Your Letters," where he displayed a series of graphite-on-felt drawings of B-list celebrities that were cut-up and slashed with a razor like decorations in a stalker's bedroom. Here, in his first solo show, titled "Time and Ebb," Koppel presents sculptures, mobiles and a more solemn series of poster-size graphite-on-felt drawings push-pinned to the gallery's walls. He collages newsprint on his drawings, making a sweet mediation on the mutability of cultural significance. While the celebrities in his earlier works were vacant victims of shifting fashion, this time around he focuses on subjects that rightfully or wrongly have earned a place in the annals of history. Koppel's incongruous choice of imagery connects historical reality with myth and merges creativity with infamy, as if a history textbook of the last 100 years exploded its pages across Koppel's felt background. A soft graphite illustration of a Cubist sculpture by Picasso is adored with a blurry, abstract-seeming photograph of the World Trade Centre ablaze. On another wall, a masterfully drawn portrait of Braque is decorated with a hunk of driftwood Koppel found on the beach, as if in homage to the Cubist master's curved lines and earth tones. Next to Braque's image hangs a geometric drawing of a house, over which Koppel has pasted a picture of Lenin laid out to rest in his tomb. In a vitrine by the gallery's entrance is a kind of memorial sculpture to an imaginary man, made of Plasticine, another environmentally indelicate material. The fellow looks friendly and wise, with white teeth and a smattering of cotton over his baldhead. The bust could be the preliminary portrait of a revered philosopher set to be displayed in some Ivy corridor, where it would beam with paternal warmth and scholarly wisdom. The bust can be yours for $7,000, while the portrait of Braque is $3,500.
ANA FINEL HONIGMAN is assistant editor at Artnet Magazine.