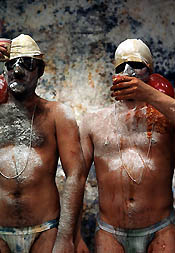 The Kipper Kids in performance, 1985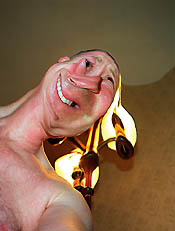 Toothy
2000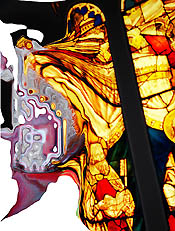 Untitled
2000-01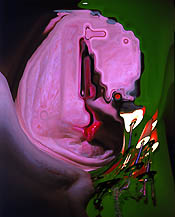 Untitled
2000-01
Bubblegum Face
by Paul H-O
Harry Kipper, Oct. 2-Dec. 1, 2004, at Glenn Horowitz Booksellers, 87 Newtown Lane, East Hampton N.Y. 11937.

The Kipper Kids are counted among the protean performance artists of the post-Pop British art scene. Beginning in 1970, Martin Rochus Sebastian von Halsberg and Brian Routh teamed up at an experimental London drama school, only to find themselves expelled for being a tad too experimental. According to the pair, during a particularly galactic acid trip, they experienced a kind of psychological rebirth, resulting in twins. They became the Kipper Kids.

Notorious for their utterly base and disgusting performances, the Kipper Kids found a ready audience among the European avant-garde. Sporting identical buzz cuts, jockstraps and a kind of extra-extra-large beer-fed athletic girth, they shocked and regaled audiences into stupefied awe. They were violently incoherent. Their performances were deceptively intricate -- identical fiends doing an army-boot minuet. Liquids were drunk and spewed. The audience, splashed or drenched in something awful, knew talent when they smelled it.

The Kipper Kids were thoroughly entertaining (unlike much performance art).

Now, von Haselberg, a.k.a. Harry Kipper, is back, with an exhibition of photographs at Glenn Horowitz Bookstsellers in East Hampton, New York. An elegant setting for the discriminating connoisseur of books collectible and otherwise, Horowitz often puts on shows of works by contemporary artists, many of them local residents like Donald Baechler and April Gornik. Its an intimate and crowded setting for an art show, since its an art gallery within a small bookstore.

Von Haselbergs works are a series of self-portraits that bubble with hallucinatory distortions, at a level way beyond the funhouse mirror. In addition to these large (57 x 44 in.) inkjet prints, the artist is exhibiting a selection of smaller, less hallucinogenic Iris-print portraits and some older, more conventional black-and-white photos

Von Haselbergs stoogey faces become a kind of liquid drool, puddling in fleshtone pools that sprout hair in one instance and an eyeball in another. His image explodes like bubble gum. Baroque chandeliers and stained glass windows lurch drunkenly as ecclesiastic stage-props for Von Haselbergs spewing psychedelic meltdown. Old Europe on acid. There is an exuberance not unlike Bugs Bunny at work here.

Below the surface lurks something darker, sad, hermetic. Half a Kipper Kid?

Von Halsbergs portraits are easy to take in on face value. They offer a humorous reality of a flashback for those who know what a flashback is, and if you dont, its still a trip to look at.


PAUL H-O is a New York artist and filmmaker who occasionally writes on art.