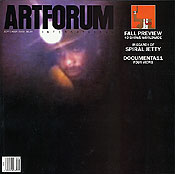 Artforum magazine, September 2002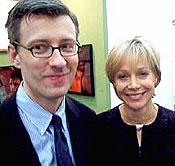 Artforum editor Jack Bankowsky with dealer Lucy Mitchell-Inness at the 2000 Armory Show in New York
Bored to Tears
by Charlie Finch
Like the telephone book, Artforum magazine is broad, heavy, chock full of advertising and dull information, and impossible to read completely from cover to cover, without reaching for a shot of hooch or worse.

In its new September issue, Artforum editor Jack Bankowsky reminds us that he's been helming the mag for ten years, or 100 issues. Now, Artforum was always a repository for endearingly bad writing peppered with the self-indulgent flakiness of Carlo McCormick, Rene Ricard, Kathy Acker, Lawrence Wiener and other counterculturalists, but its descent into the hellish, abysmal pit of terminal boredom is due to one man only, the boy from Sacramento, Jack Bankowsky.

In person, Bankowsky, who looks like Huckleberry Hound and dresses like T.S. Eliot, can be almost fetching. He possesses an endearing smile and a self-deprecating manner, but don't let that fool you -- underneath beats the leaden heart of Silas Marner.

In his current self-congratulatory essay, Bankowsky proudly enumerates the snore-inducing reader-proof academics he has shoveled into Artforum over the years, from ancient warhorses like Thomas Crow and Yve-Alain Bois to recent exquisite corpses like Katy Siegel and James Meyer.

Jack especially praises Arthur Danto, a professor so hair-splitting in his lugubriousness that he would mow his lawn, blade of grass by blade of grass, with a nail clipper.

Once in a great while, Bankowsky has made an attempt to introduce fun and/or levity, only to crush it beneath his dappled tootsies.

Jack threw Rhonda Lieberman in the garbage early on, then dallied with the acid tongue of David Rimanelli, whom Bankowsky has recently immolated by giving David his own column, coyly titled "Entries," in which Rimanelli is forced to cover the only subject about which he can be dull -- himself!

Professor Robert Rosenblum is another occasional source of amusement, but the grotesque Peter Plagens lapsed into blue collar social self-parody long ago.

There is no art-world subject that Bankowsky cannot bury permanently with the gravity of a thousand Richard Serras.

Every festival, biennial and group grope is fucked to death by half a dozen forgettable essays, drooling mélanges of photographs, and minuscule, headache-inducing captions and subtitles.

In the Artforum milieu, art thus becomes neither playful nor profound, but a dumpster full of diamond-studded shit.

Of course, the ideal issue of Artforum would contain nothing but advertising, often the only source of visual and conceptual spunk therein.

Other than gleaning significa from the business side, one's strategies for bulling through each Artforum are limited -- you can count the number of penises in each issue, a special Jack treat (although lesbianism, in all its intricacies, has been completely absent during the Bankowsky years).

You can see if yet another new managing editor has joined the masthead, as Jacko cracks them, year after year, like eggs.

Or, you can just go to the back of the mag, check out the instantly forgettable reviews and try to hit the garbage can with a square projectile from 30 feet.

Better yet, spend the eight dollars at your favorite saloon or juice bar, boot up Artforum's truly godawful website, and absorb the "content" of each new issue in 60 seconds or less.

Then pray that Tony Korner will get distracted one day, sell the magazine and bid adieu to the cipher Bankowsky.




CHARLIE FINCH is co-author of Most Art Sucks: Five Years of Coagula (Smart Art Press).