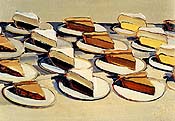 Wayne Thiebaud
Pies, Pies, Pies
1961
Ridge Valley Farm
1998
Tea for Thiebaud
by Charlie Finch
When he came to New York four decades ago,
They said he wasn't Pop,
So he went back to California
And opened up his own shop,
A bakery, full of creamy pies
That are really quite erotic --
What's ho hum in Manhattan
In Sausalito's exotic!
Precision was Thiebaud's métier,
For color Wayne had a flair,
he toiled in famous obscurity,
Building castles out of the air
With David Park and Diebenkorn
(You know, those guys out there)
And New York just told him to wait and wait
While Wayne took it all with grace
(But his confections are darker than you think,
He puts in too much mace.)
When fame arrived in late middle age
Louise Nevelson screamed, "Too late!"
"It's never too late," answers Thiebaud,
"For my first retrospective to date."
While tourists crowd into the Whitney,
Old Wayne will make his escape,
Seeking light deep down in the valley,
As he paints another landscape.


CHARLIE FINCH is co-author of
Most Art Sucks: Five Years of Coagula (Smart Art Press).