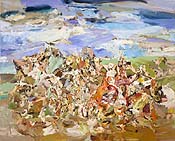 Cecily Brown
Foxglove
2001
at Gagosian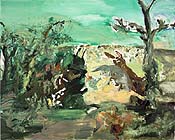 Cecily Brown
Quick One
2002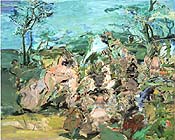 Cecily Brown
Bacchanal
2002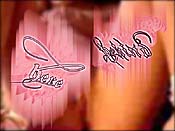 Kiki Seror
She is here behind the Wall that drips, and all her crime was a Found fantasy
2002
at I-20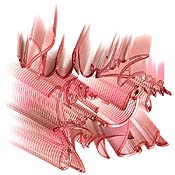 Kiki Seror
The Killer in me is the killer in you, my love
2002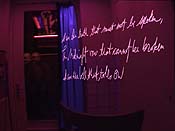 Kiki Seror
Sotto Voce: Victoria's Nocturne
2002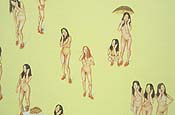 Su-en Wong
Beijing Green/Limelight
(detail)
2001
at Deitch Projects
Su-en Wong
Mellow Yellow/American Cheese
(detail)
2001
Su-en Wong
Lime Sorbet/Schoolgirls
(detail)
2000-01
Vanessa Beecroft
VB 47
at Deitch Wooster
The Prisoners of Sex
by Charlie Finch
Four distinguished artists have just opened shows in New York: Cecily Brown at uptown Gagosian, Kiki Seror at I-20, Su-en Wong at Deitch Projects and Vanessa Beecroft at Deitch Wooster.

98 percent of the often-excellent work that these artists produce is about sex.

Cecily Brown, when queried about the surprisingly unsexy content of her new pastoral suite of paintings, implored New York magazine to "Look for the bunnies," supposedly copulating like the ones she did in 1995.

Time was that all sexy content diminished and pigeonholed an artist, viz Aubrey Beardsley, Mel Ramos and Jock Sturges.

In contrast to our femme foursome, pick four male artists at random: Julian Laverdiere , David Hammons, Pepon Osario and Jeremy Blake.

How much of their work is about sex? Virtually nothing, and even then only tangenitally.

Some male artists produce work that is distinctly anti-sex, such as current buddies Richard Serra and Matthew Barney. So perhaps our four females have fallen into a trap.

Cecily Brown, a poetess of lust, derived much of her painterly power from the impression that she has just arrived at the easel fresh from a romp in the sheets.

Yet, she's now done a surprising u-turn into the distant past to produce an intriguing hymn to Cézanne, full of indistinct muted pastels.

"I think she's painting like Oscar Kokoschka," commented Inka Essenhigh.

Women we spoke to at the opening praised the serene and subdued new Cecily, while the men uniformly deplored her country ways.

Implicit is Cecily's argument that this was a necessary creative move although dressing like Kylie Minogue at the opening was not. Either way, the expert installation by Gagosian's staff highlights Cecily's efforts to their best advantage.

Conversely, an amateurish installation at I-20 gallery is ably surpassed by the challenge of Kiki Seror's content.

Coming off a strong performance at the Sigmund Freud museum in Vienna and the successful sale of her new boxes of desire at Mary Boone last fall, Seror is that rare artist who can consistently produce thought-provoking installation work and high quality art objects for the market.

The artist's sojourn through Amsterdam's red light district, reportedly a hotbed of Al Qaeda agents, yields a chilling, throbbing video of penises thumping black space.

Seror explains that the Sept. 11 murderers covered their genitals in sandwich wrap to "preserve them for the virgins in paradise."

Also haunting are the come-ons of a courtesan spy, unspooling on a high-tech blackboard and a cavernous video of Dutch spread shots oozing texts of sex to a James Bond soundtrack.

Hopefully, this ambitious effort to cross sex and espionage will be seamlessly installed when it moves to Los Angeles next spring.

Seror is unique in her ability to simultaneously project toughness and vulnerability, like a latter-day Joan Blondell -- her saving grace always subscends mere sexuality. Moving to Amsterdam has given Kiki an exhibition presence on three continents that outstrips her current New York representation. So you will have to travel to view Seror's complexities in their best configuration.

Su-en Wong also knows the perils of the gallery, moving from Stux to Deitch two years ago, only to be told to "Hurry up and wait."

When the mercurial Jeffrey Deitch scheduled her new show on very short notice, Su-en worked at a fever pitch, which pays off in a spectacular exhibition.

Wong asks the same question as Yasumasa Morimura, "What if the whole world were Asian?" adding the corollary, "What if the whole world were multiples of me?"

The pieces here find nude Su-ens somersaulting lasciviously over each other, or chatting each other up naked in numbered swimming caps by the pool, or sensually ululating on a tiger skin, a piece so exquisite that it was purchased by Simon de Pury.

Wong's delicate rendering of every nook and cranny of her tiny supple body and droll, angelic face makes this hilarious work doubly sexy, without falling into cliché.

Her command of the Pacific palette also enhances her special allure.

More support from her notoriously passive-aggressive dealer could make Su-en an international star of the first rank. Our first three prisoners have thus employed strategies to jailbreak the postulated prison of sex.

Vanessa Beecroft is not so lucky.

After producing some stunning portraits of her sister at the Venice Biennale last year, Beecroft has lapsed into her most misogynistic cesspool yet at Deitch Wooster.

So incendiary are Vanessa's group gropes of humiliated black models in black-face and empty-faced females in goose-stepping boots that we screamed at Jeffrey Deitch, "This is racist, fascist stuff -- shame, shame, shame."

One can't help but conclude that Vanessa's cold gimlet eye encompasses nothing but hatred for women, especially herself. Off to jail, honey, and throw away the key.


CHARLIE FINCH is co-author of Most Art Sucks: Five Years of Coagula (Smart Art Press).