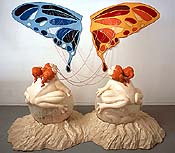 Wendell Gladstone
Gestation
2001
at Kravets/Wehby Gallery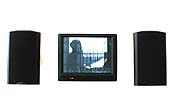 Jonathan Calm
still from A Place to Live
2001
at Caren Golden Fine Art
Cecily Brown
Sweetie
2001
at Contemporary Fine Arts, Berlin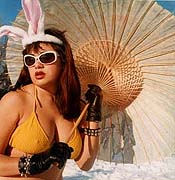 Sherry Wong
Fluxus Snow Event
2000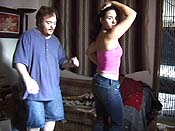 Laurel Nakadate
Untitled (dancing with single men)
2001
My Own Private Biennial
by Charlie Finch
Whitney Biennial curator Larry Rinder's wish list seems so feckless and capricious, that, who knows, it might make for a good show, especially on the tech end.

At least they invited back the terrific Jeremy Blake. But Collier Schorr? Peter Sarkisian? I don't think so.

Why not play at home? Just pick your list of biennialites (30 seems a workable number) and email your art-world friends.

There are many good artists out there nowadays, so the variety should be limitless. Perhaps, some enterprising curator will glean the lists for a counter bienissimo?

My list lies below -- which leaves us with the question, would a destitute Mariko Mori be able to call five company employees over to fix a plumbing problem?

As for the Whitney's future biennials, couldn't we just move them to P.S. 1?

My list:

Jennifer Steinkamp
Lisa Ruyter
Wendell Gladstone
Kiki Seror
Jeremy Blake
Nadine Robinson
Josh Harris
Sontext
Jonathan Calm
Elizabeth Peyton
Damian Loeb
Jonathan Tucker
Lyle Ashton Harris
Will Cotton
Sherry Wong
Jocelyn Taylor
Cecily Brown
Tom Sachs
Charles Spurrier
Lisa Hein
Laurel Nakadate
Julian LaVerdiere
Katy Grannan
Ouatarra Watts
Alison Davies
Su-En Wong
Jay Davis
Hilary Harkness
John Newsom
Michael Richards


CHARLIE FINCH is co-author of Most Art Sucks: Five Years of Coagula (Smart Art Press).