Diane Arbus
A Young Man in Curlers at Home on West 20th Street, N.Y.C.
1966
Female Impersonators Backstage
1962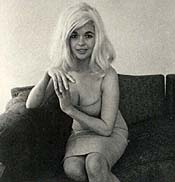 Jayne Mansfield
1965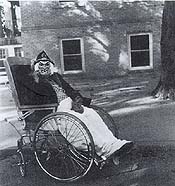 Masked Woman in Wheelchair
1970
Diane's Blues
by Charlie Finch
I've sucked your cunt before,
Dee-Anne, the ashes and the bones --
you laid yourself out in the tub
in 1971, and took your pictures,
full of pills, waiting to slit your wrists.
Sylvia Plath stuck her head in the oven,
giving the maid "the wrong keys,"
but you were always in the right key,
Arbus, weren't you?
Why do they hate you still
at the New Yorker and the N.Y. Times?
Because you danced with the mentals
until you were infected?
Because you were queen
of the spirit machine
and spread your Upper West Side
preppy legs for nothing
over and over and over again?
Two daughters: were they even yours?
Or are they still from Tralfamador?
You covered the waterfront, Deeanne,
Marlon Brando had nothing on you.
Yet still you were never satisfied
and didn't satisfy, did you?
Bare shelves were all that survived
in life's department store,
and a wink from a Puerto Rican.
Jasper your friend was not aware,
nor your longtime mentor Avedon,
nor a wink from San Juan,
nor Allan, Marvin, nor Doon.
Let's burn your pictures
before they burn themselves,
before the planet Jupiter
burns them on Io or Europa.
But the New Yorker and the New York Times
will still be publishing, then,
won't they?
Won't the white tiger Manticore
still be cuddled in the upstate
homes of the retarded
and Las Vegas?
Meet me on 42nd Street, Dee-Ann,
the Times Square of our mutual youth,
with your strobe,
and your box camera,
and a personalized condom
signed by Vince Aletti.
We'll be down and dirty
and dancing, no bathtubs around
and no razors --
the grifters will suck us
and the clouds will rise,
and all the retards will whisper
"goodbye."
And we'll sup at HoJo's
and drink at MoMA;
forever; maybe not?


CHARLIE FINCH is co-author of Most Art Sucks: Five Years of Coagula (Smart Art Press).