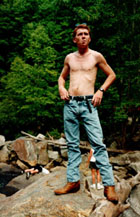 Highlands, North Carolina
1996


from
Artist Profile: Reuben Cox
FEATURES 1996 ARCHIVES

ARTIST PROFILE: REUBEN COX
by William McCollum 12/18/96
Works by a young photographer who finds echos of classic myth and symbol in the social interaction of contemporary life.

THE NAN GOLDIN STORY
by Mia Fineman 12/12/96
Passionate loves and tragic losses, chemical highs and gut-wrenching lows are all part of Nan Goldin's photographic romance of urban bohemia.

DADA INVADES NEW YORK
by Alan Moore 12/10/96
At the Whitney Museum, the first comprehensive look at Dada in America is full of surprises, with a wealth works by Duchamp, Man Ray and Picabia, American modernists like Demuth and John Covert, and a number of now-forgotten women artists.

PUFF THE MAGIC DRAGON (OR, BREAKING THE TERRORISM OF ABSTRACTION)
by Richard Milazzo 12/10/96
An Interview with Michele Frère

PAULA REGO: NEW WORK
by David Cohen 12/04/96
In her large new pastels, the British artist Paula Rego creates mythic compositions that combine an observational intensity with a gender challenging sense of masquerade.

NEW WORLD ORDERS: CASTA PAINTING AND COLONIAL LATIN AMERICA
by Yasmin Ramirez 12/03/96
The Americas Society presents a show of casta paintings, incredibly frank documents--unparalleled by anything in our time--of the race-based social hierarchy that existed in colonial Latin America.

CONTEMPORARY ART IN ASIA: TRADITIONS/TENSIONS
by Peter von Ziegesar 11/27/96
A rich and ambitious show of new art from the East includes works that address a range of contemporary issues, including religion, colonialism and forced industrial development.

COROT: GARDENS OF HISTORY, SITES OF TIME
by Suzaan Boettger 11/22/96
A pair of Corot shows in New York feature jewel-like works of clarity and grace by the artist who bridged Neo-Classicism and Impressionism.

BRUCE NAUMAN at Leo Castelli and Sperone Westwater
by Donald Kuspit 11/26/96
Is the concept of world peace a bad joke? A new two-gallery installation by the bad boy of conceptual art seems to argue that it is.

ROBERT COLESCOTT at Phyllis Kind
by Eduardo Costa 11/22/96
On view in his New York gallery, sensuously inventive work by the artist who will represent the U.S. at the 1997 Venice Biennale.

A REFLECTION OF THE AIDS MEMORIAL QUILT
by Ola Butler 11/22/96
A meditation of the three-day celebration in October at the National Mall in Washington, D.C.

TALK SHOW: THOMAS CROW ON JASPER JOHNS
by Suzaan Boettger 11/14/96
The artist's early success at the Museum of Modern Art was due, not to his rejection of Ab-Ex heroics, but to his embrace of an aristocratic model of a folk-art pastoral.

STUDIO VISIT: ALIX PEARLSTEIN
by Elisabeth Kley 11/06/96
An inside look at the work and ideas of the provocative and witty New York video artist.

MAX BECKMANN IN EXILE
by Donald Kuspit 11/01/96
Beckmann's late triptychs at the Guggenheim Museum Soho are emotionally charged personal statements that were also meant to be social allegories--statements about the struggle for survival during the Hitler era.

PANELMANIA:FROM ARTAUD TO 2001
by Suzaan Boettger 10/28/96
A report on a pair of downtown, interdisciplinary discussions--Artaud at the Drawing Center (one of October's hottest tickets) and "Art and Science" at SVA.

ROMAIN SLOCOMBE: MEDICAL ARTIST
an interview by Walter Robinson 10/24/96
The French cartoonist, photographer and painter has a thing about young Japanese women wearing white gauze bandages. WARNING: Adult material.

ELECTION `96--A SPECIAL SECTION
VOTE FOR AN ARTIST FOR A CHANGE
by Yasmin Ramirez 10/23/96
In a recent exhibition, the Harlem-based artist Danny Tisdale, already a member of his community board, launched his bid for higher office.

IT'S NOT A JOB, IT'S AN ADVENTURE: Q & A WITH DANNY TISDALE
by Walter Robinson 10/23/96

HUGHES VOTES FOR AN ADULT N.E.A.
by Suzaan Boettger 10/23/96
At a recent award ceremony, Time magazine's art critic continued his battle in defense of the National Endowment for the Arts.

ARTIST-VOTER DIARY
by Larry Litt 10/23/96
Our inveterate political operative gears up for the dullest presidential election in memory.


THE MAGAZINE RACK
by Patterson Beckwith 10/18/96
Herewith, after a lenghty sojourn halfway around the world in New Zealand by its illustrious author, is your latest installment of our art-magazine digest. As a special feature, it includes only September issues. October is on the way, promise!

ANDY WARHOL: RORSCHACH PAINTINGS
by Mia Fineman 10/16/96
A new show of Warhol's 1984 Rorschach paintings demonstrates that there's no form so abstract that it can't be turned back into a tree or a bird or a flower.

DRAWINGS AND POEMS
by Duncan Hannah 10/15/96
An exploration of first love by the New York painter. WARNING: Adult material.

NEGATIVELY SUBLIME IDENTITY: PIERRE SOULAGES'S ABSTRACT PAINTINGS
by Donald Kuspit 10/10/96
The traveling retrospective of the French abstractionist Pierre Soulages (b. 1919) occasions this extensive mediation on abstraction, blackness and the negative sublime.

TALK CITY: SHAMAN OF THE EARTH
by Suzaan Boettger 9/30/96
In town to install a new public sculpture, the Polish artist Magdalena Abakanowicz reflected on the animism that inhabits her work.

BLUE BOY WELCOMES YOU TO THE SOHO ARTS FESTIVAL
by Walter Robinson 9/27/96
The new art season got off with a bang, curiously drum-majored by this weird, blue, 30-foot-tall inflated Australian creature with a perplexed look. Plus, three reports:

ARTIST'S DIARY
by Robert Goldman 9/27/96
A report from the SoHo Arts Festival, a four-day extravaganza that kicked off the new art season in the world's most exciting art district.

THE SOHO HIT LIST
by William McCollum 9/27/96
A compendium of 11 recommendations to start off the fall season, all in SoHo but one (in Chelsea). Remember, 11 is a prime number.

OUT OF THE DEBRIS FIELD: A SEARCH FOR A SEASON
by Robert Mahoney 9/27/96
A look back at last season encompasses a meditation, as we ease into the last half of the last decade of the 20th century, on what makes contemporary art contemporary. And questions about the relevance of the Whitney Biennial.


SONJA SEKULA: ABSTRACT EXPRESSIONIST, LESBIAN AND MAD
by Walter Robinson 9/23/96
The Swiss Institute mounts an impressive retrospective of the accomplished work by the troubled Abstract Expressionist painter and poet.

PANELMANIA: BANGERS AND MASH
by Suzaan Boettger 9/16/96
A recent panel at the Drawing Center sought to explain the triumph--as a New York import--of the new British sculpture.

LOSING TIMES SQUARE
by Bruce Benderson 8/19/96
An autobiographical essay on the transformation of Times Square from a place of illicit pleasure to a prefabricated theme park for the family.

QUASIMODO AT THE ANCHORAGE
by Robert Mahoney 8/23/96
This year's summer installation at Art in the Anchorage, with its notable video installations, conjured up a kind of ominous Disneyana for our correspondent, who visited the show with tot in tow, happy father that he is.

CHINESE SCHOLARS' ROCKS
A thousand years before Europe discovered the objet trouvé, Chinese connoisseurs developed an elaborate art of found stones. Here, two takes on the exhibition at the Asia Society that was easily one of New York's best summer shows:
CHINESE SCHOLARS' ROCKS: SIMULTANEOUSLY ORIGINAL AND SIMULACRUM
by John Mendelsohn 8/26/96

CHINESE SCHOLARS' ROCKS: AN APPETITE FOR SIGNIFICANT FORM
by Mia Fineman 8/26/96


ANIMISTIC MINIMALISM: JENE HIGHSTEIN AT ACE GALLERY NEW YORK
by John Mendelsohn 7/30/96
New works by the veteran New York sculptor mysteriously render abstraction as a repository of history, time and desire.

TRAUMA CULTURE
by Hal Foster 7/26/96
Today there is a general tendency to redefine experience, both individual and historical, in terms of trauma. Does this represent a refusal of power or its reinvention in a strange new guise, or is it somehow both?

GLOW, WHIR AND BABBLE: FILM AT 100
by Peter Frank 7/19/96
Caught between artifact and cyberspace, cinema as we know it may be passing into history. The issue gets a thorough going-over in "Hall of Mirrors: Art and Film since 1945" at the Los Angeles Museum of Contemporary Art.

DENNIS ADAMS at The Queens Museum
by Susan Silas 7/12/96
In search of the Utopian Ideal, via the 1964 World's Fair, Michelangelo's Pieta and the Pepsi-Cola pavilion.

THE MAGAZINE RACK
by Patterson Beckwith 7/11/96
It's summertime, we should be catching up on our reading, but it's so nice out...and hey, wait a minute, we have this column by Patterson "I read the art magazines so you don't have to" Beckwith! Let's go to the beach!

ART CRITICISM AND THE VANISHING PUBLIC: IN CONTACT WITH METAPHYSICS
by Donald Kuspit 6/24/96
Observations made on the occasion of a panel discussion titled "Invisible Ink: Art Criticism and a Vanishing Public," held at the American Craft Museum on May 15, 1996.

ART CRITICISM AND THE VANISHING PUBLIC: IN SEARCH OF SOME INTERESTING READING
by Peter Plagens 6/24/96
Observations made on the occasion of a panel discussion titled "Invisible Ink: Art Criticism and a Vanishing Public," held at the American Craft Museum on May 15, 1996.

TALES OF BRAVE ODYSSEUS
by Stewart Waltzer 6/24/96
Notes on Sotheby's and Emmerich's brave new adventure.

COMPUTERIZING THE ART EXPERIENCE
by Jed Perl 6/21/96
Can museums and masterpieces survive on the worldwide information system?

THE MAGAZINE RACK
by Patterson Beckwith 6/5/96
Our man in the reading room reports on recent developments in art-magazine-land. Yes, we know they're last month's issues, but we bet you still read it here first.

THE MUSES ARE WOMEN: PICASSO AT THE MUSEUM OF MODERN ART
by Berta Sichel 5/31/96
"Picasso and Portraiture: Representation and Transformation" at the Museum of Modern Art features 130 paintings and almost 100 works on paper, many of which had been little seen by the public.

JANE DICKSON
by Carlo McCormick 5/24/96
The cityscape of seduction unfolds in the neon glow of the perpetual tease, promising a pay-off somewhere between a piece of paradise and a dead end alley.

COMPLAINING ABOUT ABSTRACTION
by Walter Robinson 5/16/96
For a brief moment in time, the Guggenheim Museum's giant survey of abstract art had the whole city talking...trash...about circles, lines & squares.

IDEAS FROM RUSSIA, LIGHT FROM PARIS
by John Mendelsohn 5/16/96
The Jewish Museum's "Marc Chagall 1907-1917" presents the artist as a canny synthesizer of shtetl folklore and the avant-garde.

THE JET PILOT'S MEMOIR
by Bill Rabinovitch 4/30/96
The popular SoHo painter and star of cable TV's Art Seen reminisces about his early days as a test pilot and MIT engineer.

MORIMANIA: WELCOME TO THE NEW CENTURY
by Robert Mahoney 4/30/96
The high-tech photographic installations by Tokyo-born Mariko Mori capture, our correspondent maintains, the energy of the contemporary.

THE MAGAZINE RACK
by Patterson Beckwith 4/22/96
A look at the current (April 1996) issues of some leading art journals produced on, uh, what is that stuff called...paper.

KIELY JENKINS
by Carlo McCormick 4/23/96
New mondo sculpture from the veteran East Village caricaturist.

TOPLESS AT THE MET
by Frank Harris 4/10/96
In "Bare Witness: Clothing and Nudity," the Metropolitan Museum Costume Institute gives us 200 years of the most revealing fashions. On view from Apr. 2 to Aug. 18.

MUSEO DE LOS BALSEROS
by Mary Ann Staniszewski 4/5/96
In his Franklin Furnace Installation, Cuban-American artist George Sánchez focuses on the human dimension of the ongoing Cuban refugee crisis.

OUTSIDE IN
by Alan Moore 4/5/96
The New Museum's ambitious "Labor of Love" survey of contemporary craft, folk and outsider art challenges the art-world status quo.

RICHARD KERN
by Carlo McCormick 3/22/96
New photographs from the controversial Punk filmmaker. WARNING: Adult material.

THE MORAL RESPONSIBILITY OF THE ART CRITIC
by Eleanor Heartney 3/22/96
Observations on the culture wars.

ACCORDING TO WHAT
by Richard Milazzo 3/22/96
A "trialogue" between the noted New York critic and curator and two mysterious friends begins with Clint Eastwood's Unforgiven and moves on, with assorted vulgar asides, to a discussion of new paintings by Michel Frere, Alex Katz, Jonathan Lasker, Stefano Peroli, Milton Resnick and Julian Schnabel, among others.

ALTERNATIVE ART AND POLITICS
by Alan Moore 3/22/96
Two SoHo alternative spaces, Exit Art and the Drawing Center, reassess the counterculture from the '60s to the present via an extensive array of underground publications, radical posters and broadsides, and art works.

DAVID LIVES: AN INTERVIEW WITH JAMES ROMBERGER
by Walter Robinson 3/22/96
The celebrated Lower East Side cartoonist James Romberger talks about his collaboration with the late artist David Wojnarowicz on a new DC comic.

CREATIVITY
3/22/96
What is creativity? We sent out a questionnaire, and received illumination in return. Responses from Donald Baechler, Mike Bidlo, Richard Estes, Arnaldo Pomodoro, Sean Scully, Kiki Smith, Nicola Tyson and Meyer Vaisman.


Features 2003 Archives
Features 2002 Archives
Features 2001 Archives
Features 2000 Archives
Features 1999 Archives
Features 1998 Archives
Features 1997 Archives
Features 1996 Archives