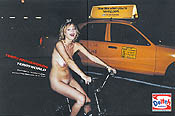 Announcement for Terry Richardsons "Terryworld" at Deitch Projects, Sept. 10, 2004
Will Cotton
Cotton Candy Cloud
2004
Mary Boone Gallery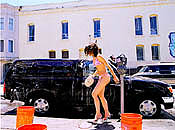 Liz Cohen
Toyota
2002
"Bikini Car Wash"
Modern Culture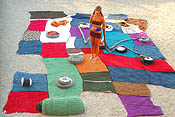 Orly Genger in performance
2003
Elizabeth Dee Gallery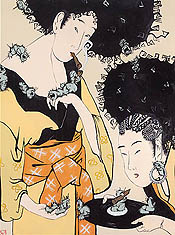 Iona Rozeal Brown
a3#15
2004
Caren Golden Fine Art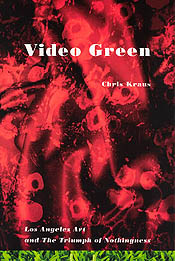 Chris Kraus
Video Green
2004
Semiotexte
Cheap Thrills
by Charlie Finch
Give SoHo dealer Jeffrey Deitch credit, he is the 50-something males best pal. Witness his opening extravaganza on Sept. 10, a panoply of Terry Richardsons sexiest photos called "Terryworld." Richardson, of course, is the fashion world heir to Helmut Newton, less sophisticated, geekier, but with access to even better babes. At our age, getting exposed to all this visual nookie is like being a diabetic in a candy store. The instantly collectible exhibition poster shows a winsome blonde, nude on a bike, sporting a plastic tiara that reads "Slut." She poses next to a yellow taxi with an advert atop, bleating, "Time flies when youre having pork." Who sez feminists havent progressed? Of course, many young slummers love to bite the Deitch hand that feeds them -- how many times have we heard these slackers, swilling beer, tell us, "Hes just an old shit, Deitch is. . . horny fucker." Blah, blah, blah. For these ingrates, we coined a song: Deitchland, Deitchland, über alles,
Jeffrey Deitch, we worship thee!
Bring the pussy and the phallus,
Liberate us, set us free Lest there be any misunderstanding, we donate money to the Israeli defense forces each year, we support the war in Iraq, the war on terror and our forces. Notwithstanding, our buddy Cecily Brown asked us to emcee "The Liberty Fair," a "progressive" (read anti-Bush) street fair planned for 22nd Street on Sunday, Sept. 12, noon to 7 p.m. The fest is to feature contributions from 60 artists, including a kissing booth and Ms. Browns personal beauty salon, as well as a $50 fundraising breakfast on the Dia Foundation site. We agreed. After all, we have similar radical credentials to Cecily and her mates, Tanya Bonakdar, Jessica Craig-Martin, Mirabelle Marden, Melissa Bent and Bronwyn Keenan, among others on the fairs art committee. We produced John Kerrys very first antiwar TV commercials in 1971, when we co-directed "The Committee to Unsell the War." And we also support Bush-Cheney. Nevertheless, last Sunday we walked through St. Marks Church on the Bowery, handing out a few dollars to the penniless kids who had come to New York to protest, telling them, "Were just as radical as you -- we dont understand why you dont protest Osama, who wants to kill us all, from Patti Smith to John Ashcroft, instead of getting mad at Bush." But the younguns were too busy attempting to score. As soon as the problematic Republicans and the postmodern protesters leave our town, there is the beginning of an art season to consider. And one thing is constant -- everybody wants to get laid. Will Cotton shows some spectacular, barely legal angels, far surpassing his previous efforts, at Mary Boone Gallery, opening on West 24th Street on Sept. 11, and Liz Cohen strips to a bling bikini at the Modern Culture space at 730 Fifth Avenue on Sept. 14 to wash, with soap, some cars. And who can ignore Orly Gengers tempting eyes surveying her new crochet creations, Sept. 9 at Elizabeth Dee, or, on the same night, zaftig sex symbol Becky Smith, at Bellwether; who cares about the artist?!? As Kurt Vonnegut once said, "If pornography were sex, I could go fishing by cutting pictures of fish out of a magazine." Timeout. Hobbes put it best: "The war of all against all." Or Ledzepmeister Aleister Crowley: "All is permitted." We (and who are we?) dont think so. Lets turn it over to the transcendent Iona Rozeal Brown, who opens at the new Caren Golden street-level space on West 23rd Street on Sept. 23. "Responding to the blatant sexuality that pervades hip-hop world," intones Ms. Golden, "Brown introduces a series of erotic drawings depicting men with overemphasized genitalia. "Also new, Brown introduces WOIMS, Weapons of Incoherent Mass Spending, which take the shape of menacing larvae, born from the commodity-driven world of designer labels and bling-bling." Or we could turn to ur-feminist Chris Kraus, whose new book Video Green (Semiotexte) chronicles her efforts to lure an online fetishist to Toronto and give him a serious case of blue balls. Since writing the book, Chris has been in serious training in Venice Beach, with a plus-50 Mexican surfer lover. She gave up smoking, went macrobiotic, and has rippling muscles -- so maybe theres hope for the post-50s after all. Blue balls in the art world used to mean Yves Klein! All we want to do is to make love, even if we cant get laid. Its tough to be a real radical these days.


CHARLIE FINCH is co-author of Most Art Sucks: Five Years of Coagula (Smart Art Press).