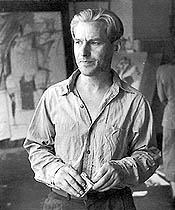 Rudy Burckhardt
Willem de Kooning, New York, 1950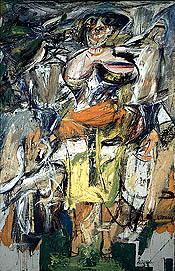 Willem de Kooning
Woman and Bicycle
1952-53
Whitney Museum of American Art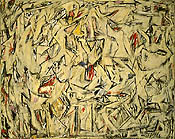 Excavation
1950
Art Institute of Chicago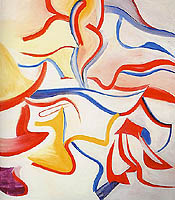 Untitled XVII
1984
$3.7 million
Christies New York
Nov. 11, 2003
Does de Kooning Matter?
by Charlie Finch
The republication of Rudy Burckhardts iconic portrait of a youthful, virile Willem de Kooning in Rudy Burckhardt (Abrams) brings the 20th century Dutch Boys seductive persona back into focus. Absent Dekes current overheated market, what are we to make of the work, and the man? For much of his life de Kooning was an elegant bum, a master of party time negotiation and a subdued, hard-drinking sex symbol. His influence on Kline, Pollock, Cavallon, Tobey, Guston and so many others was palpably sexual -- he was the Jenna Jameson of his day. As a painter, his dark, yet colorful journey into the gaping yaw of womanhood surpassed even Picasso and Courbet. De Kooning argued that lust equals hate, and, in this regard, he was almost gay. At his most esthetically successful, in his still underappreciated paintings of the late 1950s and early 60s, de Kooning was the ultimate urban planner, as evocative of that lost New York as John Cheever and Miles Davis. De Kooning was seriously out of vogue in the Pop 60s and his subsequent long senility painfully snuffed the sensuality that was his longtime calling card. Debates about the late work, whether he was propped up by his assistants, et cetera, evaporate in the spare expression of his poisoned, diminished armature. Listening nowadays to the spoiled winds off Montauk, one can only continue to love and admire the man. But what of the work? Perhaps in spite of the 21st century millions chasing Dekos paintings, its surprising to realize how little is really there. The toothsome women are vulgar and passé; Excavation (1950), so long celebrated, is an ugly mess, full of stick figures. The de Kooning patina is raw, yet rotten, the colors mimicking a hackneyed Hans Hofmann on a bad day. Absent the myth and the money, when one really looks at the work of de Kooning, theres no there there. Long after were dead, he will be forgotten.


CHARLIE FINCH is co-author of Most Art Sucks: Five Years of Coagula (Smart Art Press).