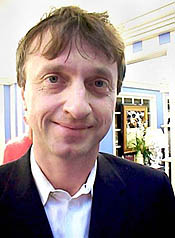 Condé Nast editorial director James Truman, 2001.
Photo by Mary Barone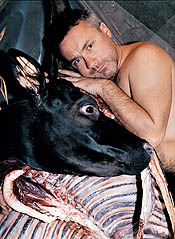 Damien Hirst, as photographed by David Bailey for Black Book magazine.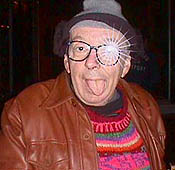 Taylor Mead on www.maxfish.com
Steven Watson, Factory Made: Warhol and the Sixties (Pantheon)
The Truman Show
by Charlie Finch
Condé Nast editorial czar James Truman recently announced in the New York Times that the Newhouse empire would launch an art magazine for the fashion masses seeking to infiltrate Chelsea images into Wal-Marts and shopping malls. For a prototype, Truman should look no further than the fall number of Black Book, a gorgeous encomium to the art world featuring slick color commissions by 30 artists, including our favorites Iona Rozeal Brown and Su-en Wong, as well as an in-depth interview with Damien Hirst. Or Truman could check out the upcoming issue of Art Review, also devoted to the "seldom perused" nexus of art and fashion. Typically, Truman, as did his condescending Nast predecessors Alex Liberman and Leo Lerman, proclaims the hoary, overdone art/fashion colossus as a "new discovery." The fashion mags, of course, repeat the same nostrums of vanity from issue to issue, year after year, and now seek to grind high art into similar sprinkles. F. Scott Fitzgerald advised popular story writers to simply read through back issues of the Saturday Evening Post and rewrite what they found there. Situation comedy writers have long recycled episodes of Gomer Pyle and I Love Lucy into The Parkers or The Hughleys, or whatever. Do we want to do the same with our beloved Chelsea creations? But, wait a sec, arent millengen artists already mimicking low culture ad nauseam, referencing obscure events in art history, popular lore and their own anonymous lives? Yup -- but the difference is, so far, in the art world, quality and innovation always win out. The only threat to Chelsea supremacy is the complete demise of any sense of "the avant-garde." Read Steven Watsons brilliant, detailed encyclopedia of the Warhol years, Factory Made (Pantheon). The eccentric and the unwashed, the outcasts, Jack Smith, Taylor Mead, Lou Reed, Betsey Johnson, Dorothy Dean, Mickey Ruskin rolled and retooled American morés against the will of the masses. And the James Trumans of our world, with their fancy limos, duds and expense accounts, have been reworking and exploiting these street geniuses ever since. To quote another superstar, Viva, "In America we dont touch, we just look." Its time to hit the pavement, to overthrow the Trumans, and feel again.


CHARLIE FINCH is co-author of Most Art Sucks: Five Years of Coagula (Smart Art Press).