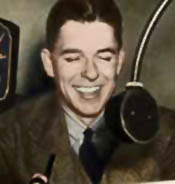 Ronald Reagan as a radio announcer
Marlon Brando in Street Car Named Desire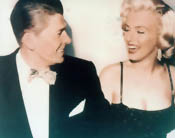 Reagan flirting with Marilyn Monroe
Brando in an early publicity shot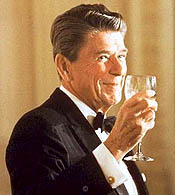 Reagan at last call
All about the Boy
by Charlie Finch
My opinion is certainly just as wrong as that of my friends who almost all greatly simplify matters, condemning the war and grumbling about Bush in a way that is close to kitsch. That is not my way.


-- Gerhard Richter

Bring me the ugliest woman -- shell appreciate it the most.


-- Ray Charles, Brother Ray

But what about the boy? Lets hear it for the boy, sang Noël Coward. The Pope, with his eye on a young Swiss Guard, sniffing his fingers, chimed in the romantic realist Colette. The problem of post-everything is the problem of the boy. Ronald Reagan, nearsighted until he got glasses at age 12, thought, as a boy, that all nature was visually fuzzy. As a man, deaf in one ear from a prop shotgun blast and dependent on a hearing aid for his good ear to make it through his presidential press conferences, Reagan learned to lip read, never to understand. Brandos handicaps were emotional: In his searing autobiography, Songs My Mother Sang to Me, he describes fucking his doctors wife late at night in Beverly Hills while the poor fellow went out for pizza. But not just that -- when Brando buys an atoll off Tahiti and hires a native crew to row to his island, they capsize off the poisonous coral and half the crew dies from contact with the living deadly reef. Look in the mirror, fellows! We made these boys important and, in our spiritual and esthetic poverty, worship them, one for the Blue States, one for the Red, in death. Whats the antidote? Lets refer to a column written by Meyer Berger in the New York Times on April 27, 1955 -- we quote: Stalwarts who man Americas gigantic jet bombers at freezing altitudes are not likely to know that the intricate coils in their ships computer systems are hand-wound by this citys lame, halt and legless men and women. The handicapped are more patient and painstaking than normal workers. They are so eager to achieve perfection that the aviation companies rarely have to reject an item they make. Air Force and Navy officials who get jet pieces from the work benches at the Federation of the Handicapped at 211 West 14 Street marvel when they meet the craftsmen -- polio victims, amputees, the tuberculosis and cardiacs, among others. Gee, what a politically incorrect passage, 50 years ago in the Times so unadorned and unintentionally ironic, the halt and the lame manufacturing their instruments of death. But look again, through the eyes of an old, experienced, weathered man, Gerhard Richter. Isnt this simple complexity its own reward, mirroring our overexamined yet unfathomable selves? Isnt coexisting with irreductive sin what makes us men, anonymous, unbowed, and not our drooling boyish idols, Marion and Ronnie? America is a womans country, Henry Miller opined, and in such a country, the boy begets the boy ad reductum, seeking the unattainable teet. Bring me the ugly woman, Ray Charles bragged in his autobiography -- but there is no ugly woman, only the ugly sin of sniveling inside, a worthless boyish pride. Throw off your idols, American boomer boys, your Bushes, your Kerrys and the Schwarzeneggers -- something better burns inside, still. We are all already handicapped by life. The boy may be a victim, the boy maybe a star, but the boy remains a boy. And yet the man awaits.


CHARLIE FINCH is co-author of Most Art Sucks: Five Years of Coagula (Smart Art Press).