Lisa Ruyter's Brooklyn studio, with paintings from her "Nature Trails" series, January 2003.
A Mad Whirl in progress at Ruyter's studio
A painting from the crosswalk series.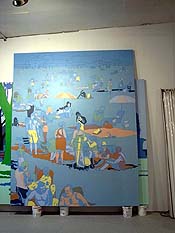 A view of Lost Horizon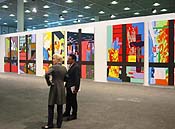 Lisa Ruyter's "Stations of the Cross" installation in "Art Unlimited" at the 2002 Basel art fair.
Lisa Ruyter in Basel, 2002
The World Belongs to Lisa
by Charlie Finch
Accompanied by our Artnet colleague Sherry Wong, we journeyed to Lisa Ruyter's cavernous Williamsburg studio on Super Bowl Sunday in search of something really super.

We were not disappointed. Sitting astride her Volkswagen bumper, Ruyter told us, "I've just finished this huge restaurant scene for a show next month at the Kunstmuseum in Wolfsburg, Germany."

We beheld the wall-sized piece, called A Mad Whirl, crammed with Brooklyn art folk scarfing down food, booze and smokes.

Ashamed that we had referred to similar but smaller pieces in Lisa's sold-out show last fall at Leo Koenig as "junk," we tried to save face.

"You know, Lisa, we just finished reading Leo Steinberg's 1960 essay, The Problem of the Public. Steinberg calls the notion of public philistines rejecting the new a myth.

"In fact, it's the artists and the experts who routinely reject radical change. Steinberg particularly mentions Matisse deriding Demoiselles d'Avignon as a 'cruel joke,' a satire of Matisse's Joy of Life."

The artist was gracious, as we apologized for doubting her genius.

"Well, Charlie, I'm working on three different bodies of work for three upcoming shows. I've been having problems with a suite of overhead shots for a show next September at Georg Kargl Gallery in Vienna.

"The slides I've taken, of crosswalks and the like, tend to compress perspective."

"So you feel the vertigo?" we answered.

"Yes, I'm still dissatisfied. I'm also working on a series of nature trails in the Everglades for Thaddaeus Ropac. I hope to persuade him to like them."

Lisa was too modest -- the three pieces she's already completed in this series are stunning treatments of winding roads disappearing forever into nature, full of Matisseana.

Above all, we especially adored Lost Horizon, a light blue sonata to Coney Island, snaking from the Italian family drinking and playing cards in the foreground towards infinity, pure mastery of perspective.

The mystical dimension viewers worldwide find so divine in Ruyter's heavy output captured the artist herself in her intense installation at the Art Basel art fair last summer, "Stations of the Cross."

"Jose Freire was reading to me from the book God by theologian Jack Miles. Since then Miles has written the best-seller Christ. We were introduced and collaborated on the Basel project," Lisa reflected.

With the severeness of stained glass reliquaries, Ruyter truncated each station with a somber, almost ominous inverted black cross.

"The cross is an act of total nullification?" we asked.

"Absolutely."

"Working on so many shows simultaneously, you've taken on assistants?"

"Yes, Charlie," Lisa abjured, "I've got one full-time fellow, and a young woman who comes in when needed. With each piece, I fill in each of my intricate drawings with the base color, which requires a lot of tonal experimentation. Then my assistants do the drudgery, applying layer upon layer of color until I get the right consistency.

"My assistants are very proud of the work. They go to my shows and refer to the pieces as their own."

Lisa is especially happy to be showing in Wolfsburg this February.

"That's where they make Volkswagens. I've been having some trouble with mine, so I'll be going to the source for advice."

Ruyter recently lost her stepmother to cancer.

"It was the first time anyone really close to me has died. I went to Maryland for the funeral, during the wave of sniper killings. The cemetery was just a block from the site of one of the murders, and the shooters were still at large. It was sad and scary and very eerie."

We looked at pictures of Lisa's stepmother, a robust young woman who had just earned a PhD degree before she died.

This reminded us, through our own troubles, how much people need art to bolster and understand themselves, and of the great emotional expectations put on an artist such as Lisa, who must ship her paintings across the globe as soon as they're done, all the while planning another show further on up the trail.

Tennyson's Ulysses seemed to sum up Lisa's effort:
That which we are, we are:
One equal temper of heroic hearts,
made weak by time and fate,
but strong in will
to strive, to seek, to find
and not to yield.


CHARLIE FINCH is co-author of Most Art Sucks: Five Years of Coagula (Smart Art Press).