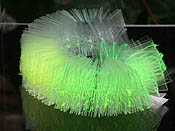 Lidia Choczaj
Jelly-Fish
2004
in "Phototropism" at Palm House in Łodz, Poland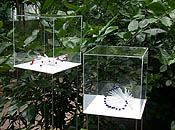 Lidia Choczaj
Miniatures
2004
Phytoplankton Blooming
2004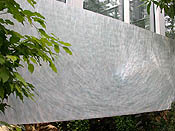 The Azure of a Glacier
2001
Lidia Choczaj
Villa Gallery, Łodz, Poland
Stained-glass window in the Villa Gallery, Łodz, Poland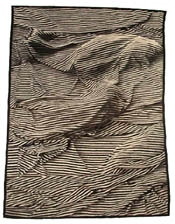 Andrez Rajch
From the Cycle Graces
1985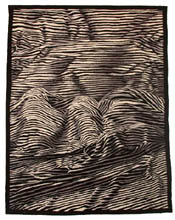 Andrez Rajch
From the Cycle Graces
2003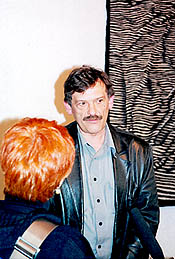 Andrez Rajch
Big Week in Łodz
by Victor M. Cassidy
Every three years at the end of May, Łodz (pronounced "Woodsh"), an industrial city in central Poland, bursts into life with the International Triennial of Tapestry. The 2004 Triennial, featuring 141 fiber works by artists from 54 nations (an all-time record), was followed by many more textile shows over the city. We have described the Triennial in a forthcoming issue of Fiber Arts magazine. Herewith, a report on two of the other shows. "Phototropism" in the Palm House
Łodzs first palm trees and tropical plants were raised in orangeries by Tsarist officials and Polish industrialists before World War One. When political and economic developments wiped most of these people out, the palms were given to the Łodz City Council, which built a conservatory for them. During World War Two, Łodz successfully resisted the occupying Nazis who sought to destroy the plants (for reasons that only a Nazi could explain). Łodzs palms were one of the few things in Poland to thrive under Communist rule. By 1956, Łodz had to raise the conservatory roof to accommodate them. Several roof-liftings followed and finally, in 1998, the city (now free) boxed its existing Palm House inside a handsome new steel, glass and aluminum structure, and then razed it. This complicated construction procedure was necessary because the palms were deeply rooted and could not be moved. Also, the conservatory stood in a beautiful old park full of mature native trees that everyone wanted to preserve. Todays Palmiarni or Palm House covers roughly 118,500 sq. ft (1,100 sq. meters) and houses about 4,500 plants in three pavilions with differing levels of heat and humidity. We visited the Palm House to see "Phototropism," an exhibition of glass, plastic and thread constructions and hangings by Lidia Choczaj, a Łodz textile artist. Delicate and translucent, Choczajs work benefits from the conservatory environment with its bright flowers, vigorous leafy plants and constantly changing light. This work would seem diminished in a white-walled art gallery. Choczaj presents most of her constructions in vitrines with long wire legs, naming many pieces after ocean plants and creatures -- Jelly-Fish, Sea Snail, Comb-Jellies, Sea-Gooseberry and Picoplankton. Shaped roughly like the letter C, Jelly-Fish is constructed from one-inch squares of thin glass, laid side by side. The alternating edges of the glass squares are joined with fluorescent green fishing line. Sea Gooseberry is a thin sheet of vinyl, pierced with holes through which the artist has threaded short lengths of vinyl fishing line. Topping each length of line is a tiny ball of brown or fluorescent green vinyl thread, which makes these elements suggest tiny tadpoles with oval heads and long tails. Choczajs Miniatures have long, glass bodies, red bulbs at the tip and red color in the center, recalling thermometers. Choczaj arranges these glass sticks like fans or in tense heaps, joining the assemblages at the center with vinyl thread. We look down at these constructions to see them against the white plastic floors of the vitrines. As we change our angle of view, we see the glass sticks against the plants behind them. Though the Miniatures suggest sea organisms, Choczaj distances her work from the real thing by using artificial materials like fluorescent colored vinyl thread. Phytoplankton Blooming is the most exciting contemporary artwork that we saw in Poland. The artist rests a pane of glass, roughly 5.5 ft long and 3 ft deep, on rocks a few inches above the Palm House goldfish pond. On top of this pane, she arranges 78 bundles of yellow and clear glass tubes -- 13 rows from left to right and 6 rows from front to back. All bundles are joined at the center with vinyl thread. Bundles on the periphery of this work are small and flat -- just a few sticks tied together. In the bundles at left center, the tubes rise up diagonally, sometimes almost vertically. As we scan Phytoplankton Blooming from left to right, the bundles seem to rise and fall, conveying a sense of awakening, movement and growth. We look down on Phytoplankton Blooming to see through the glass pane into the pond beneath with its water plants and orange goldfish. The piece takes on a third dimension and the random movements of the fish contrast with Choczajs formal arrangement. Overall, we get a sense of activity on the surface of the water, like phytoplankton growing and blooming. This work could be made in no other way. Choczajs pairing of glass and water is a match made in heaven. "Graces" at the Villa Gallery
The Villa Gallery, which belongs to the city of Łodz, is housed in a gorgeous Art Nouveau house that was designed by Gustaw Landau Gutenteger and built for an industrialist in 1903. Designed on an asymmetrical plan, the structure has three facades, all quite different, and a round tower on its garden side. Within is much beauteous woodwork and a golden and green stained glass window featuring a dancing girl in a flowing dress. The walls and ceiling of the upstairs exhibition room are decorated with stuccowork featuring rose, apple blossom, iris, and poppy motifs. A pianist played Chopin at the opening and a huge spread of drinks and canaps disappeared within minutes. According to our sources, enthusiastic gourmandise is a Triennial week tradition in Łodz. Andrezej Rajch, a Łodz artist with an international reputation, exhibited black-and-white wool hangings ranging from about two to six feet wide (height proportional) at the Villa Gallery. The artist employs the Jacquard loom, which produces fabrics having intricate woven patterns. Upholstery fabrics are made on Jacquard looms. Rajchs hangings have complex trompe loeil designs that suggest pieces of cloth, striped black and white, and wrinkled. Sometimes the cloth seems to be bunched up on top of a flat surface or one with cavities. In other hangings, there could be a solid object, such as a human limb, beneath the cloth. The designs do not suggest any scale, so they can be read as landforms or even water movement. Rajch gets a very tough design and solid-looking hanging with the Jacquard loom, but we were told that results depend on the yarn used. Rajch employs heavy woolen yarn, but quite different effects are possible with a lighter fiber such as rayon.


VICTOR M. CASSIDY writes on art from Chicago.