Rembrandt Van Rijn
The Artist in his Studio
1629
"Rembrandts Journey: Painter, Draftsman, Etcher"
Museum of Fine Arts, Boston
Christ Crucified between the Two Thieves ("The Three Crosses")
1653-55
Art Institute of Chicago

Jacob Caressing Benjamin
ca. 1645
Museum of Fine Arts, Boston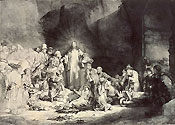 Christ Preaching ("The Hundred Guilder Print")
ca. 1648
Rijksmuseum, Amsterdam
Rembrandt Van Rijn
Self-Portrait with Saskia
1636
Art Institute of Chicago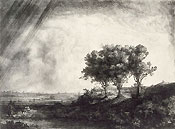 The Landscape with the Three Trees
1643
Metropolitan Museum of Art, New York
Rembrandt Comes to Town
by Victor M. Cassidy
Rembrandt van Rijn has come to Chicago, bringing old friends along -- The Three Crosses, The Hundred Guilder Print, The Goldweighers Field and (of course) Saskia. Give 30 minutes to Rembrandt, and witness tremendous events and see envy, pride, cunning, disapproval, love, indifference, lust, and much, much more.

"Rembrandts Journey: Painter, Draftsman, Etcher," an exhibition of 153 prints, 33 drawings, 20 paintings and seven copper etching plates, is on view at the Art Institute of Chicago, Feb. 14-May 9, 2004. Basically a print show, the exhibition presents printmaking, drawing and painting as intertwined or parallel developments. Rembrandts Journey is roughly chronological, organized around the themes to which the artist returned repeatedly with fresh insights and interpretations: Biblical illustration, portraiture and self-portraiture, daily life, landscape and the nude. We watch Rembrandts narrative and technical achievements advance together.

Storyteller
Like many artists before him, Rembrandt uses the Bible as a source. Medieval and Renaissance painters attempt to evoke intense religious feeling, but Rembrandt wants to tell a convincing story. Even in his grandest scenes, we find people who are indifferent to the central action, antagonistic, or simply asleep. Dogs scratch themselves and children play in the Messiahs presence. Rembrandts people have dumpy bodies and live in decrepit surroundings. There is little of the heroic in Rembrandt. He speaks to our age.

Christ Crucified between the Two Thieves ("The Three Crosses") depicts one of the most transcendent events in history. We see Christ on the cross at the center and Roman soldiers, his executioners, just to his left. Most ride slowly off having finished their days work, but one suddenly understands who Christ is and kneels in awe at the foot of the cross. Others departing the scene look like crowds leaving a theater, but mixed among them are Christs devastated followers. Beneath the cross to the right are the Virgin Mary, Mary Magdalen and apostles, who grieve in different ways. They cling to each other, gesture helplessly and cover their faces to blot out the awful scene. A dog, which understands only that something is terribly wrong, barks and races off.

We recognize Rembrandts people from our own lives and images weve seen of wars, floods, fires and other disasters. Times may change but human nature remains constant, and no other artist is better at depicting emotion through body language. Rembrandt brings people to life through his rendering of feet, knees, heads and hands. In Jacob Caressing Benjamin, for example, the patriarch is quietly delighted with the little boy who stands between his knees. Holding a fruit in his hand that he probably wheedled from Jacob, Benjamin cannot keep still and stands with one foot atop the other as he chatters happily away. Jacobs hand and Benjamins feet animate this image.

Christ Preaching ("The Hundred Guilder Print") is one of the great masterpieces of art history. Christ stands somewhat to the left of center on an elevation with one hand raised in blessing and the other gesturing. A slow-moving crowd of the lowly and afflicted enters through a gateway at the right and struggles toward Christ. One poor wretch is carried in a wheelbarrow and several people have the vacant look of the starving or very ill. On the left is a much more prosperous bunch -- a dandified young man whom Christ looks past, and the Pharisees, Christs enemies, whose feelings range from apathy to hostility. All of the more than 30 figures in The Hundred Guilder Print reveals themselves through the way they sit, stand, and move. Every one is completely human. Every one is completely alive.

Portraits and Landscapes
In Self-Portrait with Saskia the handsomely costumed artist sits at a desk, drawing pencil in hand, looking straight at the viewer. Saskia, seated behind him and to his left, also gazes out. Solemn and jowly, Saskia is no beauty, but Rembrandt makes her seem electric in this and other portraits. She is his wife and we see her as he does.

The Artist in His Studio, an early painting, shows an artist facing the void. A young painter (maybe Rembrandt, maybe not), fully dressed for a day of work, stands in a shadowy corner of his studio looking uncertainly at a panel on an easel. Perspective makes the panel seem larger than the artist and light makes it the paintings focal point. What is painted on that panel? Only the artist knows what he will put there.

The Landscape with Three Trees probably originated on one of Rembrandts country jaunts outside of Amsterdam. We see the flat Dutch landscape beneath a lowering sky, which occupies almost two-thirds of the image. There is a rain shower at far left, thunderclouds across the top, and wind bending the trees. The clouds cast a shadow on the ground, but where they have cleared away, a gray brightness illuminates the three trees from behind. People are all over this landscape -- a fisherman by the stream, lovers communing in the bushes, and a carriage in the distance with a man walking behind. Far away we see fields, houses, a windmill and church towers. To make this print, Rembrandt combined etching, drypoint and engraving. He learned each technique separately and then found ways to employ them together.

"Rembrandts Journey" will probably be down before most people read this. It was shown earlier at the Museum of Fine Arts, Boston. Fortunately, Clifford S. Ackley, who organized the exhibition, has written (with others) a most excellent catalogue, which describes each work in detail and describes the artists technique. Its not very often that we read a book of 300-plus pages without finding a single superfluous word, phrase out of place, or imprecision of any kind. Excellent as it is, Ackleys catalogue only serves to bring us closer to Rembrandt, whose art will speak as long as there is a human race.


VICTOR M. CASSIDY writes on art from Chicago.