Pierre Bonnard
Ducks, Heron, and Pheasants
1889
in "Beyond the Easel"
at the Art Institute of Chicago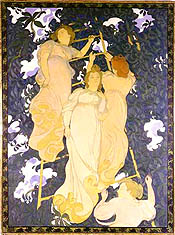 Maurice Denis
Ladder in Foliage, or Poetic Arabesques for the Decoration of a Ceiling
1892
Edouard Vuillard
Woman in Striped Dress
1895
Maurice Denis
Forest in Spring, and Forest in Autumn
1894
Edouard Vuillard
Morning in the Garden at Vaucresson
1923, reworked 1937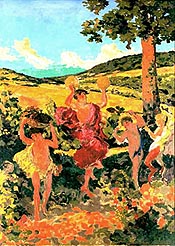 Ker Xavier Roussel
Triumph of Bacchus, or Mythological Scene
1911, reworked 1913
Decorative Painting for the New Century
by Victor M. Cassidy
"Beyond the Easel: Decorative Painting by Pierre Bonnard, Edouard Vuillard, Maurice Denis, and Ker Xavier Roussel, 1890-1930" presents 85 paintings in a variety of formats by four major French Post-Impressionists. The show is up at the Art Institute of Chicago until May 16 and moves to the Metropolitan Museum in New York, June 26-Sept. 9.

"Forgotten role" for Painting
Bonnard, Vuillard, Denis and Roussel took from Paul Gauguin the idea that all art should be decorative. Working on commission, they produced large-scale paintings, multi-paneled ensembles and screens for the homes and apartments of the wealthy in France and Russia.

The four artists "revived a forgotten role for painting and helped return it to its original function as decoration for a specific interior setting," says Gloria Groom, exhibition curator. "In English, the word 'decoration' connotes an art of surface appeal and limited importance, but the French term (décoration) has had a highly positive and nuanced meaning, particularly in the artistic debates of the period covered by the show.

"There was a crisis in the arts at the time," she continues. "History painting was out. The four painters made art in which elements of line and color became more important than telling a story. Design became more essential than capturing light and atmosphere. Many of the decorative paintings are about moods."

The decorative paintings became background in turn-of-the-century interiors. When we see them in a museum, torn from their original context, they seem distinctively weaker than contemporaneous easel paintings by the same artists. The decorative works are large, with broad surfaces that the artists often covered hastily. Many paintings are well designed, but too much of the imagery is pretty ladies in pleasing settings.

Painting in distemper
Bonnard and Vuillard painted in distemper where dry pigments are mixed with hot glue, then applied immediately to paper or canvas. Depending on the ratio of pigment to glue, distemper can vary greatly in thickness. The painted surface often looks choppy.

"The decorative artists rebelled against academic painting," says Groom. "Bonnard and Vuillard liked the fact that they had to cook distemper in a double boiler and apply it slowly. They did not want to be facile.

"Distemper changes color after it cools, which added an element of chance to artmaking," Groom continues. "It gave the paintings a matte, fresco-like look, which contrasted with the slick finish of varnished easel paintings. Bonnard and Vuillard did not varnish their decorative oils."

Free-standing screens
The most attractive works in "Beyond the Easel" are the screens, which engage us with their approachable scale, beautiful color, and ingenious composition. Bonnard's Japanese-influenced Ducks, Heron, and Pheasants (1889) is a knockout with its brilliant red background.

Bonnard's Mediterranean (1911) seems to move when we see it because the three panels are at angles to each other. Vuillard's Five-panel Screen for Miss Marguerite Chapin: Place Vintmille (1911) depicts a Parisian square as viewed from an apartment window.

Denis produced stylized, stage-like paintings, under Japanese and Pre-Raphaelite influence. His Ladder in Foliage, or Poetic Arabesque for the Decoration of a Ceiling (1892) shows his fiancée in four poses ascending a ladder toward heaven. The panel September Evening (1891) is a dreamy, flat image in soft colors of a woman in a natural setting. It was intended for the decoration of a young girl's room.

Vuillard's Woman in a Striped Dress (1895) is one of several easel paintings in oil that depicts the apartment of Thadée and Misia Natanson, who were Parisian arts patrons. This interior (we are provided with photographs) was wallpapered from floor to ceiling and stuffed with art objects.

Instead of simplifying this busy scene, Vuillard presents it much as it was. His dense image succeeds because he organizes the figures along a diagonal and employs echoing verticals. Perhaps because he felt at ease with the Natansons -- they were lifelong friends --Vuillard used an adventuresome palette in this group of paintings, experimenting with unusual tones and juxtapositions. These paintings are among the most challenging -- and rewarding -- in the show.

What was decorative painting? Four artists reached certain conclusions early in their careers, carried their esthetic principles into practice, found patrons, and produced interiors (along with easel paintings and other artworks) for many years. Decorative painting was never a coherent art movement and it has no influence today. Contemporary fine artists would be perfectly horrified to have their work called "decorative."

"Beyond the Easel" does not rewrite art history or significantly enlarge our understanding of it. It is important nonetheless because it presents rarely seen artworks, some quite beautiful, in a very sympathetic context.


VICTOR M. CASSIDY writes on art from Chicago.