Michiko Itatanis Synchronous Migration (2004) (center), installed at the Koehnline Gallery
"Monuments and Fragments," installation view at the Koehnline Gallery, with floor sculptures by Pavel Kraus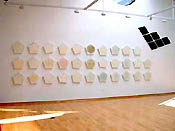 Michiko Itatani, "Monuments and Fragments," installation view (back wall)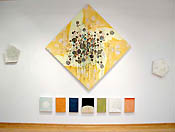 Michiko Itatani in "Monuments and Fragments" (left wall)
Monuments and Fragments
by Victor M. Cassidy
Michiko Itatani and Pavel Kraus, "Monuments and Fragments," Sept. 9-Oct. 22, 2004, at the William A. Koehnline Gallery, Oakton Community College, Des Plaines, Ill. 60016 A prolific painter, Michiko Itatani fills entire galleries with her work. Each individual painting gains from its proximity to others in her meticulously planned installations. We get the best from her art when we experience an installation in its entirety and then take in the paintings one by one. Itatani moved to Chicago from Japan about 30 years ago, planning to become a novelist. She turned to art instead and now uses her writing practice to "clarify and distill" her image making. She exhibits widely, often having more than one solo show each year. We have seen at least 15 major exhibitions by her. The artist says that her basic concerns are "personal and humanistic." Using "a fictional and symbolic space, in which events both experienced and imagined are condensed," she examines "issues of territory as they relate to the human body and the cosmos; flesh and technology; the individual and the state; desire and choice; and taboo and obsession." Itatani advances no program, political or otherwise. Her imagery invites multiple readings. Itatanis themes have remained quite consistent for three decades and nobody doubts her seriousness and sincerity. But her expressive ambitions are so vast that she typically attempts too much and fails spectacularly. For a long time, she made huge paintings of Michelangelesque figures, none of which worked. In recent years, the absence of strain in her paintings and installations suggests that she has found peace. This fall, she produced the most satisfying exhibition of her work that we have ever seen. A major installation
Itatanis painting installation, "Monuments and Fragments," hangs in the William A. Koehnline Gallery at Oakton Community College in Des Plaines, Ill. (The artist also has an exhibition on view at Chicagos Flatfile Galleries, Oct. 15-Nov. 27, 2004.) The U-shaped Koehnline, which was designed specifically for art exhibitions, has three 12-foot-high walls, measuring 22 feet, 33 feet and 30 feet wide. There are no interferences; vertical windows in the gallerys two corners provide outdoor views. The artist Pavel Kraus exhibits floor sculptures in "Monuments and Fragments" but the walls belong to Itatani. "Monuments and Fragments" comprises 59 paintings of differing shape and size: rectangles 12 inches high; pentagons and diamonds roughly 12-inches on a side; diamonds about four feet on a side; and rectangles up to 10 feet wide. In planning this installation, Itatani obtained blueprints of the Koehnline Gallery, made all selection and installation decisions in her studio, and arrived at the gallery with a scale drawing showing exactly where each painting would go. Her installation mixes new work with paintings that shes shown before. The first things we notice in Itatanis paintings are curious floating triangles, sometimes layers of them, which enter the picture space from the side or are seen behind other images. These triangles, which are made of straight lines and are thus translucent, appear in every painting or drawing that Itatani has ever made. They are her calligraph, she says, her presence in the work. The smaller paintings are abstract or semi-abstract, with imagery that simultaneously suggests microscopic and cosmic scale. Rough-surfaced spheres in the paintings could be planets, asteroids or greatly magnified organisms such as pollen grains. Shapes and patterns in other paintings recall the human eye, skin and brain. The artist raises some surfaces to create a pattern or heighten an effect, but never uses paint sensuously. She sometimes employs drips, but these are expressive, without juice. Itatani works mostly in ivory, tan, cream, gray, pale pink and light green, using brighter colors as accents. She is just as severe in her use of color as she is with paint handling. This is very formal work. Three walls
Centered on the right wall of the Koehnline Gallery is Synchronous Migration, a 10-foot-wide diptych. This pale yellow field seems tremendously deep with no horizon line or suggestion of landscape. Itatanis triangles impinge upon the yellow field at lower left and upper right. In the center are oval forms made from wavy light and dark horizontal lines with color drips beneath. The imagery seems to float, like objects in the sky or outer space. Possible readings include space vehicles, microorganisms navigating through a liquid medium, and even lily pads. Surrounding Synchronous Migration are seven small pentagons arranged irregularly like fragments or perhaps snowflakes. Itatanis presentation resists literal interpretation, but its theme seems to be migration -- or movement -- and this is the most tranquil of the three walls. On the gallerys broad back wall are 32 pentagon-shaped paintings arranged in long rows. The only irregularity is at the right where one vertical row has two pentagons instead of three. Above this is an arrowhead-like arrangement of six black diamond-shaped paintings. According to Itatani, these works suggest a jet plane, which is moving toward the orderly canvases beneath. She says that she "truly belonged to America" after the terrorist attacks on Sept. 11, 2001. The right wall is dominated by an untitled diamond-shaped painting with buttery yellow around its perimeter, a pale yellow pinwheel shape on top of this, and cluttered light and dark circular forms everywhere. These forms have patterns of holes in them that recall a plant stem in section or some other organism as viewed through a microscope. We see many disorderly drips in the center and lower half of this work. Beneath the yellow painting is a row of seven small rectangular paintings with patterns and some imagery that could be associated with outer space. To balance her design -- and again to suggest fragmentation -- the artist hangs pentagonal paintings on both sides of the large yellow painting. This is the most anxious of the three walls in "Monuments and Fragments." Forbidding and disorienting, its theme could be order vs. disorder. Michiko Itatani will always be an artist of grand themes. After years of work, she has brought her ambition and visual language into balance.


VICTOR M. CASSIDY writes on art from Chicago.