ELLIOTT ARKIN ARCHIVES

Paul McCarthy masturbating Santa




Made In Photoshop




Triple Non Portrait




Predictions for 2006: The ghost of Phillip Johnson predicts,
"Following the Pixar exhibition, Glenn Lowery forces MoMA to the 'dark side' in 2006."




Predictions for 2006: The opening of the "Golden Artches" gallery chain
with their mascot Ronald McLauder




Predictions for 2006: To meet the demands of the international art-fair circuit,
Agnes Gund unveils a new "Studio in a Plane" project




The first Official Artnet Magazine Commemorative Christmas Ornament: Chris Ofili
(proceeds to benefit the St. Mary's of sorrow center for catholic charities)




Robert Storr throwing out the first passionate erudite criticism for the fall art season 2005




Beth Rudin Dewoody throwing out the first check for the new fall art season 2005




Mary Boone throwing the first hissy fit for the new fall art season 2005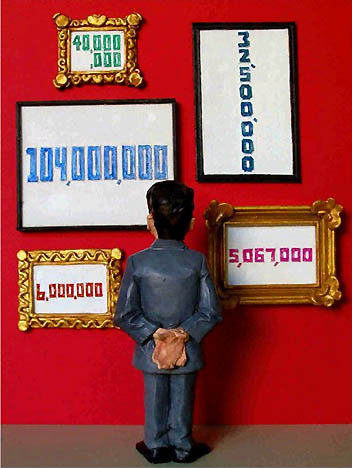 Steve Wynn and his new collection at the state of the art Wynn Resort in Las Vegas!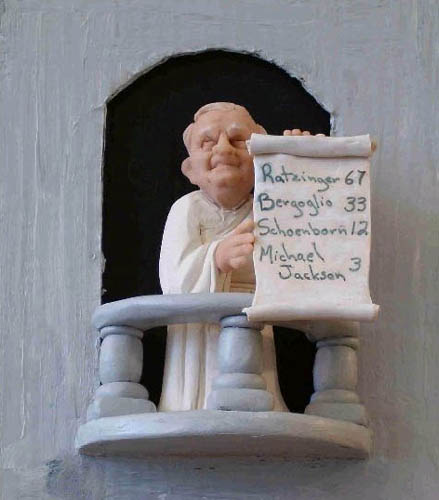 In an effort to counter claims of radical conservatism,
Benedict XVI decides to reform the Catholic Church and release the final tally
from the recent conclave of cardinals election for the 265th Pope.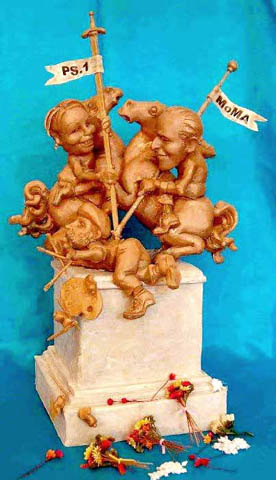 Tomb of the Unknown Artist Not Selected for Greater New York 2005




Maurizio Cattelan being hit by three million dollars




Top 3 Scary Costumes 2004 ( l. to r.)
#3 - Bush/Cheney two-headed reelection monster
#2 - Walter Robinson editorial chain-saw
#1 - New entrance ticket for the Museum of Modern Art




George Bush at the Republican National Olympics. 8/26/04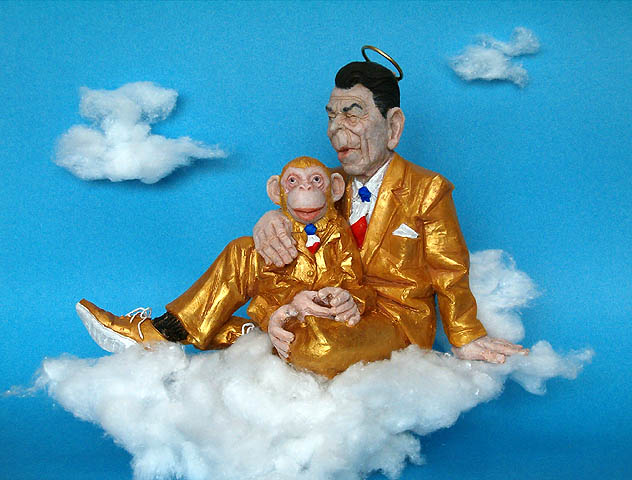 Reunited at Last 6/22/04



A sketch of John Currin's new painting for Larry Gagosian Gallery. 1/30/04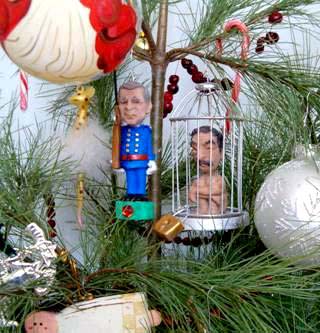 And to all a good night 12/24/03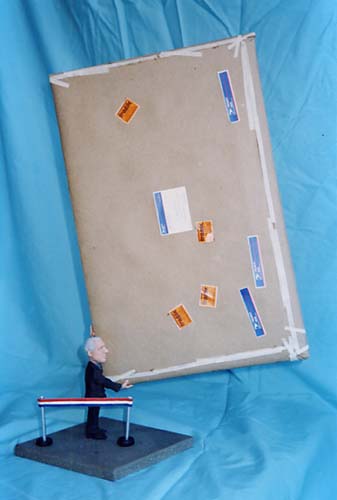 Larry Gagosian waiting in line at the post office
to mail a Richard Serra sculpture to a collector living outside of New York State. 10/17/03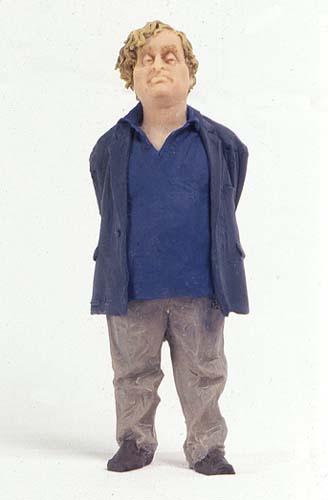 Little Charlie, 2003, polymer clay, at Artek,
526 West 26th Street, New York, N.Y. 10001 8/13/03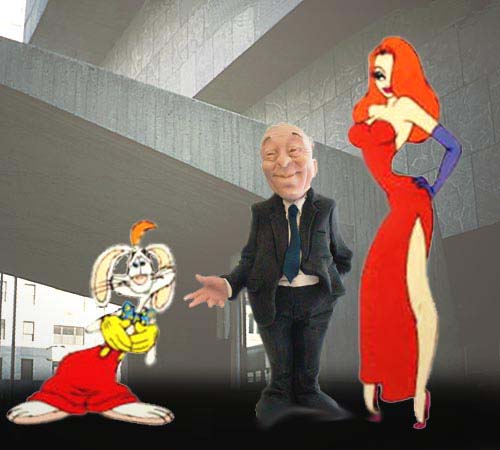 Leonard Lauder introducing the temporary substitutes for the departing Maxwell Anderson
and his wife Jacqueline at the Whitney Museum of American Art. 6/18/03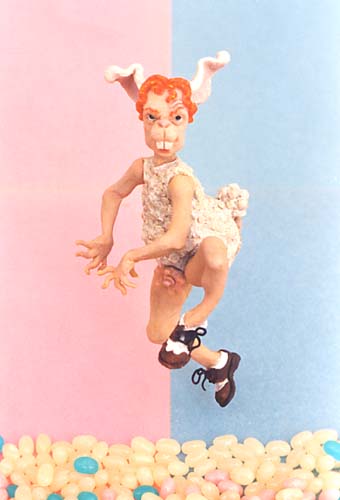 Happy Cremeaster VI
Photo by Andrew Fearon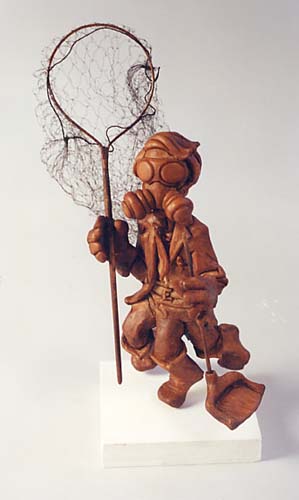 The following images is (select one):

A.) A British soldier preparing for war in Iraq

B.) An urban commuter going off to work on the New York City subway

C.) Robert Storr departing on his third leg to capture the grotesque in contemporary art. 3/3/03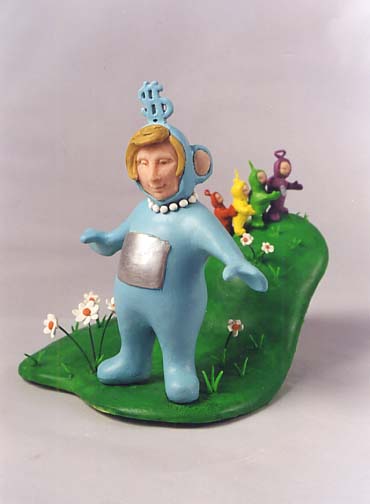 Agnes "Aggie" Gund announces her career transition for 2003. 1/23/03



The Ghost of Peggy Guggenheim Past Visiting Thomas Krens. Photo by Andrew Fearon. 12/20/02



Charlie Finch tenderizing Jack Bankowsky for Thanksgiving dinner, 2002 11/25/02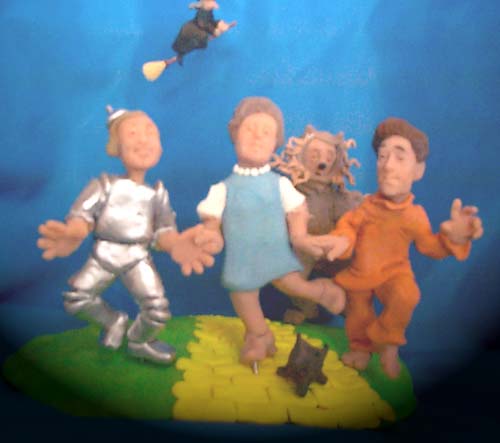 Agnes Gund, Robert Storr, Kirk Varnadoe, and Paolo Herkenhoff leaving the land of MoMA 10/30/02



Rachel, 2002, at GAle GAtes et al.,
37 Main Street, Brooklyn, N.Y., Oct. 18-Dec. 14, 2002. 10/16/02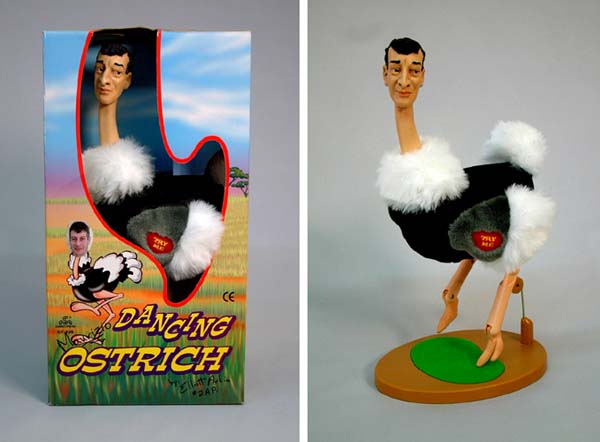 Maurizio "Dancing Ostrich" Cattelan 9/23/02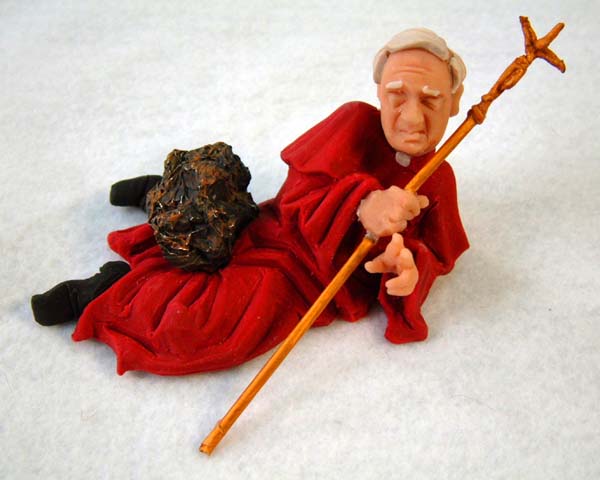 "La Nona Annos: Cardinal Law hit by a big rock thrown by a nine-year-old boy!" 6/24/02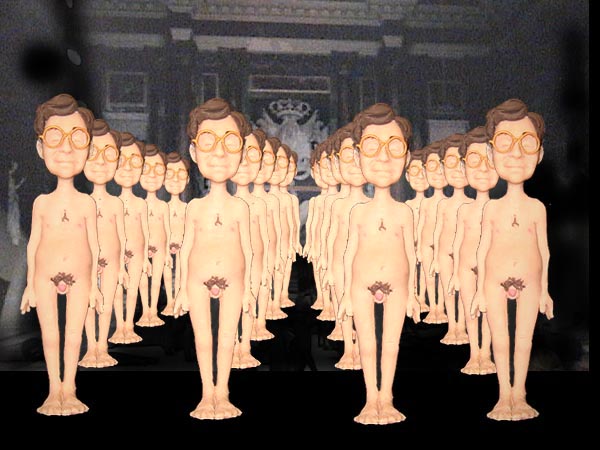 3/25/02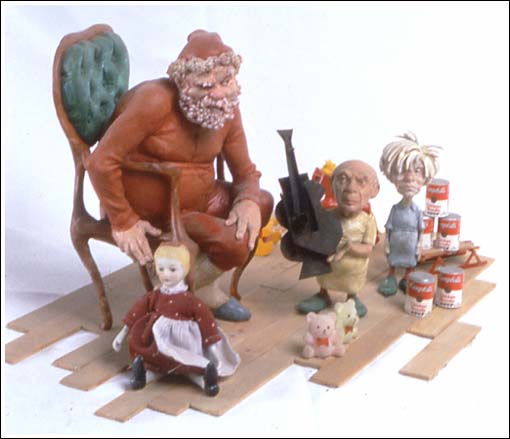 "The Critic" 12/18/01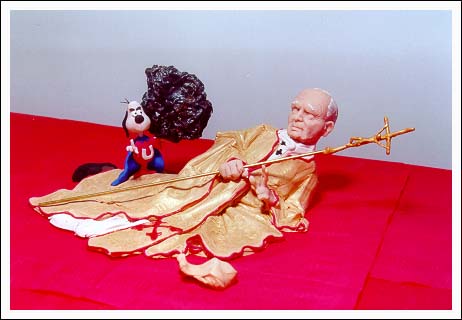 Underdog lifting a meteor off the Pope. 3/2/01



Charlie Finch eating Mary Boone. 2/8/01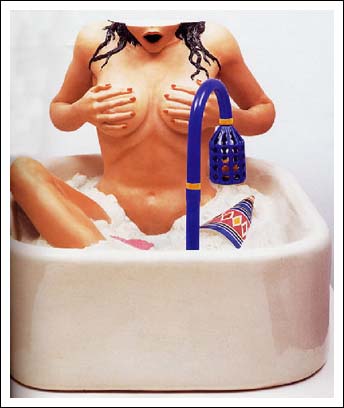 Auction highlights 2000 -- Jeff Koons, Woman in Tub, 1988, $1.7 million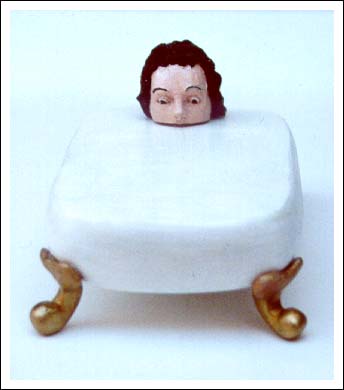 Auction highlights 2001 -- Elliott Arkin, The Other Half, 2000, sold for ?
12/15/00


Elliott Arkin
Philippe de Montebello, Agnes Gund and Thomas Hoving
taking time out to experience Pia Lindeman's sauna at P.S. 1.
9/21/00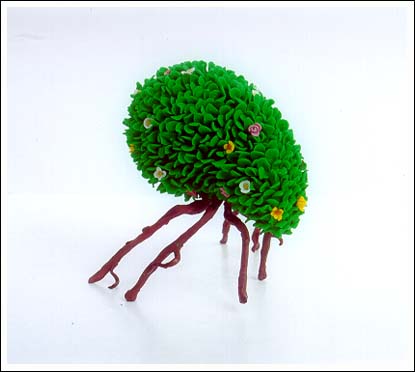 Elliott Arkin
Topiary Flea found at Rockefeller Center.
6/26/00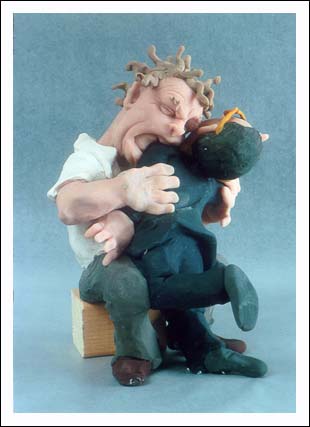 Elliott Arkin
Charlie Finch eating Jeffrey Deitch.
5/11/00

For more, see www.elliottarkin.com.